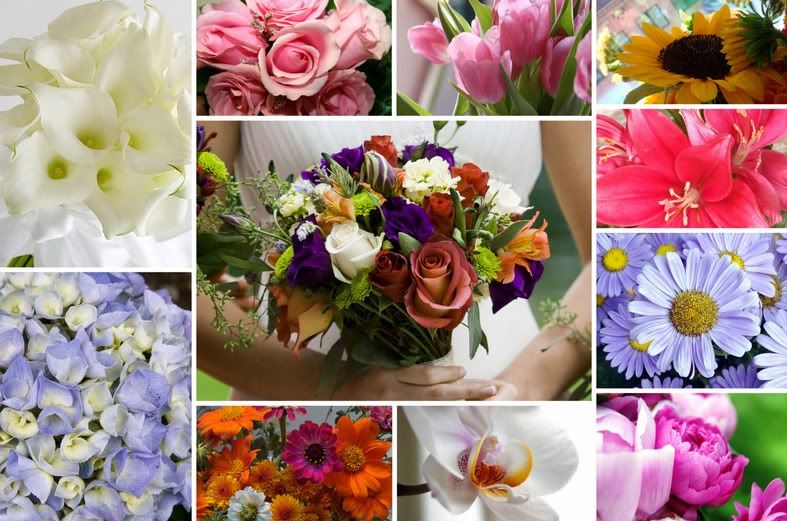 My fiancé and I are just about to start exploring all of the color options out there and attempt to decide on a color palette for our wedding next year. And as I've come to discover so far, with that comes a decision about the flowers as well.
To help the process along, I posted a poll on our Facebook fan page asking all former brides and brides-to-be what flowers they used or are planning to use in their bridal bouquets.
So, in order from first to last, here are my Top 10 wedding flowers:
1. Roses
Well, no surprise here, even after all these years, roses are still brides' number one choice for flowers. They're classic, romantic, formal and fun, but best of all, they're so unbelievably versatile!
Red, white, pink, purple, blue, orange, yellow, even bicolor…the variety of colors out there truly are endless.
Most rose varieties are available all year long and are surprisingly inexpensive. There are more than 3,000 varieties out there, so do your research, talk to a florist (or two) and choose the one that suits you best!
2. Calla Lilies
The elegant, trumpet-shaped Calla Lily has always been a favorite of mine. They are such a statement maker that one long-stem Calla Lily will absolutely suffice as a bouquet for your bridesmaids. Tie a ribbon or two around the stem just at the base of the flower, and voila! It's simple yet undeniably stunning!
3. Lilies
Lilies are a symbol of purity and refined beauty. There are five main varieties of Lilies, including Asiatic, Oriental and three types of Hybrids.
Asiatic Lilies are unscented and are great option for those of you with sensitive noses. They are available in white, yellow, orange, pink, peach, burgundy, red or bicolor. The most popular varieties are "Connecticut King" and "Enchantment."
Oriental Lilies are fragrant and a bit bigger than Asiatics. They are available in two colors: white ("Casablanca") or a bicolor, rosy-hued pink ("Star Gazer").
4. A Mix of Wildflowers
Ideal for intimate outdoor or fall weddings, a bouquet of picked Wildflowers is both appealing and unique.
5. Hydrangeas
These pom pom-shaped flowers are so pretty, and they even change colors as they grow! Depending on the acidity of the soil, Hydrangeas can range from soft ivory and pink to violet purple and bright blue in color.
Their conveniently spherical shape make them a popular choice for wedding bouquets and floral arrangements around the world.
6. Orchids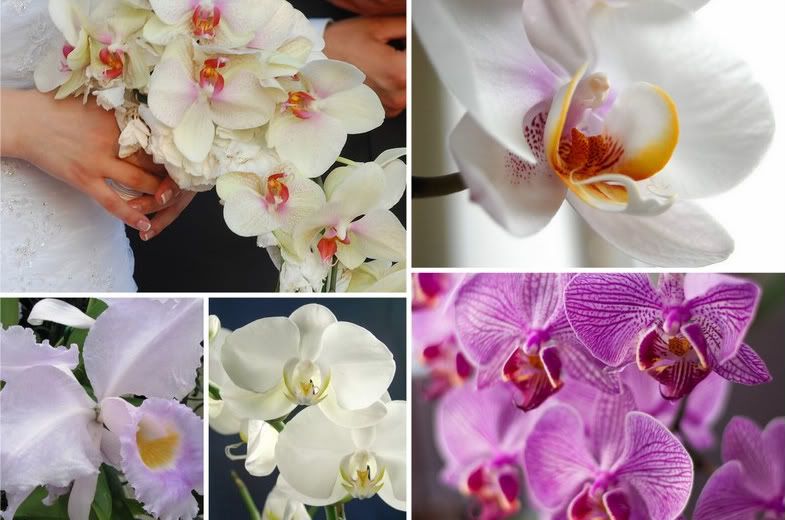 The delicate, ornate appeal of Orchids are what make them so unique and an ideal choice for elegant, intimate weddings. There are more than 25,000 different varieties of Orchids grown in nearly all climates all over the world.
They have been in existence for centuries, and have been known as a symbol of love, luxury and beauty.
7. Tulips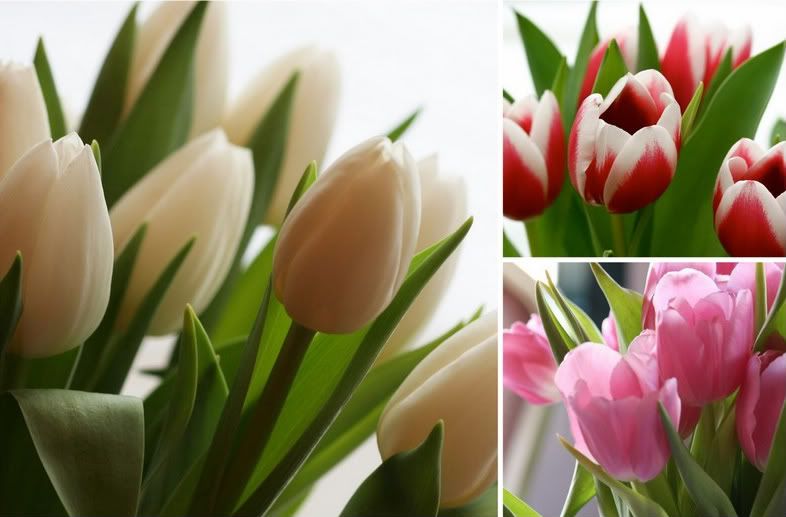 Typically associated with springtime, tulips bring a sense of joy, growth and happiness to any occasion.
Tulips are available in a variety of colors, including white (or ivory), blush and magenta pink, yellow, peach, red, and purple. The most common — and least expensive — type of tulip is the Dutch Tulip, and it can be found at most neighborhood florists and grocers.
8. Daisies
Pretty Daisies come in shades of white, yellow, pink and lavender, and are a symbol of innocence, purity and new beginnings. The Latin name for "daisy" is derived  from the word "bellus," which literally means "beautiful."
Gerbera Daisies (pictured bottom right in the above photo) are a more opulent breed of daisy. Their large, eye-catching blooms come in a variety of colors, bicolors and even tricolors, including soft or bright yellow, orange, pink, brilliant scarlet and deep red.
9. Peonies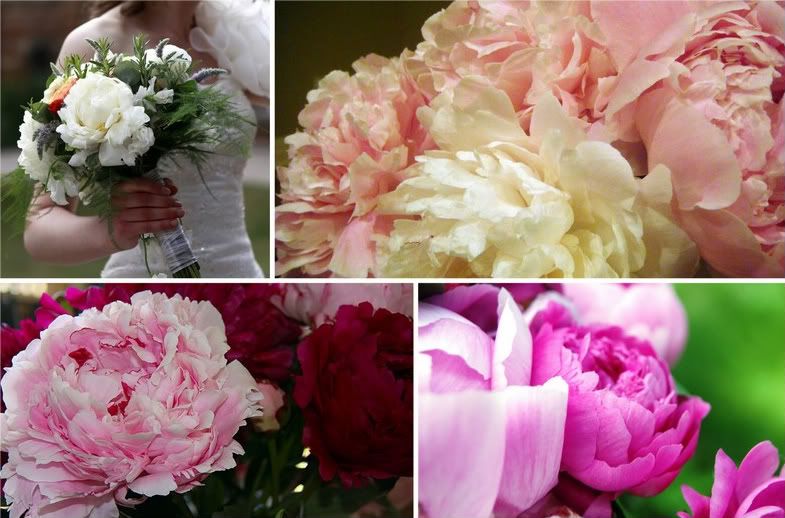 The showy nature of these bushy, colorful and strong-perfumed flowers makes them a fabulous choice for more grandeur affairs. They're available in white, red, blush and magenta pink, yellow, coral, peach, and lavender.
Peonies are a seasonal flower, typically available from late spring to early summer, but they can be imported in for fall weddings. But be warned, Peonies can get a bit pricey.
10. Sunflowers
So vibrant, bright and cheery — sunflowers are sure to put a smile on your face no matter how crabby a mood you're in.
Well, I sincerely hope this post helps some of you narrow down your color and flower options for your weddings. But they all seem great, don't they? I don't know if I'll ever be able to choose!
Until next time, happy weddings!

Photos courtesy of: Samantha Lauren Photographie, Sharon Moilerus, Joe Shlabotnik, Catherine, dave conner, Angie Garrett, liz west, Sharon Moilerus, Kim Daniels, Virginia McMillan, Wendy Cutler, Nitis Florist, Eggybird, Laura, Kristen Taylor, David Shafer, Ana Rodriquez Carrington, Andrea 44, angel ina, Michael Arrighi, terren in Virginia, Guudmorning, Horia Varlan, Jorge Elias, Debs, Bob Owen, Jennifer Rafieyan, jenny downing, waferboard, julie, Dwight Sipler, Shandi-lee, Yoko Nekonomania, Michael Hashizume, Heather Coleman, Amanda B, Jim Capaldi, Lana, Maureen Didde, Justin Leonard, P.A. King, Tony, Audrey and Kathy Kimpel.