The beautiful snow blanketing the ground is proof that it is finally undeniably Winter – this gives me the opportunity to talk about my favorite time of year without anyone complaining they're just not ready for it yet. (Unless of course you're somewhere that the palm trees sway, in which case I do apologize.) I'll try not to go overboard with blatant adoration of the season, but I make no promises!
Summer might be favored by brides but I salute any who are brave enough to plan a winter wedding. If your location is one where the world freezes over, you have the perfect recipe for romance all around you.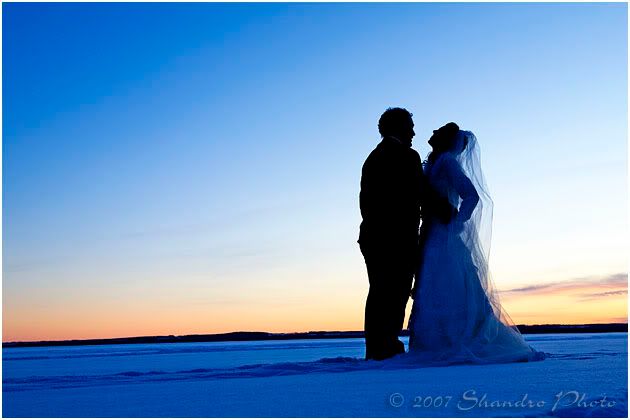 Images courtesy of Shandro Photo.
It might sound a little bit odd, thinking of the cold as actually assisting you to create romance, but take a moment to consider this.
Winter is the only season in which you can curl up in front of a roaring fire with the love of your life and be perfectly comfortable. The stars always seem to shine brighter in the freezing depths of winter. And snow; beautiful, pure, brilliant snow, will grace the world.
What does this have to do with your wedding?
The cold gives you the opportunity to sport fashion you could never survive in during the hot summer months. Layers, sleeves, fur (real or faux depending on your preference) and thicker fabrics all find their way into your realm of possibilities. Let the season help you shape your fashion choices, instead of turning up the heat and pretending it's warm outside, embrace all these new possibilities!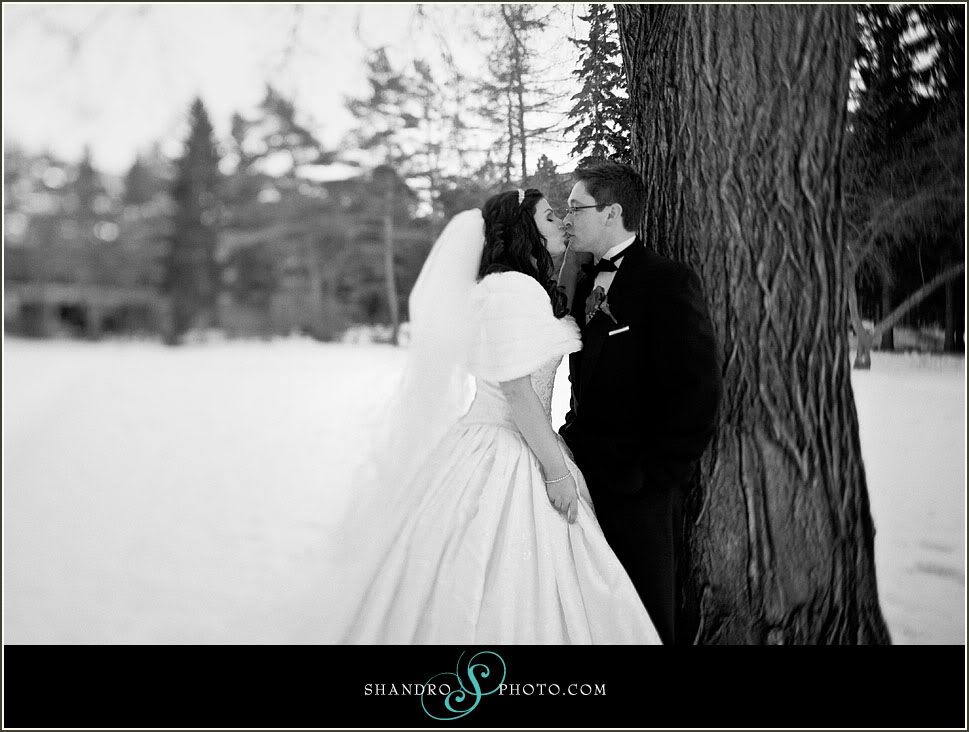 Clear blue skies and a dusting of snow are perfect ingredients for The Big Day. They don't call it a winter wonderland for no reason – snow can create a landscape that seems almost ethereal in its stark beauty. Pure white, glistening, crystalline beauty. The idea of the snowflake can be captured and transformed into a personification of a couples love. Both beautiful and completely unique.
Not to mention, infinitely sparkly.
Perhaps not a prospect that will appeal to all, but I find it inspiring to just think about the ideas that a winter wedding can present. Inspiration comes in many forms – you might think flowers and beach landscapes when contemplating beauty, but the subtle beauty of winter can be just as stunning.
Think of… ice-skating on a frozen pond, hand in hand with your love as snow falls gently around you. Is that not picture perfect?
When I see the first snowfall of the season it always seems to me that it represents a new beginning. The start of something incredible! It floats gently from the sky, and covers the world in a perfect layer of pure white. When you wake up in the morning after a snowfall and ignore the fact that it's cold, you might just notice that world seems reborn – a fresh new start just waiting for you.
What better representation of a wedding is there than that?
You're at the cusp of a brand new life, it's just waiting for you to start living it.
◊◊◊◊◊◊◊◊◊◊◊◊◊◊◊◊◊
Watch this teaser for a glimpse of what you can expect on Wednesday!