Born of majestic vineyards and with a millennia of history behind it, wine is truly synonymous with culture and elegance. As with great relationships, wine not only takes time to mature but it also takes willingness and dedication to fully appreciate its many qualities. Wine is romantic and sensual – it is the elixir of conversation and seduction.
There are many ways that wine can be incorporated into a wedding in order to achieve an elegant and sophisticated atmosphere.
Many of our products were designed with the desire to enable brides to carry out the theme in all aspects of the wedding, if she so chose.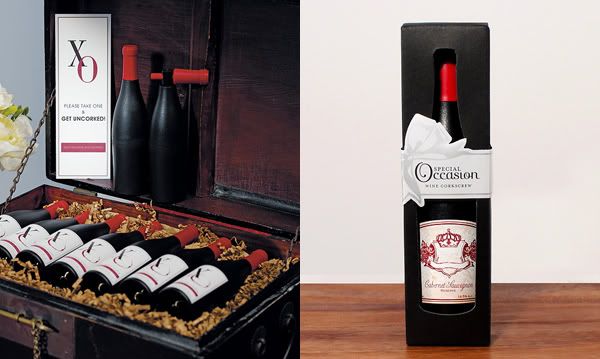 When we designed the wine bottle corkscrew we tried to maintain that feeling of quality and class. Its unique style and stunning personalization options make it a great gift for those in the bridal party – or as a favor for guests.
We found that photographs could not accurately represent this product – which is why we created the following video. To better show you exactly what the product is, and how it works.
Our wine bottle labels allow you to not only personalize your favorite vintage, but also coordinate it with your theme and style. We have a wide variety of designs from simple and elegant, to themes such as Fairytale and Hollywood.
By using the same style of label on both the white and red wines you unify the look of the table setting – different colors of the same label design also look fabulous when paired with coordinating bottles.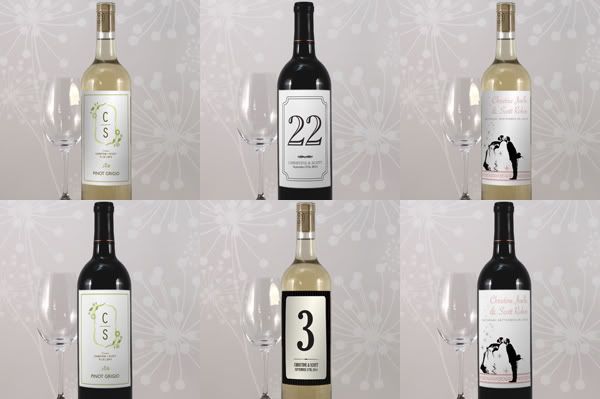 Modern Floral Monogram, Classic, Black Pinstripe and Vintage Hollywood.
If you are planning to have wine on the tables – using the wine bottles as table numbers will help eliminate some clutter by combining the two. We currently offer two styles that are both classic and elegant.
Once the wine has been opened, you may wish to stopper it up to preserve it over the duration of the wedding. Forcing a used cork back into a wine bottle can be very difficult and can potentially cause bits of cork to fall into the wine. We offer an extensive line of wine bottle stoppers that will not only seal the wine from the air, but also contribute to the aesthetics of the event.
Butterfly, Bird, Heart, Seahorse, Leaf and Coral.
The wine stoppers are priced so well that they also make for an inexpensive favor! They arrive in custom packaging which enables them to be gifted without requiring any accoutrements.
Whether you are a wine lover – or are simply planning to serve wine at your wedding; we hope that you like these ideas. We are always open to suggestions for improvement and new ideas, your feedback is the only thing that can help us perfect the wedding accessories that we offer.
Thanks for reading, I'll see you Wednesday!
Wine photos courtesy of delphaber, :: shodan :: and Randy Peterson.