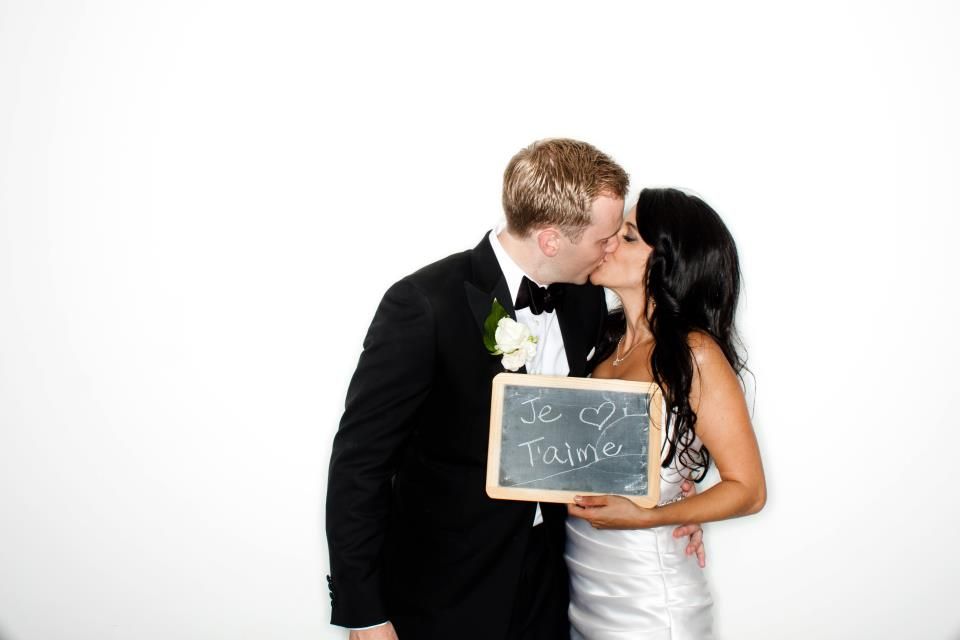 For a bride who never thought she'd see herself in a wedding dress, her non-traditional black tie vision turned out to be the party of her dreams.
She dazzled in white, her bridesmaids looked stunning in long, pale green gowns and her lucky groom was nothing but dapper in his tux and bow tie.
Whitney Mares and Rob McChane were married on August 13, 2011 in Minneapolis, Minnesota, United States.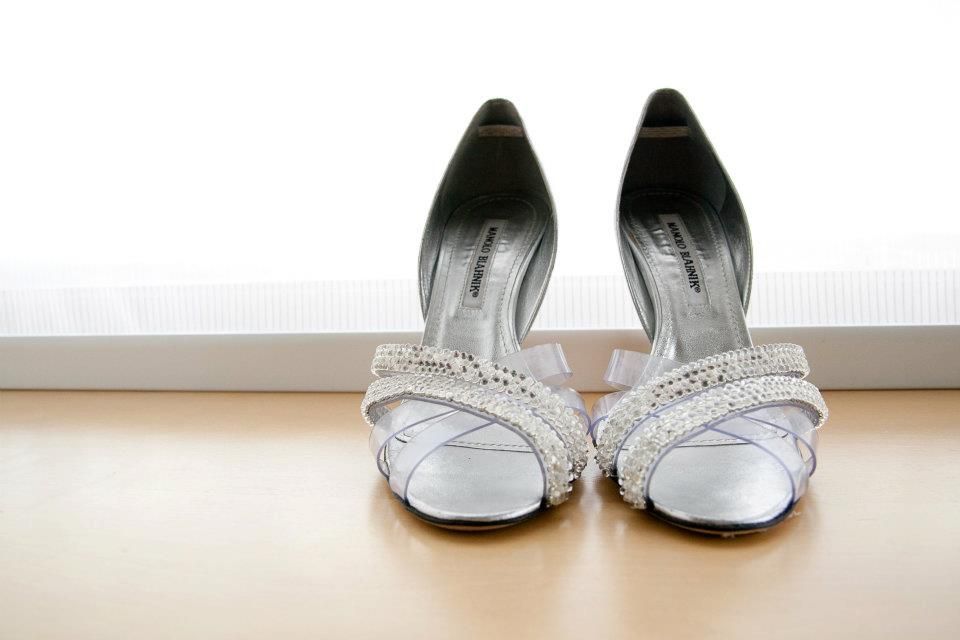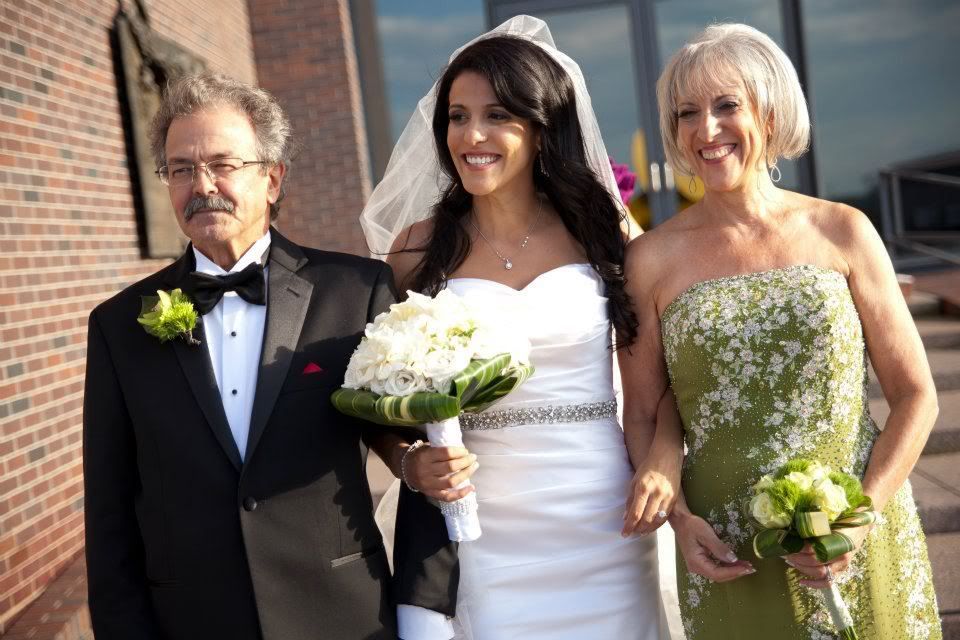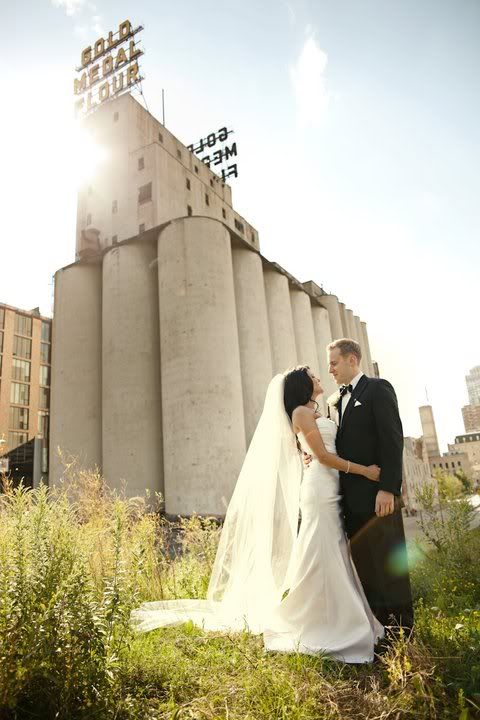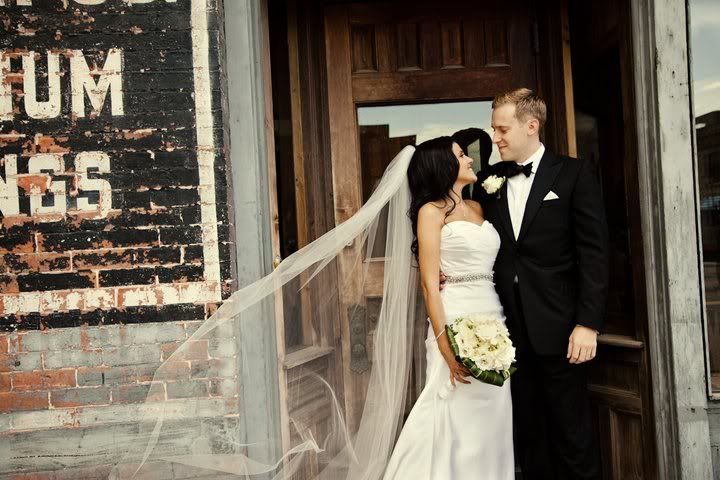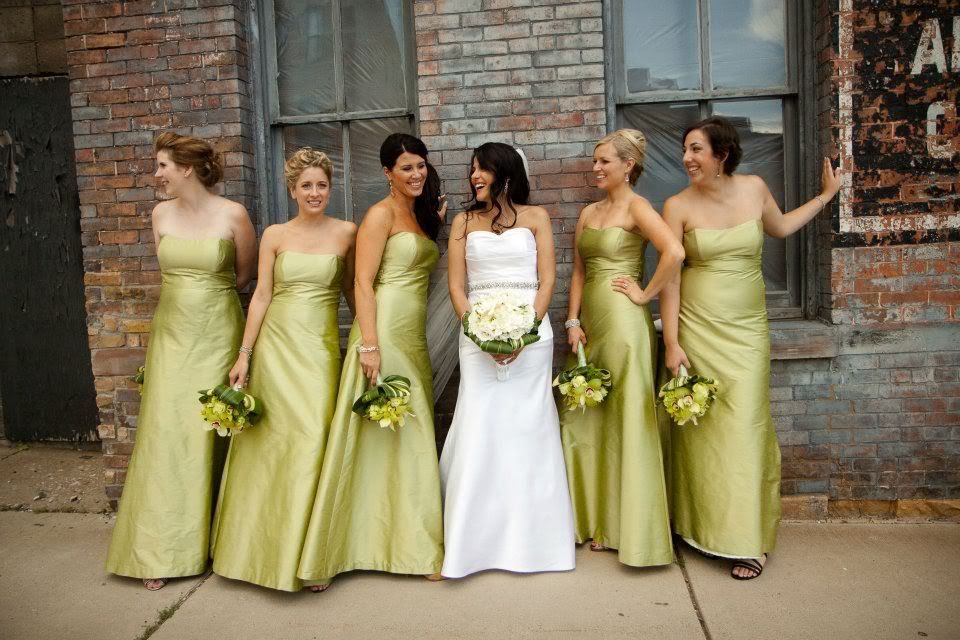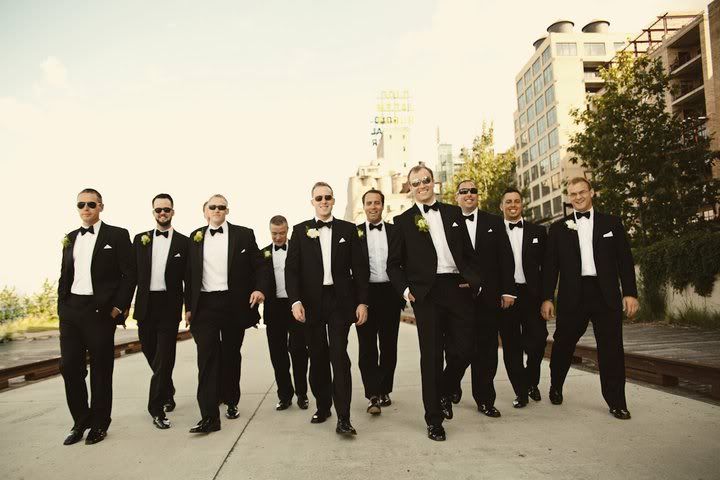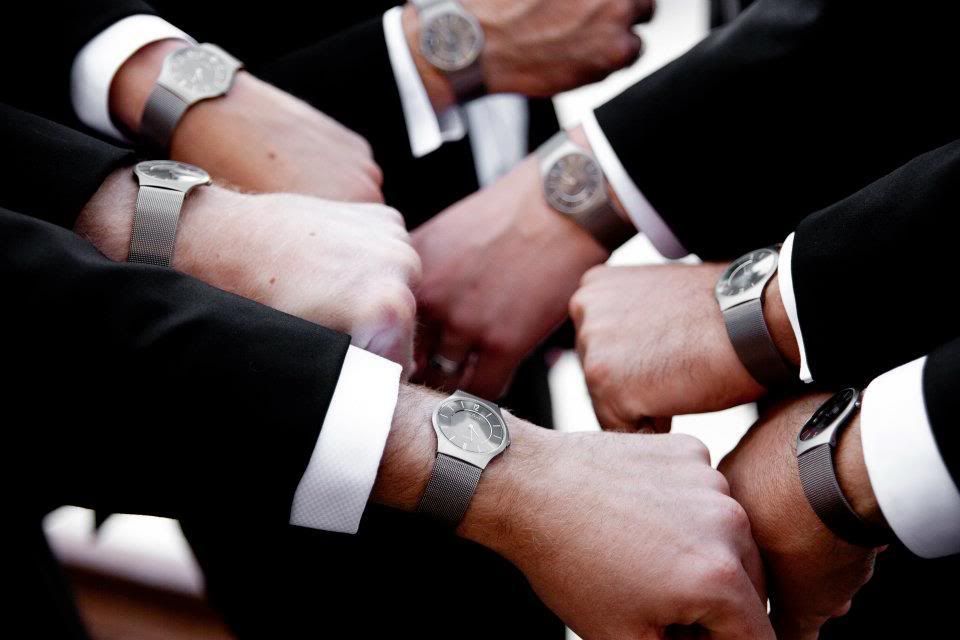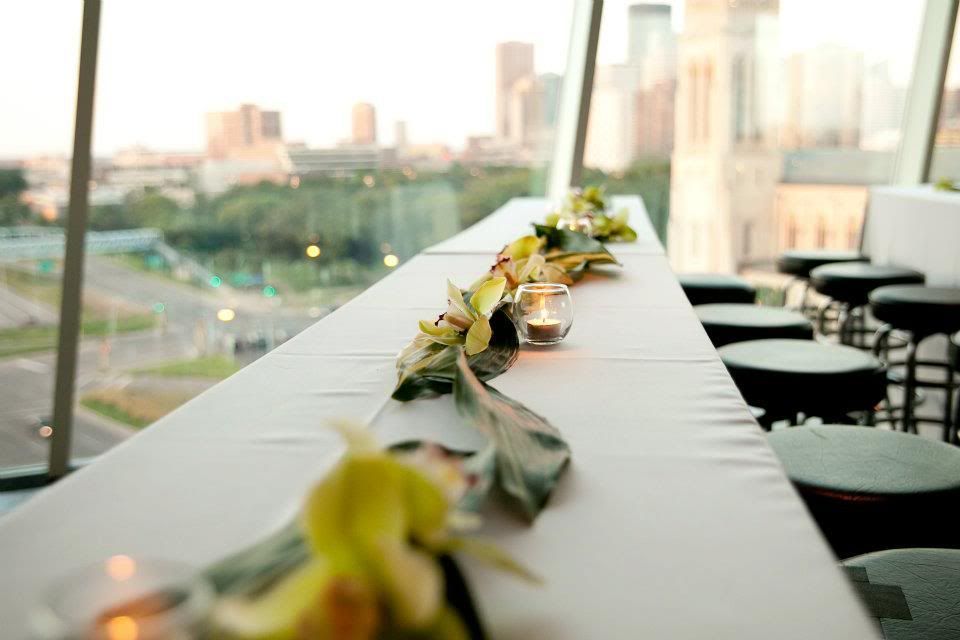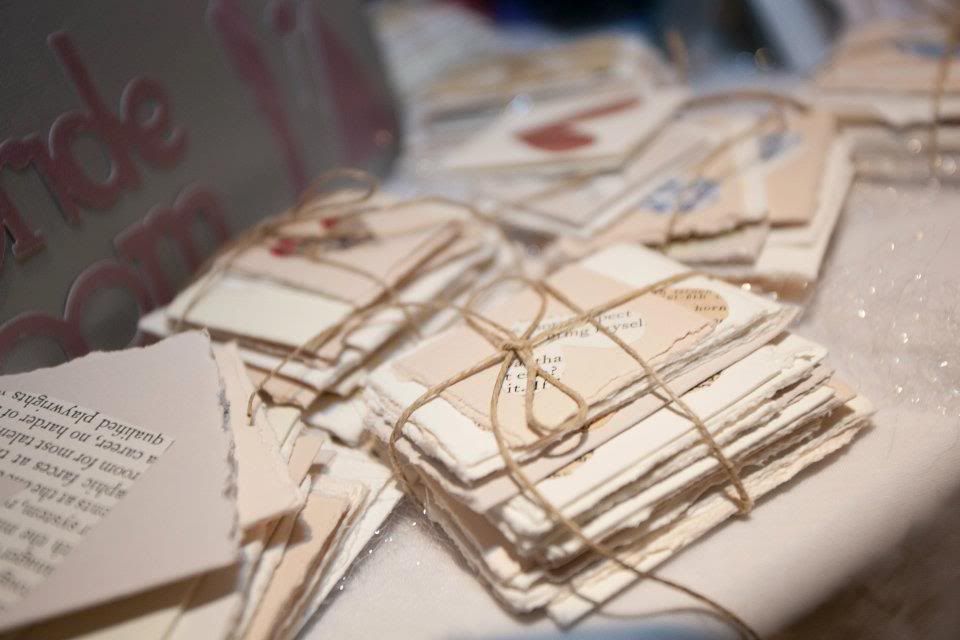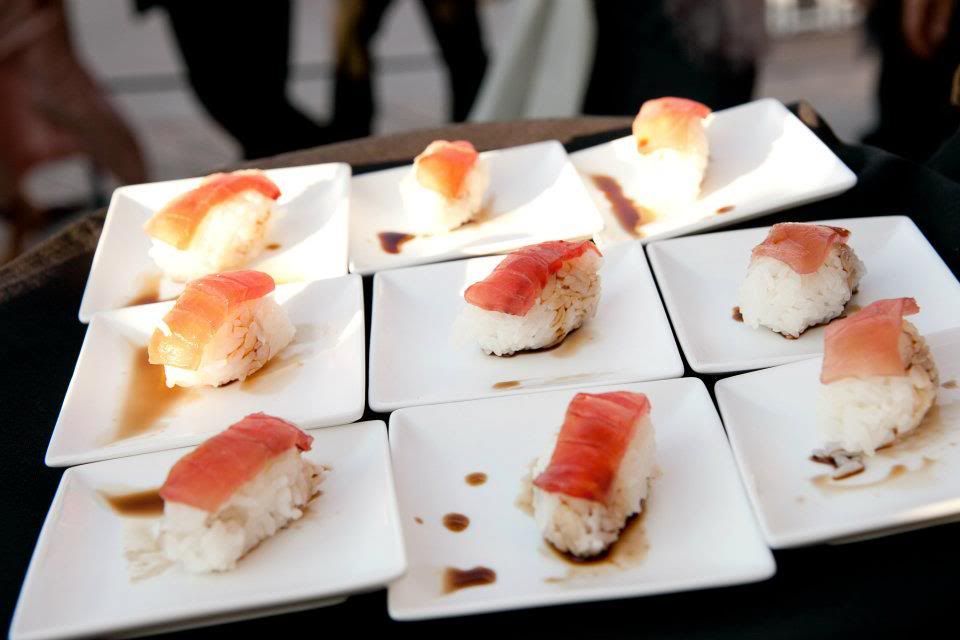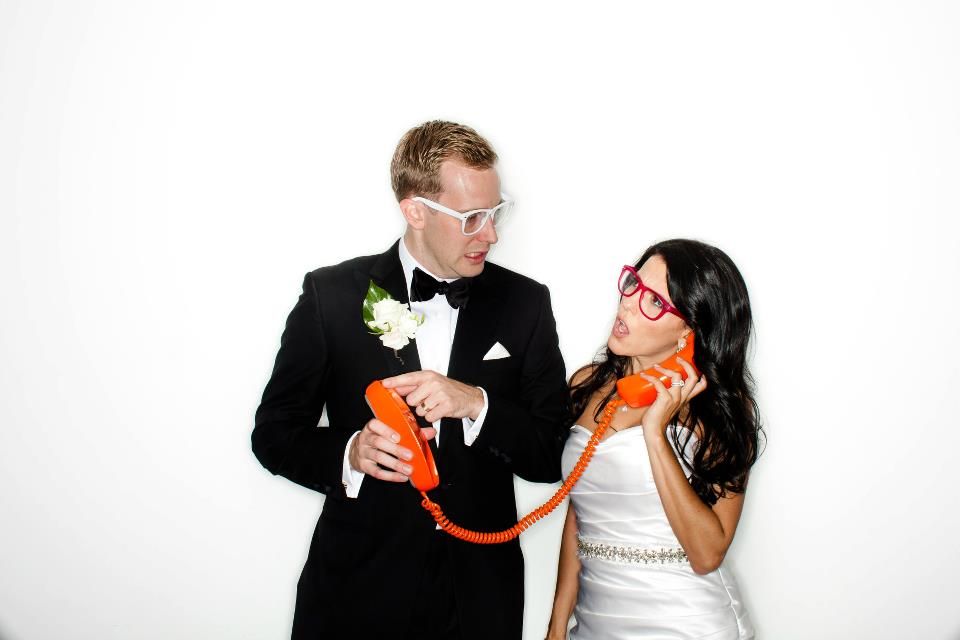 From the bride:

Our wedding day was so surreal — I'm not the type of person who has been dreaming about getting married since I was a little girl, so I really never pictured myself in a wedding dress. When I saw myself fully dressed for the first time, it felt like I was watching a movie of my own life!
Our vision was a formal (black tie), modern, non-traditional wedding, as I was raised Jewish and my husband was raised Lutheran. We really wanted this to be the best party of our lives — for both us and our guests.
We fell in love with the spaces at the Walker Art Center, a modern art museum in Minneapolis, as we could host the ceremony outside on a terrace, the cocktail and appetizer hour in a room with floor-to-ceiling modern murals, and the reception indoors in a space that overlooks the city. Everything was self-contained and, most importantly, we had a solid rain plan (which we fortunately didn't need to use, despite torrential rains early in the day).
We selected a 10-piece band instead of a DJ. We also chose to skip a seated meal in favor of heavy passed and plated appetizers, provided bite-sized deserts like truffles and cake pops instead of a traditional wedding cake, and served a late-night snack featuring gourmet burgers and fries. Given we had five hours of open/hosted bar, we knew it would be important to feed our guests well.
We also served a pre-ceremony meal with sandwiches and fresh fare to the wedding party — a great suggestion from our caterer, given most of us were so busy enjoying ourselves and greeting guests, we completely forgot to eat!
My favorite part was the ceremony — while we had 200 people watching us, it seemed as though it was just me, my husband and the judge. We wrote our own vows and selected meaningful but non-traditional readings. It was the most special moment of my life!
That said, our "un-booth" was a close second — those are some of my favorite photos from the wedding, and my only regret is that I'm not in more of them! Too busy dancing, I suppose.
The day was perfect, except for one minor hiccup. We had planned to get married under a Chuppa draped with delicate flowers, but the structure had never been used outside before and it collapsed in the wind just before the ceremony. I can honestly say it made no difference to me — the only thing that mattered was being with my husband and becoming Mrs. McChane!

A big congratulations to the new Mr. and Mrs. McChane, and a shout-out to their talented photographer, Clewell Photography.
Happy weddings!

Wedding Planner: Whitney Mares Events
Ceremony/Reception Venue: Walker Art Center
Photographer: Clewell Photography
Videographer: Princess Bride Cinematic Videography
Catering: Modern Events by D'Amico
Flowers: Floral Logic
Bridal Hair and Makeup: Brianna Christie, Haven Salon
Wedding Dress: Jenny Lee from L'Atelier Couture
Wedding Belt: Lela Rose from L'Atelier Couture
Veil: L'Atelier Couture
Shoes: Manolo Blahnik
Jewelry: Custom designs from Continental Diamonds
Bridesmaid and Flower Girl Dresses: Jenny Yoo from Flutter Boutique
Bridesmaid Hair and Makeup: Haven Salon
Groom's Tuxedo: Hickey Freeman
Groomsmen Tuxedos: Savii Formalwear
Linens/Décor: Linen Effects
Band: Synergy
String Quartet: Innocenti Strings
Invitations: Umi by Elum Designs
Programs: Whitney Mares Events
Officiant: Hon. Ivy Bernhardson

If you would like to see your wedding photos featured on our blog, feel free to email them to onasweetnote@weddingstar.com or submit them through your Two Bright Lights account.
Please include the name of the happy couple, wedding date and location, vendors, and any other information you'd like to include about the venue, decor and overall theme or inspiration of the wedding.
If you are not the photographer then you must get permission to use their photos before you submit them, and please include their name and website for photo credit purposes. Photos will be featured as space permits.
Of course, we would love to see our own stuff in action! If you have photos featuring any of our Weddingstar products, please submit them.
Like us on Facebook
Follow us on Twitter
See us on Pinterest