Our Weddingstar team hit up the fabulous city of Las Vegas earlier this month for a trade show, a massive trade show. The Event Solutions/Catersource Trade Show caters to event planners and caterers from all across the United States, and our booth received a ton of traffic over the two-day event.
I thought I'd share with you some photos from the trade show as well as a break down of the three wedding table top themes we featured there: Beach, Vintage and Sparkle.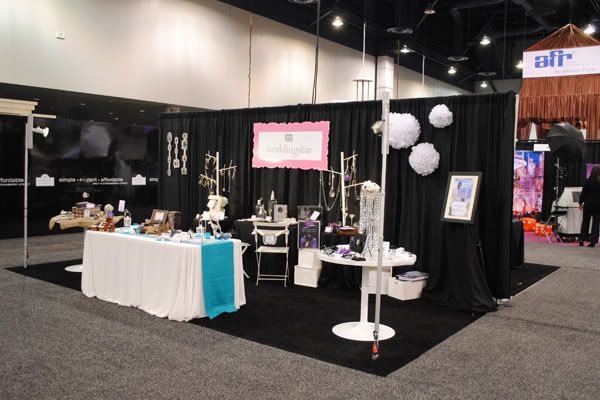 Our sales and marketing guru, Holly Warman, attended the trade show. She made note of a few of the more memorable comments onlookers had made.

People used the word 'cute' a lot, but mainly people commented about how unique and different all of our products are. A lot of people had seen our cake toppers before but didn't know they were from us.

Our Table Top Themes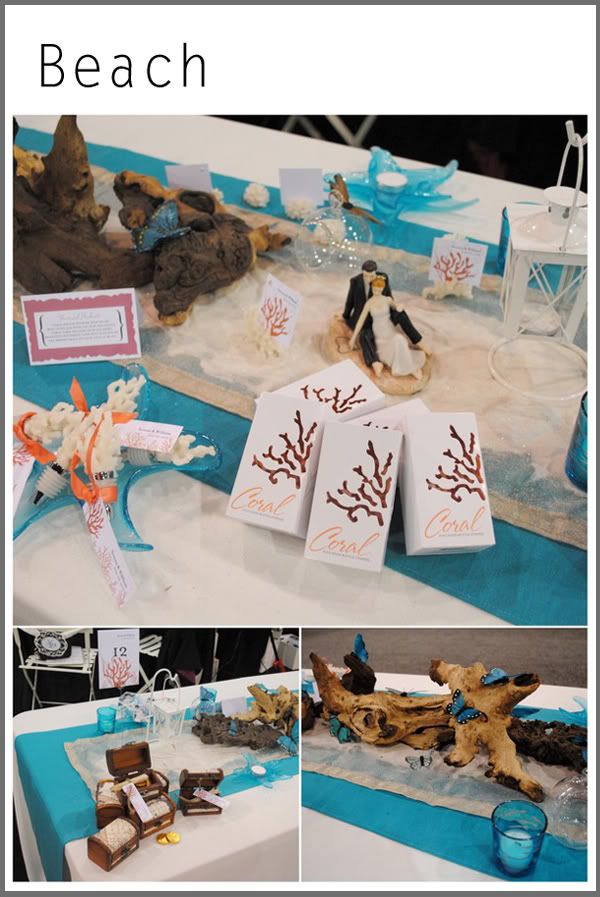 The Beach table was front row, center at the booth so the butterflies were a definite attention grabber. Everyone thought they were just so pretty. And a lot of people commented about the pretty coral packaging on the Coral bottle stoppers.

Get the Beach look: Beautiful Butterflies cake set | Coral bottle stoppers & card holders | Coral Stationery Collection | Romantic Wedding Couple on the Beach cake topper | Starfish glass dishes | Mini Lanterns | Blown glass globes | Treasure Chest favors | Carved glass fish tea light holders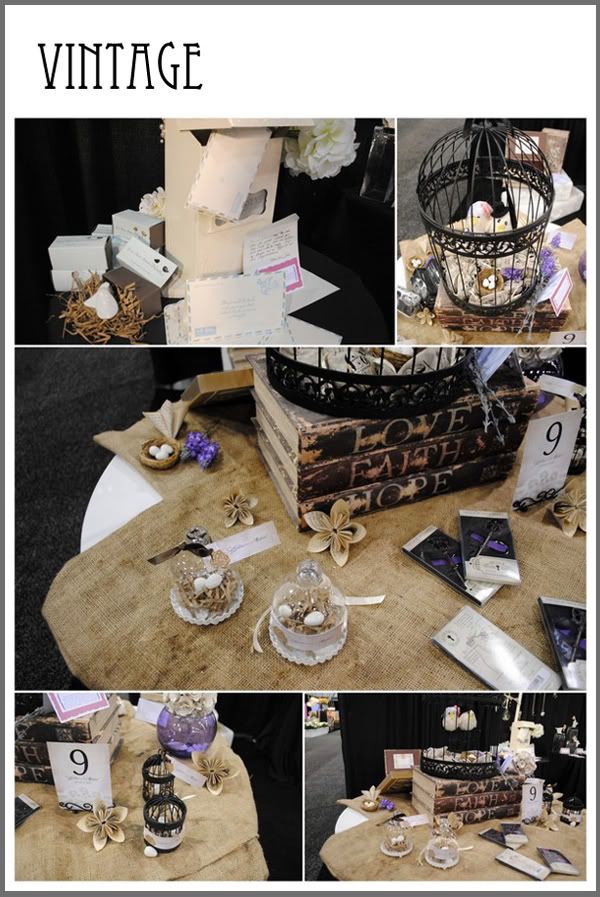 The antique keys were a hit with many passersby, so much so that most of them went mysteriously missing throughout the event. I suppose that's a good indication that people liked them *wink.
And many of the caterer folk liked the idea of using the glass bell jars as pretty little containers for wedding cupcakes.
Get the Vintage look: "Special Delivery" letter box & stationery | Love Bird salt & pepper shakers | Classic decorative birdcage | "Sweet Tweets" birdie bride & groom | Natural bird nests | Glass bell jars | Stacked antique books wishing well | Antique key bottle openers | Vinatge Lace Stationery Collection | Ornamental wire stationery holder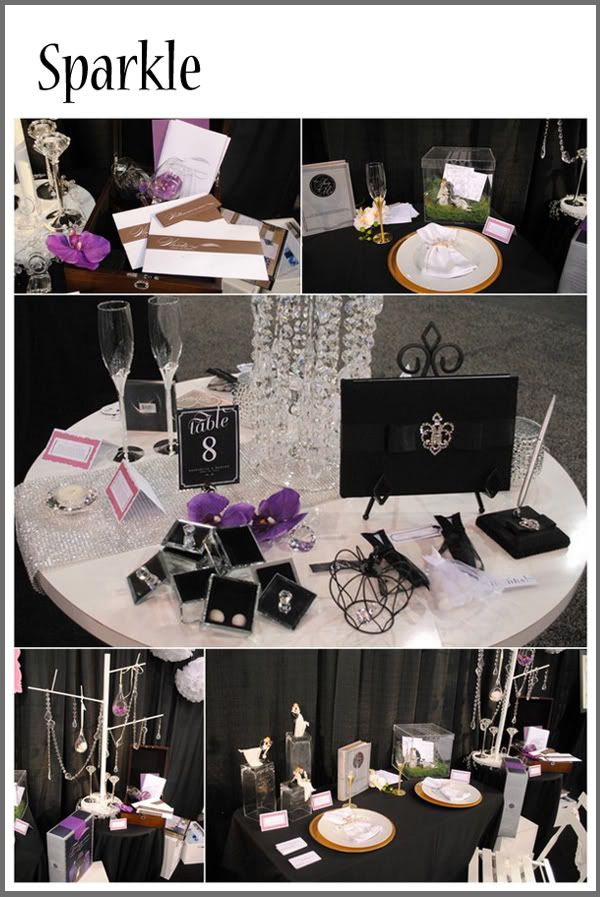 I think some of the best comments we heard was how easy it is to personalize everything. People really liked that unique aspect of our products.

And that's definitely something we take a lot of pride in. From personalized stationery to cake toppers designed to look more like you, we think every bride should be her own designer of her special day.
Get the Sparkle look: Love Letter Ceremony set | Diamond shaped tea light holders | "Story of Us" alternative guest book | "Circle of Love" wishing well | "A Kiss Above" bicycle cake topper | Venice Gold toasting flutes | Calla Lily toasting flutes | Expressions table number | Beverly Clark "The Crowned Jewel" guest book & pen set | Wire Crown | Mini beveled mirror box | Crystal tea light holder | Bride & Groom favor bags | "Table Glam" | Faux jewels by the roll | Acrylic crystal garland | "A Romantic Dip" cake topper | "True Romance" cake topper | "The Look of Love" cake topper
Preston Bailey's Exciting Announcement
Preston Bailey — über talented florist turned internationally renowned wedding designer — was in attendance at the trade show, and aside from busying himself putting on several popular presentations, he also made the official announcement of his brand new partnership with Weddingstar.
Over the next few months, we will be working together to create one-of-a-kind — yet reasonably priced — table top accessories. For more information, click HERE. Visit Preston's Bailey's website HERE.
Happy weddings!

Like us on Facebook
Follow us on Twitter
Pin with us on Pinterest