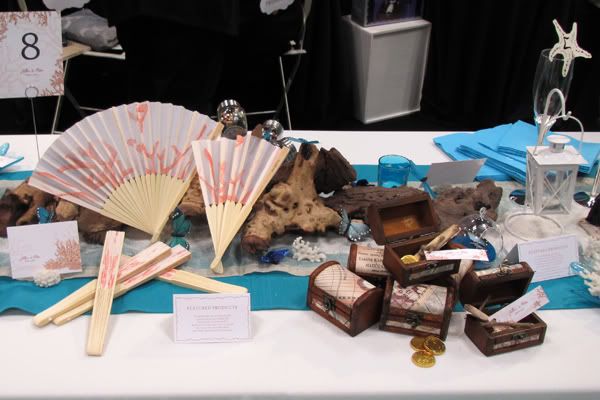 Yesterday we covered the ever-popular Sparkle wedding theme that's chock full of glitz, glam and tons of shimmer. Today, we're going a bit more, shall we say, down to earth?
With a bright and cheerful coral and aqua blue color scheme, treasure chests and starfish inspired favors, and festive hand fans to beat the heat, we're celebrating weddings, beach style.
So, check out how we styled and decorated our Beach themed trade show table. Hope you like it!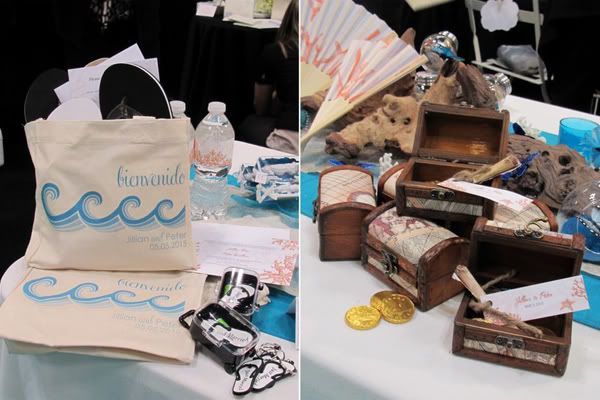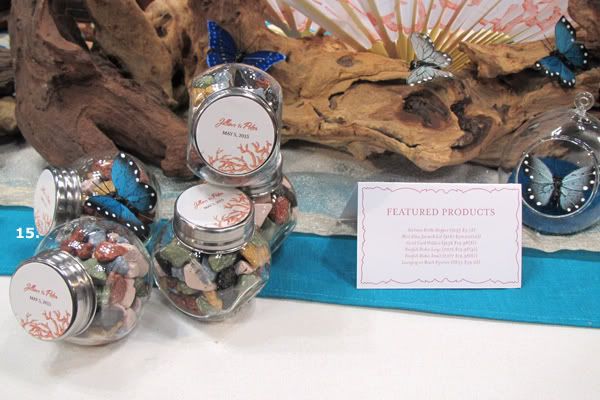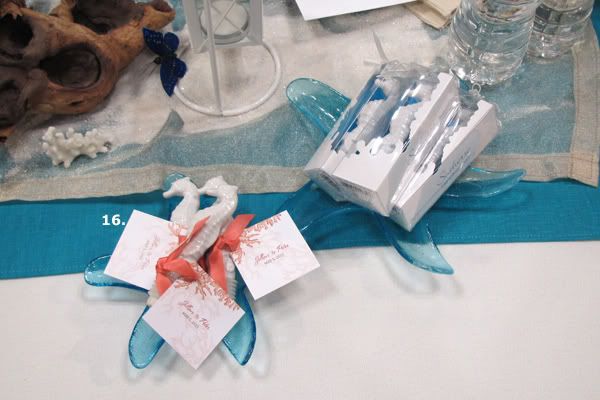 Here's what we used:
1. "Just Married" Flip Flops. The tote bag is a brand new product, what do you think? Look for it on our website later this year!
2. Mini "Just Married" Flip Flop Key Chains | Mini Travel Trolley
3. Mini Lantern with Hanger
4. Carved Glass Fish Tea Light Holder
5. Reef Coral Table Number | Table Number Holder
6. Reef Coral Large Tags | Coral Card Holder
7. Underwater Seascape Hand Fans
8. Mini Treasure Chest Favors | Reef Coral Small Tags
9. Blown Glass Globes | Beautiful Butterfly Decorative Set | Crystalline Quartz Sand
10. Coral Bottle Stoppers | Reef Coral Small Tags
11.  Couple Lounging on the Beach Cake Topper
12. Silver Plated Tulip Stem Flutes | Starfish Die Cut Card
13. Starfish Goodie Bags
14. Of All the Fish in the Sea Printed Napkins
15. Mini Glass Candy Jar | Reef Coral Sticker | Beautiful Butterfly Decorative Set
16. Seahorse Bottle Stopper | Reef Coral Square Tags | Starfish Dishes
Be sure to check out our Vintage wedding theme tomorrow!
Happy weddings!

Like us on Facebook
Follow us on Twitter
Join us on Pinterest