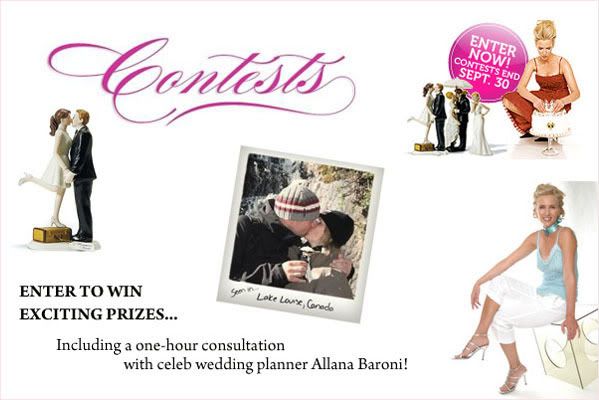 We have two contests currently on the go, but you better hurry because both are coming to an end on Sept. 30th!
Traveling Cake Topper Contest
The first contest is for all you just-married folk out there! To enter all you have to do is strike a pose with your Weddingstar wedding cake topper and smile — simple!
If you're about to be whisked away on your honeymoon (or destination wedding), take your cake topper along for the ride. Snap a photo and submit it for a chance to win one of 21 available Weddingstar prizes!
If a honeymoon just isn't in the cards for you right now, don't fret! Feel free to submit a photo of you, your hubby and your cake topper at a hometown location instead.
There will be one grand prize winner — the prize is an anniversary package valued at $300 and includes the following:

1 set of Mr. and Mrs. Bathrobes

1 set of Mr. and Mrs. Towels

1 set of Personalized Toasting Flutes


1 Cake Topper Keepsake Display Stand (click HERE to see the video)
There will also be 20 additional winners drawn — each will receive a Cake Topper Keepsake Display Stand.
And if your fabulous photo stands out from the crowd, there is a chance it could be featured in our 2012 Magazine, on the website or on the blog!
Winners will be chosen by random draw on Oct. 1. To enter or to get more information, please click HERE.
Newsletter Sign-Up Contest
This one's simple: if you're in the midst of planning your 2012 wedding, go to our WEBSITE and sign up for our monthly newsletter. You could win a one-hour wedding planning consultation with celebrity planner Allana Baroni via Skype.
Allana is an acclaimed special events planner, author, TV personality and self-proclaimed "social specialist!" She has made guest appearances on popular TV shows such as "The Oprah Winfrey Show," "Live With Regis and Kelly," "The Today Show," "CNN" and "Access Hollywood."
The winning couple will be chosen by random draw on Oct. 1, and the Skype consultation will take place before the end of the year.
So don't wait any longer and get clicking!
Good luck and happy weddings (and honeymoons!)