As you begin to figure out what you want your wedding to be like, consider these inspirational wedding traditions and themes from across the globe. There sure are some amazing colors, patterns and rituals out there that just may help you put the finishing touches on your dream wedding.
While researching this topic, my eye continuously wandered over to three worldly influences: Indian, Celtic and Asian. They are colorful, unique and packed full of longstanding cultural tradition.
So, here's the color palette:
By no means do you have to incorporate all five colors into your wedding theme, but just take a look at what happens when you do…
Indian Inspiration

From the Henna art and bracelets to the intricately designed saris, Indian weddings are so colorful and absolutely breathtaking! There are so many deep-rooted rituals and ceremonies that go along with these impressive celebrations, and they can even go on for days.
One ritual that really caught my attention is the Bangle Ceremony where the bride's female friends and family members place colorful bangles on her wrists.
Traditionally, Indian brides wear red or pink saris and adorn themselves head to toe with extravagant jewelry.

Weddingstar products included in the above photo are: Contemporary Indian Bride and Groom cake toppers, Traditional Indian Bride and Groom cake toppers, Live Laugh Love printed ribbon, Golden Lac Box favor/card holder, Indian theme favor/place card and Indian theme stickers.
Celtic Charm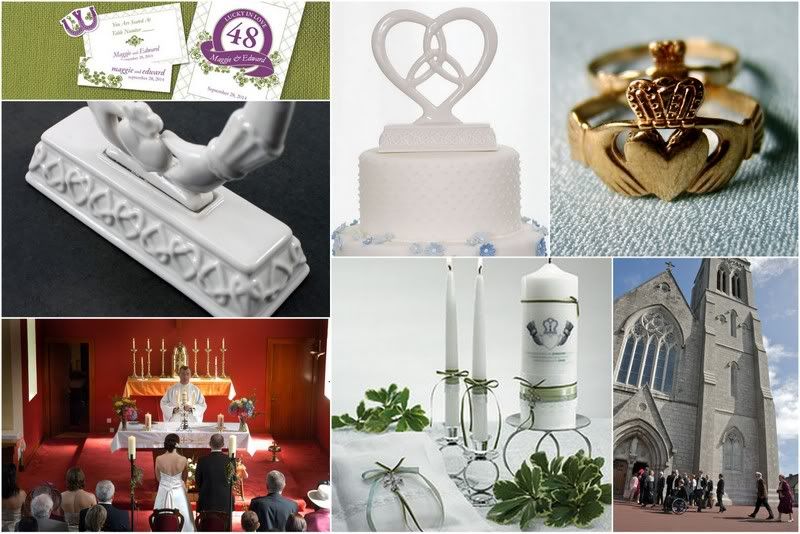 I absolutely love Celtic art, especially the traditional Claddaugh which depicts two hands clasping a crown-wearing heart. The Claddaugh is said to represent love, friendship and loyalty.
Traditionally, Claddaugh rings are given as a token of love and are a popular choice for wedding rings in Ireland. So beautiful!

Weddingstar products included in the above photo are: Luck of the Irish stationery, Traditional Celtic Claddaugh cake topper, Heart Framed Trinity Heart cake topper and Celtic Charm theme collection.

Asian Allure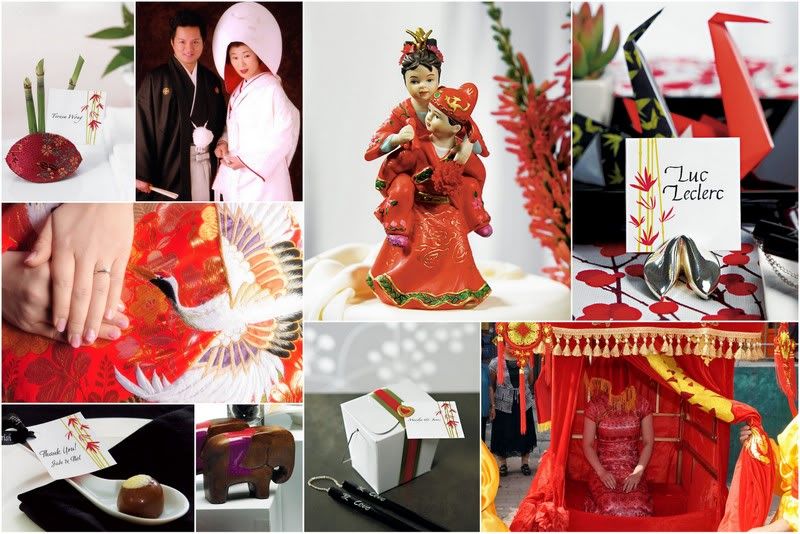 Asian brides are known worldwide for their lavish embroidered silk kimonos and multiple wedding day dress changes. Their weddings are huge culturally celebrated productions packed with ceremonies and rituals.
The colors red, white and gold (or yellow) play huge roles in Asian weddings. Red is believed to be a color of good luck, love and vitality, and it's typically the color of the bride's ceremonial kimono. Her kimono is also decorated with golden embroidered embellishments of phoenixes, peonies and chrysanthemums, symbols of good fortune and wealth.

Weddingstar products included in the above photo are: Asian Brocade "Snap Purse"/card holder, Cute Asian Couple cake topper, Silver Fortune Cookie place card holders, Asian favor/place card, Asian spoons, Mini "Good "Luck Elephant favor, Asian take-out boxes and Love chopsticks.

Happy weddings!

Additional photos included in this post are courtesy of:Thai Pham, Yi Chen, kanegen, Athena's Pix, Greg Neate, Matt Murphy, madaboutasia, Poi Photography and Vicknes Waran.