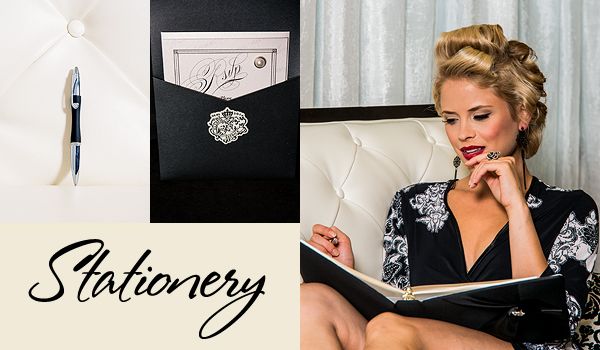 Wedding Stationery is a very broad category and contains everything from the expected wedding invitations to favor tags. Our 2013 styles include a few vintage designs, a classic black and  white and our featured 'Aqueous' theme. Keep reading for a glimpse into all the new designs!
2013 Weddingstar Stationery Collections
A stationery collection is a group of stationery items with the same unifying theme. Typically our stationery collections will include Wedding Invitations, Save the Date Cards, Favor Tags, Table Numbers, Wine Labels, Place Cards, Wedding Stickers and Wedding Clings. However some collections will also include Water Bottle Wraps, Favor Box Wraps, Menus, Wedding Banners, Die Cut Fans, Tickets and more! We currently have 67 different wedding stationery collections available to choose from and we are always working on new and innovative designs.
I hope you enjoy the latest collections that we have cooked up for you!
Vineyard Wedding Stationery
Printed on recycled paper this collection was designed to represent the natural, organic feel of a traditional vineyard. It is available in the colored style you see above as well as a more formal black version. 17 different stationery items are available in this design, including but not limited to; wedding invitations, wine bottle labels and wedding table numbers.
 Times Square Wedding Stationery
Classic and minimalist, this design features a very basic look that would work for a variety of wedding themes. It is available in white, pink and powder blue and all color options feature the gray background. 8 stationery items including Invitations, Save the Date Cards and Thank You Cards are available.
Retro Pop Wedding Stationery

This vibrant collection features 11 different stationery items all sporting this fun design that evokes images of soda pop and roller skates! Two different color combinations are available and can be found on any of the product pages.
Parisian Love Letter Wedding Stationery
Paris has always been synonymous with true romance; strolling down the Champs-Élysées hand in hand with your lover… sitting in a quaint little coffee shop admiring the life of the city and suddenly – there he is… admiring a work of art at the Louvre only to glance up and catch his eye… the possibilities in Paris are endless. This collection brings out an elegant romance meshed with an old world charm.
There are 31 different stationery items in this design; Invitations, wedding table numbers, petal cones, wedding programs and many more! Available in vintage gold (shown here) and black.
Key Monogram Wedding Stationery
Tell the world they you have relinquished the key to your heart with this elegant stationery. A monogram is built into the bow of the key, creating a design that is uniquely your own. The 6 different stationery pieces in this style are available in 8 different colors.
Homespun Charm Wedding Stationery

Bursting with wildflowers, banners and sweet details, this collection is a must have for a whimsical theme. 25 stationery pieces are available, each one combining elements of this theme in different ways. There are 3 different color options to choose from. (Pair this collection with wildflowers and burlap for a rustic theme.)
Fanciful Monogram Wedding Stationery

It's all about the monogram in this ornate collection. Change up the color (9 to choose from) and add your monogram to create a personalized collection perfect for you. There are 13 different pieces in this collection to choose from including wedding invitations, wedding clings and water bottle labels.
Equestrian Love Wedding Stationery

Western charm. Do I really need to say more? This collection brings to mind cowboys and campfires, wide open fields and the escape that only riding horseback can bring. Printed on Ivory Linen paper, this collection is available in 4 different colors. There are 20 different stationery products to choose from within this design.
Black and White Wedding Stationery

Choose from the black and white version shown here or add a pop of color to this design with one of our many variations. This bold collection can be found on 8 different stationery products.
Aqueous Wedding Stationery

This simple design is one of my favorites – created from original color washes, each piece portrays the elegant fluidity of water. Six different colors are available to better suit your wedding theme. Choose from 17 unique pieces including a bunting banner, wedding program and wedding invitation.
***
There you have it folks – our latest wedding stationery collections!
I hope you saw something you liked, be sure to tell us if you did (or didn't)!
See you on Monday!
Like us on Facebook
Follow us on Twitter
See our pins on Pinterest