Summer Fun
From backyard barbecues to more formal affairs outdoors, summer weddings are truly romantic and, quite frankly, fun!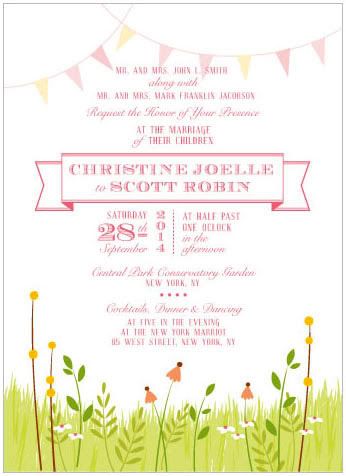 Let the fun-loving atmosphere come alive with quirky wedding invitations that really reflect the charm of the summer season.
For a rustic chic or vintage style outside party, consider our Homespun Charm invitation (left) in Sweet which features country fair banners and a whimsical pastoral scene.
Dandelion Wishes (right) in Watermelon is charmingly simplistic and features dandelion seeds blowing in the wind: a true summertime staple.
Sports
If your wedding venue is a golf course, or maybe you're just trying to please your golf fanatic groom, why not get your guests into the summertime spirit with fun golf themed wedding invitations?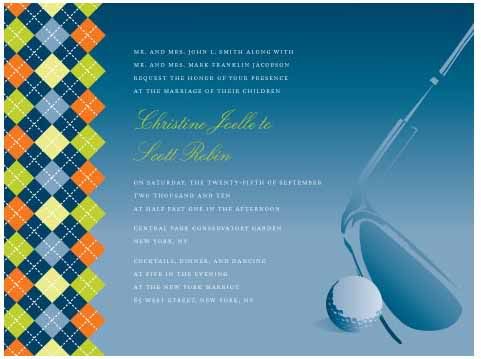 Our Golf stationery in Indigo Blue Gradient is a great accompaniment to this theme — not gaudy or too in-your-face golf.
The sporty elements are featured in a subtle and elegant way, and the refreshing argyle color palette is really bright and engaging.
So, not only are these unique invitations golf pro worthy, but just look at how fabulously stylish they are too!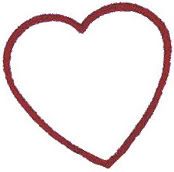 Tip: To complete the look, be sure to check out our array of golf and sports themed favors as well as our selection of cake toppers to suit any sports enthusiast's greatest passion.
Whimsical
If you're planning a whimsical wedding day, consider stationery with a bit of a playful appeal.
For a more fanciful feel, our French Whimsy stationery (left) in Red is such a sweet choice. The color really pops against the white background, and the mix of delicate floral details and chic rustic textures add just the right amount of vintage elegance.
The charming love birds of our Love Bird collection (right) in Spring will add an element of whimsy charm to your wedding stationery.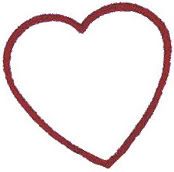 Tip: If you love our Love Bird stationery then you'll also fall in love our other love bird products, such as our adorable cake topper and salt & pepper shakers.

Modern
If you're more of a right-brained, straight-shooter type then wishy-washy wedding invitations just aren't your style. Instead, consider stationery with clean lines and minimal cutesy details.
The illustrative style of our Romantic Elegance invitation (left) is simple, elegant and modern.
Get it in Plum (as shown) or customize it to match your wedding colors.
And if personalization is what you're after, our Expressions stationery (right) offers an array of color and style options to make your wedding stationery all your own.
Haven't found the style you're looking for?
No problem! Take a moment and browse all of our wedding stationery collections HERE. With close to 60 different options, you're bound to find the collection that suits you best.
Or maybe you'll find what you're looking for in Part 1 of this two-part blog. We covered invitation ideas for beach, black tie, vintage and rustic style weddings. To view it, click HERE.
Tell us what you think!
Leave a comment below and let us know what your invitation style is and which invitation is your absolute fave.
Happy weddings!

Like us on Facebook
Follow us on Twitter
See us on Pinterest