The snow has been falling since yesterday morning and the temperature is a balmy -20 degrees Celsius… what better day could there possibly be to feature our "Winter Wonderland Idea Board"!
This inspiration board of Weddingstar products was created by our design team to showcase their versatility. Alone they are all interesting pieces, but combine them and you have the makings of a full fledged Winter Wedding Theme.
Let me break it down for you!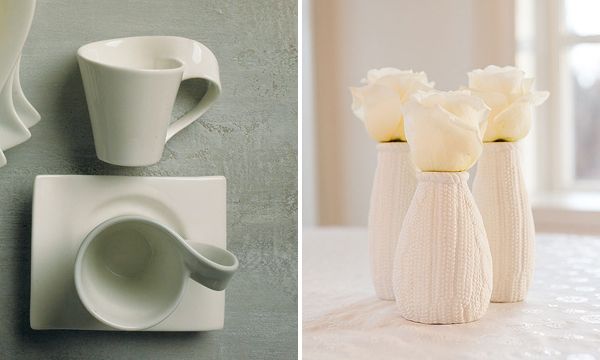 This fun plate and cup combo is a handy choice for your winter wedding. They can be incorporated into the decor, or perhaps included in a coffee or hot chocolate bar. They can also be given away as favors;  consider adding a package of hot chocolate or other hot drink (such as apple cider or tea) to complete the favor and add to the overall winter theme.
Mini Faux Knit Porcelain Vases
Each package of these vases contains two different sizes; both with a warm woolen knit finish. What better way to acknowledge the season than to include in your wedding a decorative accent that will evoke the warmth and comfort of grandma's knitted sweaters?
Available in both blue and white, these low candle holders are a great addition to any decor! Whether they are dotted around the cake or guestbook table or included in the centerpieces, they are guaranteed to complement your winter wedding!
Laser Carved Glass Snowflake Tea light Holder
Shimmering silver with etched snowflakes twinkling through, these candle holders are another great option to add a little light to your wedding. Depending on where they are to be featured, consider using a flame-less tea light to minimize any risks. (Tip: Some venues do not allow open flames, be sure to find out what the rules are before purchasing your wedding decor!)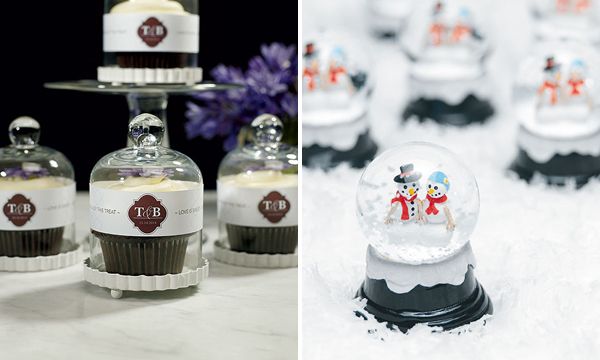 Miniature Glass Bell Jar with White Fluted Base
Showcase your tasty winter treats in these adorable little containers. As shown in the inspiration board, shaved coconut can look remarkable 'snowy' – what better way to celebrate the season than to serve 'snowballs' for dessert?
A few Bride and Groom snowglobes will winterize your wedding in a heartbeat. Not only are they a perfect addition to the theme, but you know your guests will be unable to resist giving them a shake!

Winter Finery Wedding Collection
Each piece in this collection proudly displays a variety of snowflake designs. The collection includes a guestbook and pen, ring pillow, flower girl basket and garter set! The winter theme doesn't have to be confined to just the reception and this set allows you to easily incorporate it into the entirety of your wedding.
Tip: Have your flower girl sprinkle 'snow' instead of petals as she walks down the aisle. (Be sure to have this approved with your venue beforehand!)
Winter Wonderland Wedding Couple Figurine
To 'top it off' 😉 we have our, New for 2013, Winter Wonderland Cake Topper. Proudly sitting atop your cake, this beautifully detailed couple would no doubt be the pièce de résistance!
***
I hope you enjoyed this selection, now if you'll excuse me I have snow to shovel! Be sure to let me know what you think; comments always make me feel all warm and fuzzy (and I could definitely use a little warmth right now)!
Have a fabulous weekend, stay warm and I will see you Monday for a brand new real-wedding feature!

Like us on Facebook
Follow us on Twitter
See our pins on Pinterest