From spring and summertime brights to deep, elegant colors of fall and winter weddings, our collection sets have every wedding style covered.
Coordinating wedding collections are an easy way to get everything you need for your wedding ceremony and reception in one convenient package. Our 33 unique collections include an assortment of useful accessories including a ring bearer pillow, flower girl basket, guest book and pen set, and a keepsake garter and one to toss.
Spring
Consider butterflies — a springtime classic — with the Butterfly Dreams Collection:
This pretty collection features an elegant silver butterfly adorned with tiny sparkly crystals on a large abstract embroidered flower. Choose from four color choices to match your springtime theme. Stay with one color or mix and match for a customized look!
Or adorable love birds with the Love Bird Collection in Classic White: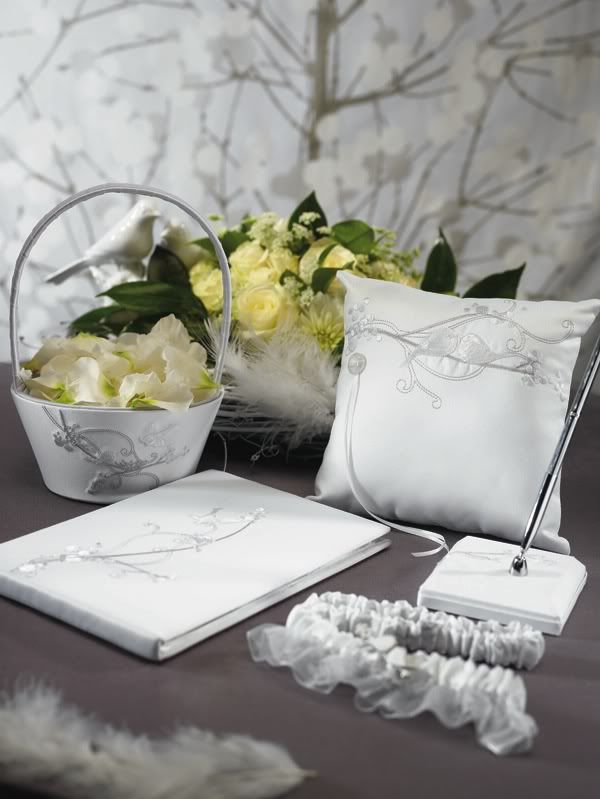 This timeless collection is inspired by the romantic nature of two always-charming love birds. The affectionate love birds are embroidered into various positions on every piece. Made of white and grey matte satin fabric with embroidered decoration.
Summer
Go color crazy for your summer "I do"s with our sensational I Do…Color Collection: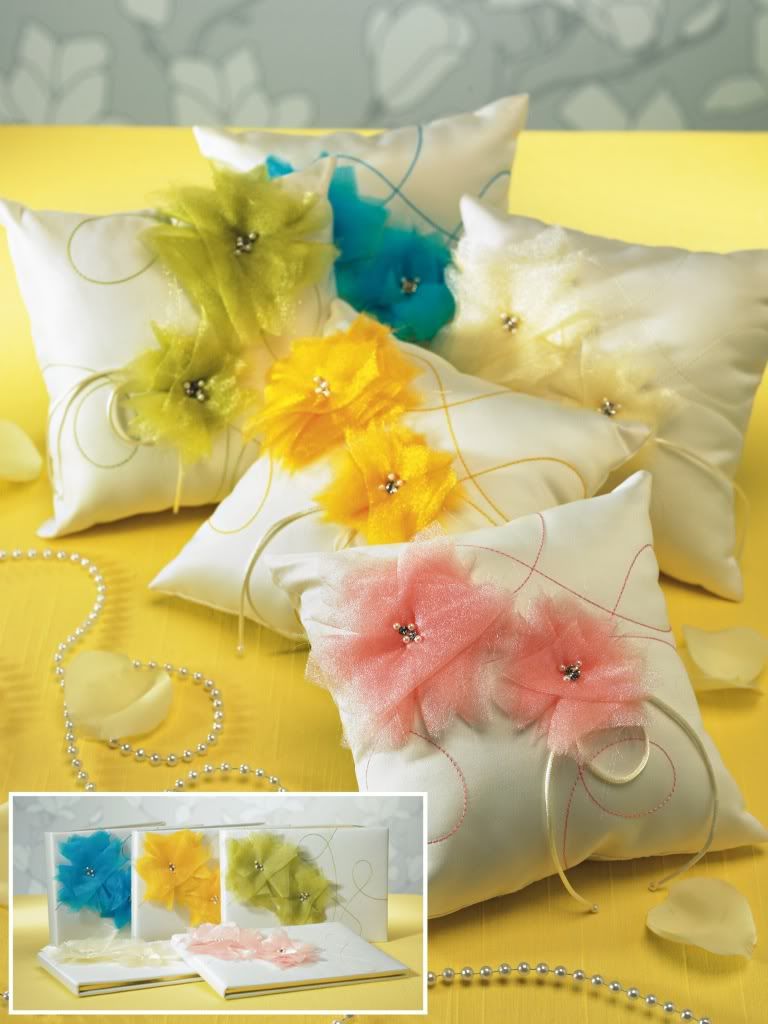 The delicate organza flowers are the stars of this bright and cheerful collection. Accented with miniature pearls and dazzling crystals, the effect of this collection takes traditional and gives it a modern twist.
Celebrate your beach themed nuptials with our Seaside Allure Collection:

A band of embroidered seashells with starfish detail make this beach collection ideal for outdoor or weddings on the beach. Match with a starfish cake topper or any of the many beach themed favors, accessories and gift items for a one-of-a-kind cohesive look.
Fall
Elegant, chic and even a little bit vintage, consider our versatile Thymeless Collection: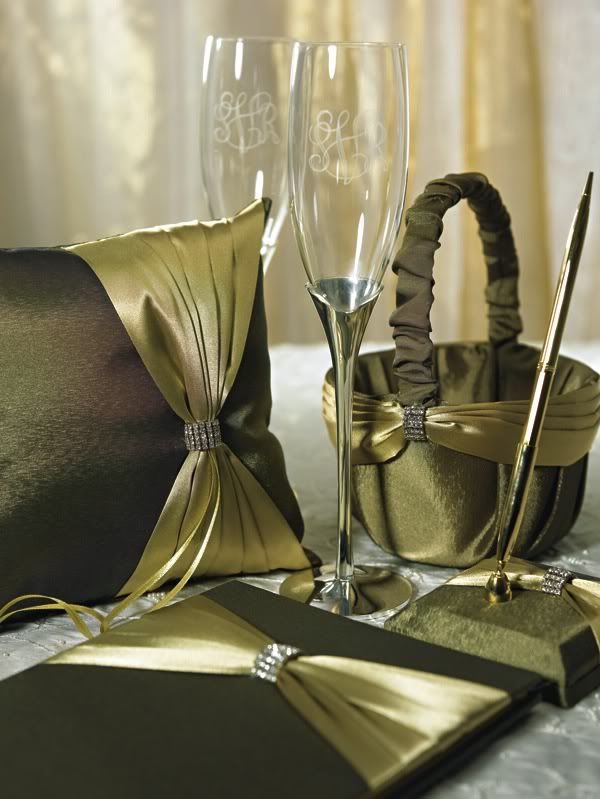 A beautiful combination of rich organic colored fabrics wrapped with sparkling crystals for the perfect finishing touch. The result is a collection of accessories that are sure to add interesting spice to almost any wedding theme or style.
Or our modern and sophisticated Platinum by Design Collection:

The timeless elegance of platinum has inspired this stunning collection. The perfect balance of glittering crystals and classic pearls atop premium Duchess Satin results in accessories with enduring style and stunning sophistication.
Winter
Celebrate your winter wonderland wedding with our snowflake themed Winter Finery Collection: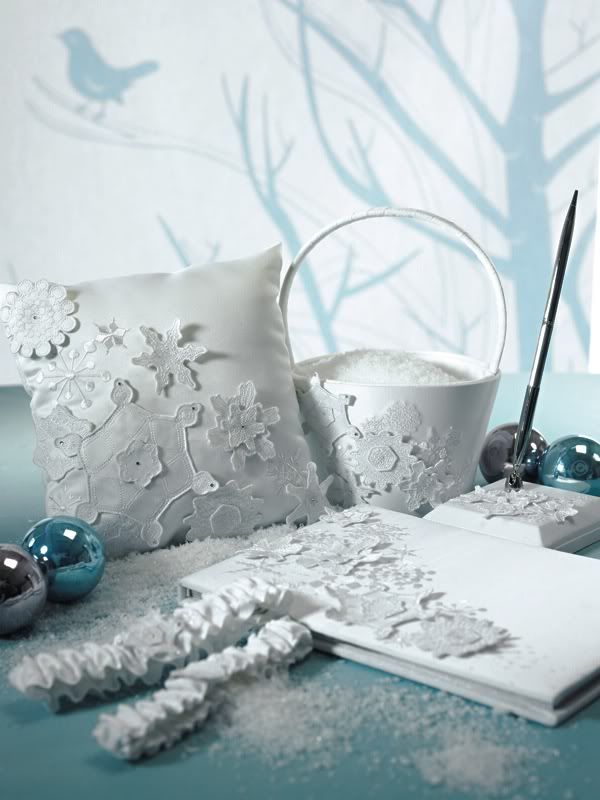 Really emphasize the seasonal appeal of your winter wedding. No two snowflakes are the same in each piece of this elegant wintery collection; they are as individual as the real thing.
Or go for sheer elegance and sophistication with our classic Love Bird Damask Collection: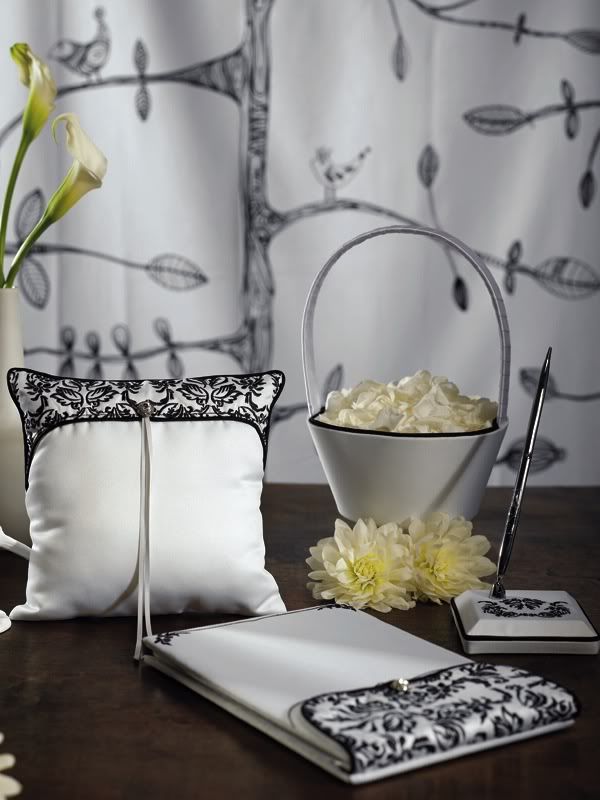 Add a little drama to your special day with this classic Collection featuring chic damask detailing. The floral design twists into delicate little hearts and two love birds meld into the pattern with true artistry. The black on white design is both timeless and dynamic. Pair with our Love Bird Damask Stationery Collection for an unforgettable cohesive look!
Didn't see the style you were looking for?
Check out all 30 of our fabulous collections HERE. We also carry three exclusive Beverly Clark designs; view them HERE.
Happy weddings!

Like us on Facebook
Follow us on Twitter
See us on Pinterest