The results are in! A recent Facebook poll revealed that most brides think having something to stand under, hand-in-hand with their groom is the number one must-have at any outdoor summer wedding. The winner with 63% of the vote is the romantic wedding arbor or arch.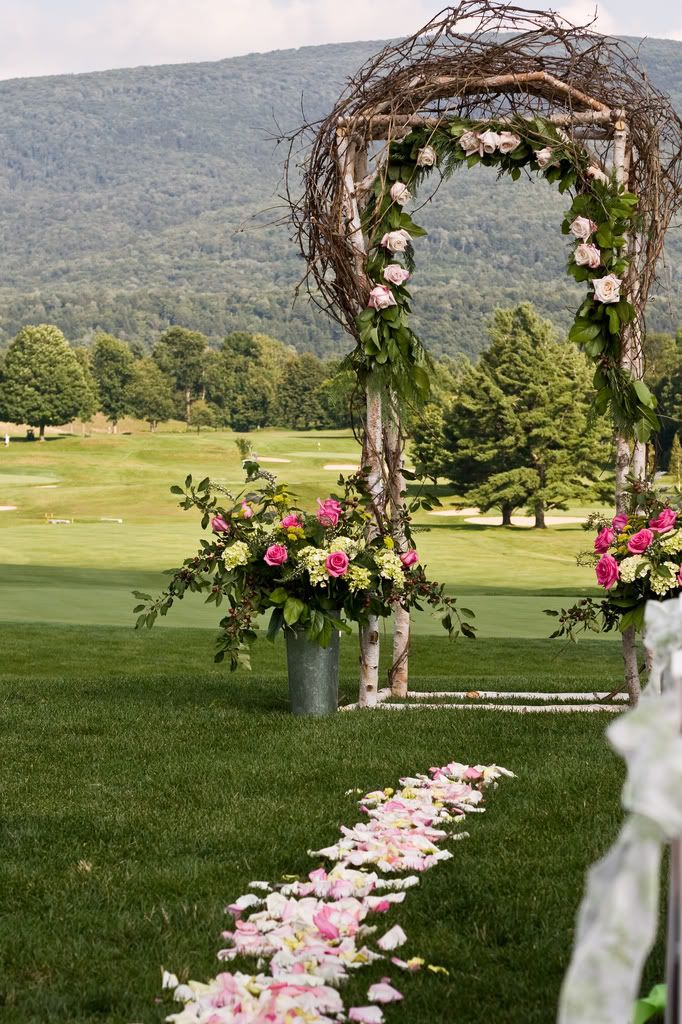 ~ Maybe it's the fairytale-like ambiance that comes with having the natural frame of a wedding arbor embracing a happy couple while they say their vows that make them so popular for outdoor ceremonies. ~
The great thing about wedding arbors is that you can dress them up or down, depending on the style, theme or budget you're trying to achieve. Make your arbor fit for a princess with roses, ivy, tulle, chiffon, silk, mini lights or even crystals, or go for a more natural look great for casual affairs. Either way, varieties of flowers, fabrics and bows to compliment your theme are all at your disposal.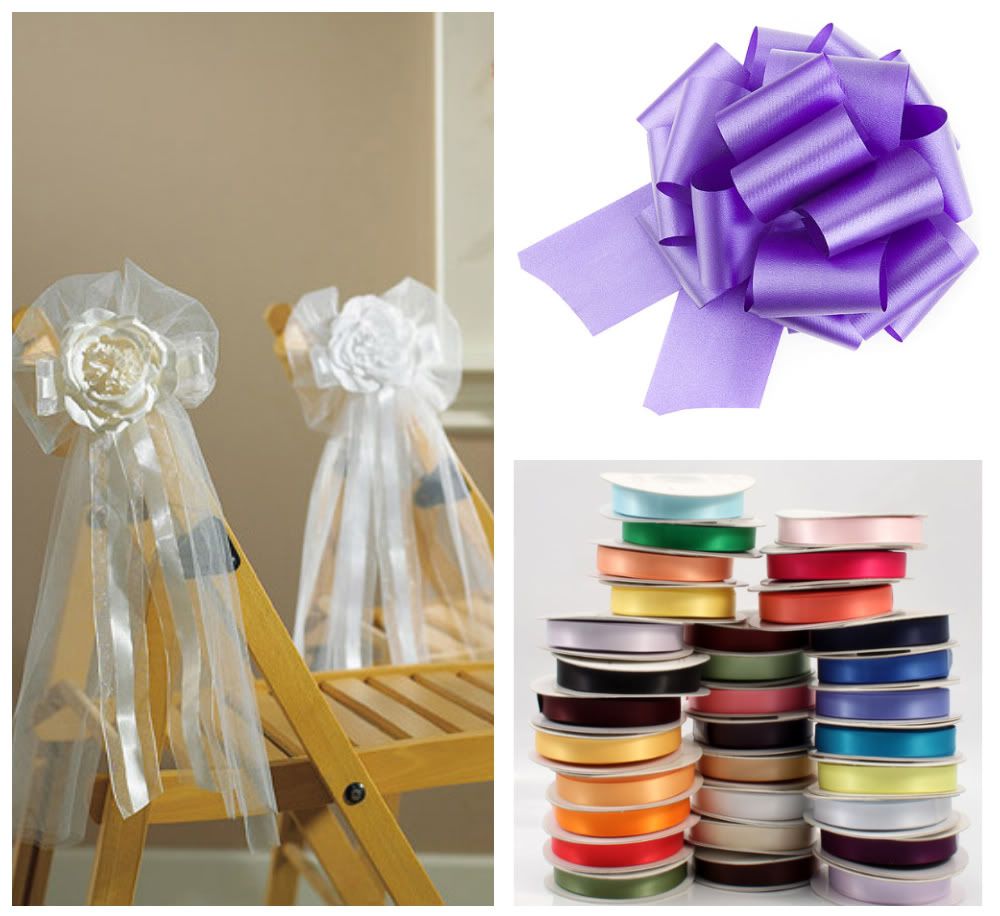 ~ Pre-made tulle and ribbon bows (left) look naturally pretty with the subtlety of the silk rose fashioned to the center of them. Use these as chair markers or affix them to an arbor, gazebo or archway to add an extra something to your ceremony. For a more budget-friendly option, try poly ribbon pull bows (top right) to create the same effect for a third of the cost. These bows come in two sizes and 14 different colors to match any theme. Or add just a splash of color with bows made from plain or personalized colored ribbon (bottom right). ~
Coming in second place in the poll with 25% of the vote are hand-held fans. Ceremonies out in the summer heat can leave guests hot, uncomfortable and restless, so give them something to make their day a little cooler.
~ All-natural hand fans made from SAA paper (top left) can also be used as pretty yet practical table decorations or guest favors at the reception. Tropical hand fans with floral details (top right) and Beach hand fans with underwater seascape details (bottom right) can be personalized just for you on your big day. Or choose personalized French Whimsy hand fans (bottom left) that come in 10 different colors. ~
In last place with only 13% of the vote are flower petals in place of conventional white aisle runners. Although they're maybe not an absolute must for most brides, they do make a nice addition to any ceremony outside. Whether in a park or garden or leading the way down a beach, rose petals will make a statement at your wedding.
~ Try traditional silk rose petals (left) that come in seven colors. Preserved natural rose petals (right) come in four popular colors and are a more organic alternative to silk, and since they are all natural they don't need to be picked up after the ceremony. ~
But if you're going for a more formal affair, conventional aisle runners do give the walk down the aisle an extra bit of elegance. And rose petals can always be scattered on top of them to give you the best of both worlds.
~ Conventional white aisle runners are still very classy and elegant, but they also come in three designer colors to complement almost any theme. ~
Remember to always consider the sun when planning a summer wedding. Shade or other relief from the heat like hand fans for your guests will make for a more enjoyable experience for everyone.
See you all again next week. Happy weddings!

Wedding arbor photo provided by Andrew Malone.