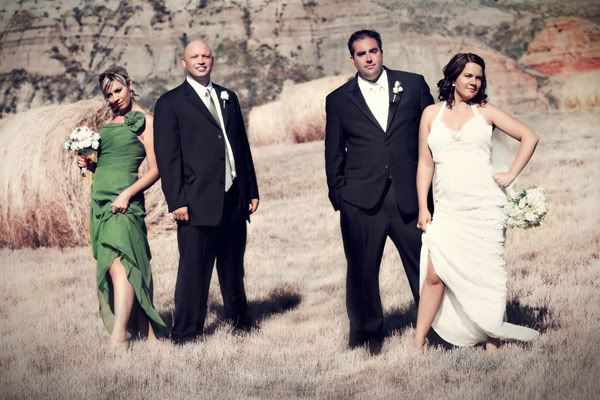 Radio personality Valene Olson of CHAT 94.5 FM wanted her wedding to represent her community, her listeners, the outdoors and her love for all things vintage.
Val and her handsome hubby Kurt Jordheim were married on August 6, 2011 in Medicine Hat, Alberta, Canada.
A note from the Bride:

The feedback I've gotten is that it's just so different and it's got a real timeless feel.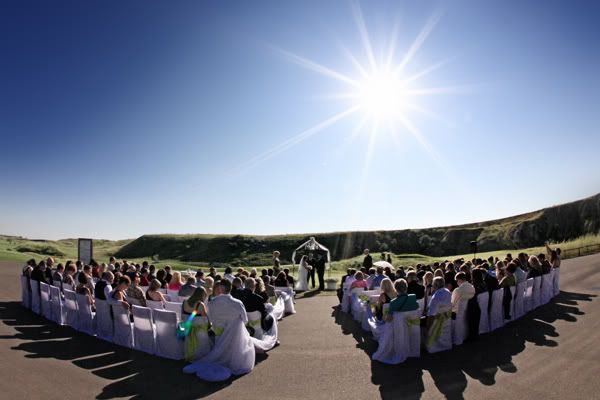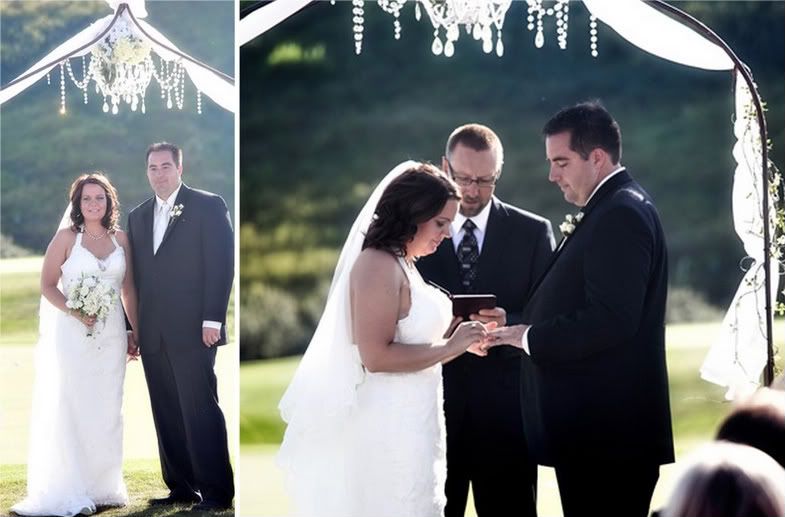 I wanted to come up with a wedding that was going to be really magical and super romantic, and it was, it was over-the-top romance.

The lovely wedding decor featured immaculate vintage flair, including heirloom buttons and pearls scattered everywhere, lace accessories, and a ton of localized touches.
Two personalized memorial candles were placed on the mantle directly behind the head table to pay tribute to the Bride's beloved aunt and the Groom's grandmother. Such a sweet detail!

My life is very public. There's really nothing off limits. I talk about it all, because that's really what our show is — it's real life."
I wanted a way to show appreciation for our listeners and the suggestions that were coming in. And one comment that always came from listeners phoning in is, 'You know, you're just so real it's just as if my daughter was getting married.' So that to me made me feel like I had to do something with heirlooms.


My concept was that every single button tells a story, and so my desire was to find buttons that were from Medicine Hat and had been passed down through generations. And we pretty much used every button we had. They were sprinkled on the tables, they were strung from the lights, and that was my way of having my listeners all there.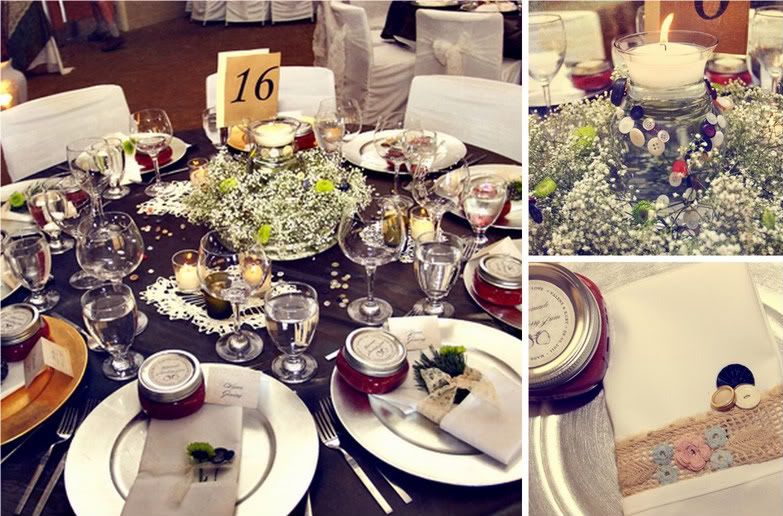 We preselected our tables, which really is one of the most challenging parts of planning a wedding. You know, how are these people going to get along, are they going to hit it off? So we were always listening for laughing and looking for happy faces throughout the whole night.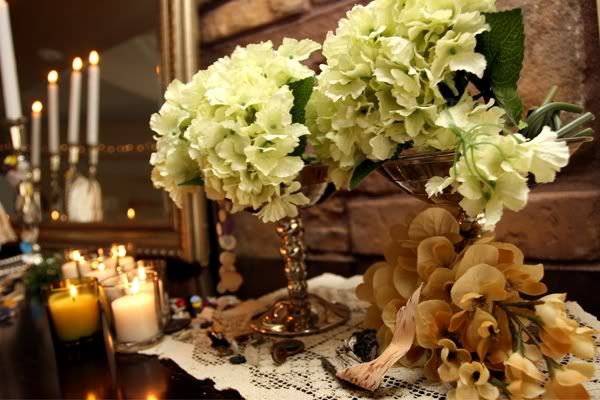 The venue's head chef created these culinary masterpieces entirely from local Alberta beef and vegetables. Such a great, personal touch!

There was so much time that was put into each detail of the food that they really wanted to highlight that, and it also just went with the flow of the evening.

A big thank-you to Pixeldust Photography for these fabulous photos! Check back here on Friday when we'll take a closer look at all the little details that made this spectacular Albertan wedding so special.
Happy weddings!

Wedding Venue: Desert Blume Golf Club
Wedding Planner: Brenda Gray, The Design Room
Venue Wedding Coordinator: Dana Hanni, Desert Blume Golf Club
Wedding Photographer: Pixeldust Photography
Caterer: Todd Lindsey, Head Chef, Desert Blume Golf Club
Floral Designer: Marina Wallis, Our Flower Shop
Wedding Cake: Tara Lam, Tara Lam Cake Creations
Dress: The White Room Wedding Boutique
Hair: Cuts N Stuff
Makeup: Merle Norman
Wedding Photographer: Pixeldust Photography + Design
Wedding Videographer: Randy Feere, RJF Productions
P.S. If you would like to see your wedding photos featured on our blog, email them to onasweetnote@weddingstar.com or submit them through your Two Bright Lights account. Please include the name of the happy couple, wedding date and location, and any other information you'd like to include about the venue, decor and overall theme or inspiration of the wedding.
If you are not the photographer then you must get permission to use their photos before you submit them, and please include their name and website for photo credit purposes.
Of course, we would love to see our own stuff in action! If you have photos featuring any of our Weddingstar products, please submit them. Photos will be featured as space permits.