How involved is your groom in the wedding planning? Let's face it, most guys haven't been planning their wedding day since they were little boys so it's pretty fair to say that they aren't going to be as interested in all the little details as we are.
My fiancé has been fairly helpful in planning our wedding, but there are definitely only a few things he's really opinionated about.
This got me thinking: what sort of involvement do grooms typically have in the planning? So, I took to our Facebook fan page and asked brides:
What part of the wedding planning is your groom in charge of? Or are you looking after everything yourself?
I took the answers we received and put together this top 4 list to help you delegate a job or two to your groom and get him a little more involved.
1. "We're in it together"
Some of you lucky ones out there have a groom that's in it through thick and thin with you, and they're excited and as involved as possible.
When my fiancé and I first started planning our wedding, I was under the assumption that the two of us would be planning our special day together. We're having a destination wedding so decisions such as  where to go, what resort, the ceremony location and what to do for the reception were all fairly huge and I wanted his opinion.
For the most part he's been helpful and often very opinionated, but when it comes to the nitty gritty details that he could quite frankly care less about, he just shrugs his shoulders and says, "Whatever you want. I just want you to be happy". Fair enough.
I think it's important to know both your limits. Don't make wedding planning into a full time job because it doesn't have to be. Talk about the wedding and ask him for his input as often as you want but realize that it's time to put the books away once he starts getting frustrated and you start to yell. After all, planning your wedding should be enjoyable.
2. "All he has to do is show up"
Perhaps it's better just to accept his impartial attitude than to push him to make decisions he really doesn't care to make. And really, if you are an OCD bride that wants everything to be perfect, then sometimes it's better just to do it all yourself. You get the wedding you've always dreamed of and all he has to do is show up, it's a win-win.
But don't be afraid to ask for help if you need it. Planning a wedding is no easy feat and it can often become overwhelming taking everything on yourself. Delegate, delegate, delegate! And if your groom still doesn't seem interested, ask your bridesmaids.
3. "He's in charge of the music and bar"
One great way to get him involved is to put him in charge of the things he probably has an opinion about such as the entertainment and the alcohol, which are the two main jobs brides had answered on our Facebook page. And chances are the things he chooses to take on are things you probably don't have at the top of your list.
4. "He only wants to plan the honeymoon"
Some grooms don't want to be involved in planning the wedding at all but they do have an interest in the honeymoon. Get him to choose and book the honeymoon. It gets him involved and it's one less thing you have to worry about.
And, here a few cute comments from our Facebook page that I just had to share with you…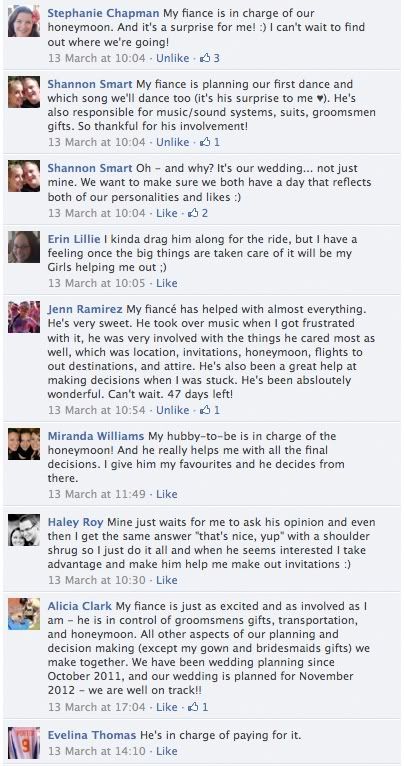 Happy wedding planning!

All photos courtesy of Alan Law Photography.
Like us on Facebook
Follow us on Twitter
Pin with us on Pinterest