We've all been there. Bored, annoyed, pushed into doing something we don't want to — weddings aren't all smiles and happy tears, are they?
While planning your wedding, don't forget to think about your guests and the various things you could do to ensure they have the best time possible. It may be your day, but your guests are a pretty big part of it!
In a recent Facebook poll, I asked our page fans: "What are your biggest wedding pet peeves?" Here are their top 10 answers…
10. Buffet lines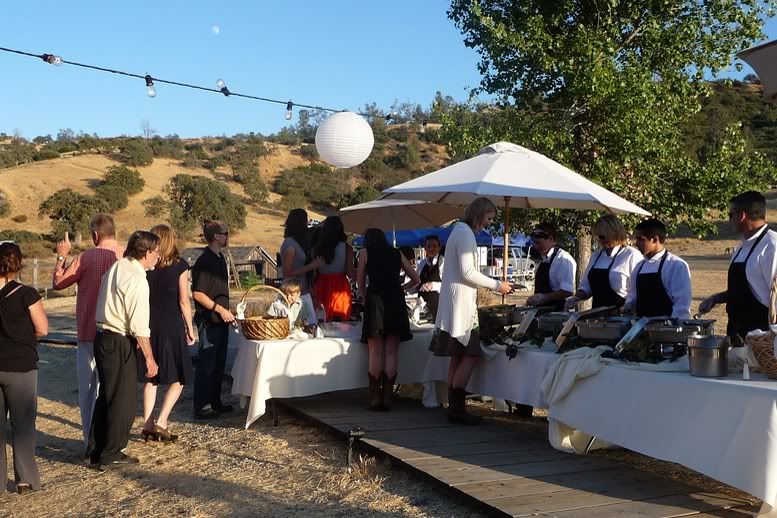 No one wants to be last in line to get their food, especially if the line is long and disorganized. I personally have nothing against buffets, in fact I'm a tad partial to them. They offer a variety of food and let's face it, sometimes service at a sit-down dinner can be just as slow.
I suggest speaking with your caterer and even the venue manager and coming up with a plausible buffet plan. Decide when to call tables up and how, and even consider having two or three buffet lines going at once.
9. Unruly kids
We've covered this topic in a previous blog post once before — Tips: Inviting Children to Your Wedding — and since it came up again in the poll, I guess it really is an issue for some wedding attendees.
The trick here is to ensure you have provided something for the children to do during the more "grown up" parts of your wedding. Whether it's games, crafts or even a clown, keeping them busy will keep them quiet and out of the way.
8. No transportation home
Providing your guests with rides — or at the very least, cab company phone numbers — at the end of the night is a great way to ensure everyone will get home safely. Consider renting a bus that will shuttle groups of people back to their hotels at predetermined times.
Create a list of the hotels you recommended to your guests and the times the shuttle will make trips to each, and post the list somewhere noticeable at the reception venue.
7. The bouquet toss
I have to admit this one surprised me at first, but after I thought about it for a moment I couldn't help but agree more. Being thrown into a swarm of girls to catch the bouquet is a fun concept when you're 12, but for the single ladies inching 30 I'm guessing they'd rather sit it out.
Make sure you inform your DJ not to pressure the stragglers into joining in. Even take a tally of the guests you think you would like to participate as you make your guest list. If it looks like there won't be enough to make it work, consider scrapping the somewhat outdated tradition altogether.
6. Sitting next to strangers
This one goes hand-in-hand with the singles' table. When figuring out your seating plan, try to make sure the couples, singles or families you seat together are close in age, or share similar interests or demeanor. Don't seat the party animal next to the pregnant lady, and keep enemies at opposite ends of the room.
For more tips on seating plans, check out this blog post: Tips: Seating Plan or No Seating Plan?.
5. A cash bar
This is another issue of personal taste. Again, I don't necessarily mind cash bars particularly because you know it's helping out the bride and groom pay for their dream wedding. Honestly, the choice is yours!
If you're planning a cash bar for your wedding, make the drinks $2 or $3 max and consider handing out one or two complementary drink tickets to each of your guests.
4. Drunk/annoying guests
Really, there's nothing you can do to avoid the infamous drunk-guy debauchery at your wedding. All I can suggest is to provide your guests with plenty of food, coffee and water throughout the night, and avoid long pauses between the meal, speeches and other entertainment. If your guests are bored, they'll drink.
Hmm…maybe a cash bar isn't such a bad idea after all.
3. Boring speeches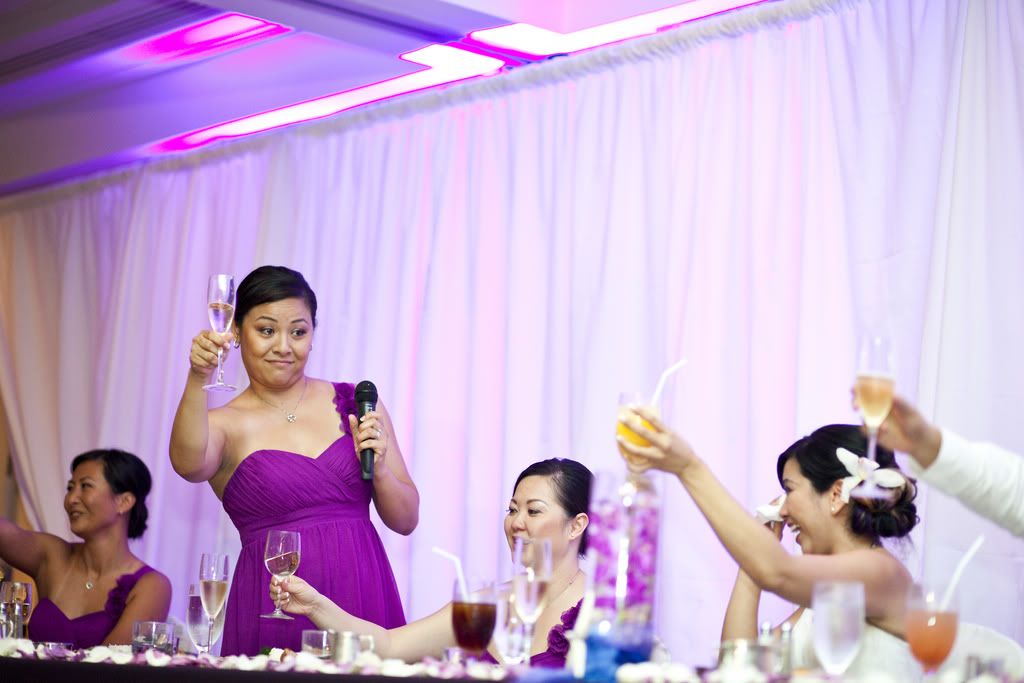 Please — and I don't think I'm alone here — keep the speeches short and sweet! They really shouldn't be more than 5 minutes long.
And there is no need to have everyone in your wedding party step up the mike. Chances are they'll get repetitive and only you will get the inside jokes.
2. Long waits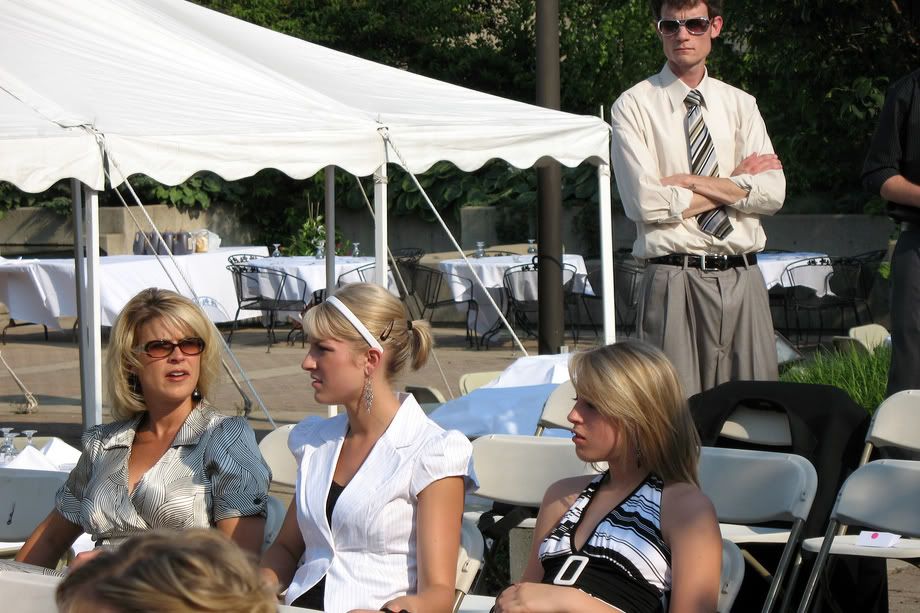 Sometimes long waits before the ceremony and between the ceremony and reception are unavoidable, but it's important for you, your wedding planner, officiant and venue manager to be in sync.
I suggest making an itinerary and giving it out to everyone you can think of — that includes all members of your bridal party, hair stylist, cake and floral designers, and DJ.
1. A bad DJ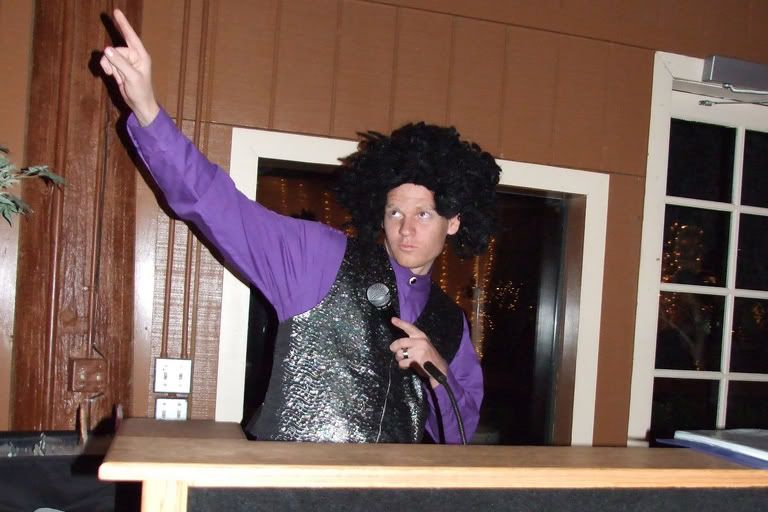 Yes, that's right. The number one wedding pet peeve is a bad disc jockey. DJs are known to get guests amped up and the party started, so I imagine a bad one is boring, introverted and has terrible taste in music.
A DJ's song choices are extremely important and they may make or break your night. To prevent the Chicken Dance from happening at your upscale nuptials or Busta Rhymes playing at your country affair, I'd suggest having a song list done and given to your DJ ahead of time.
For more tips on choosing a DJ, or deciding between a DJ and a live band, check out this blog post: Tips: Choosing a Live Band or a DJ.
Happy weddings!

Photos courtesy of: Bev Sykes, John Mayer, dennis crowley, Illuminance Studio, Bonnie Bogle, allison, The Consumerist, Andrew Malone, Todd Nappen and Erik Abderhalden.