What?
The first dance is often the most romantic part of weddings, next to the vows of course. It's two or three minutes that the bride and her groom can make all their own, forget about the hustle and bustle of the day, look into one another's eyes and get lost in the moment.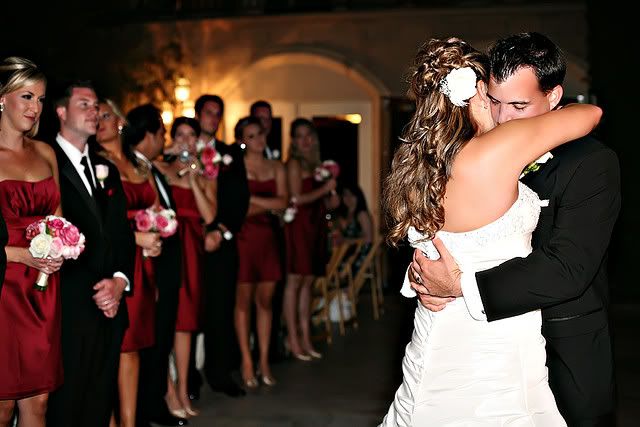 But then again…the first dance can also be a chance for the couple to let loose, release their creativity and really wow their guests!
Why?
Just like the bouquet toss, father-daughter dance and clinking glasses for a kiss, the first dance is a longstanding tradition that has really stood the test of time. So whether you opt for a more traditional number or really go for the wow factor, the choice is yours!
There are a ton of first-dance variations on You Tube, so if you're looking for ideas or inspiration you'll find just about anything you're looking for online.
How?
When it comes to what you want your first dance to be like, you really have three options to choose from…
1. Stick to Tradition
Keep it extra traditional by learning the waltz or fox trot and really owning that dance floor.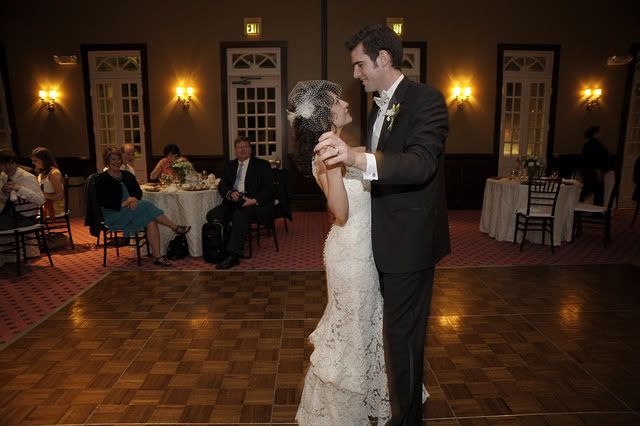 This is your big moment! Traditionally, the bride and groom slow dance to their favorite love song while their guests stand around them, watch and then join in later on.
This option is likely not the best one for you if you have no rhythm on the dance floor. Done right, these moves can really blow your guests away, but done wrong, the whole thing can be a total snooze fest. Only choose this option if you think you can pull it off, because let's face it, ballroom dancing isn't for everyone.
2. Take it a Step at a Time
Just wing it. Go ahead, grab each other and slow dance like you did in grade school!
This is currently the popular option at most weddings. The preparations are minimal, there's no pressure to perform and you can even have some fun with it if you want. The only downside is it can become terribly boring to watch.
After a minute or two have the DJ invite your bridal party, parents or other couples to get up on the dancefloor with you.
3. Put on a Show
Be creative, mix it up and give your guests something they'll never expect. But be prepared, this typically takes a lot of planning and rehearsing, and you have to be careful not to spill the beans before the big day.
Tip: this is an especially good idea if you're typically a more conservative couple.
An unexpected choreographed number will really wow your guests and showcase your fun personalities. I've seen routines set to "Baby Got Back" by Sir Mix A Lot, "Thriller" by Michael Jackson and even Beyonce's "Single Ladies."
Here are two hilarious well-rehearsed and well-executed videos I found online. To view them, click HERE and HERE.
Happy dancing!

Photos courtesy of: michelle hayes, Phil Hawksworth, Bev Sykes, Cameron Nordholm.