Some people say "Yay" to inviting children to weddings and some say "Nay," it's absolutely a matter of opinion. There is no steadfast rule to tell you whether or not to do it, but no matter what you choose there are ways to make it the right choice for you.
So I suppose if there was a rule it would be this: it's your wedding, it's your choice.
There is no denying that children look oh-so-cute all dolled up in tulle and mini tuxes at weddings. But if you're not careful, the day can turn into being all about them — getting them ready, entertaining them and watching them so they don't misbehave or have a temper tantrum during the ceremony.
It's up to you — if you have kids or know children who are very special to you then by all means make them the flower girl, junior bridesmaid or ring bearer for your special day. And keep in mind that the children you invite to be in your wedding party don't necessarily need to be invited to the reception.
Even something as simple as giving them a job like picking up confetti or blowing bubbles at you as you walk by after the ceremony will help keep them busy, at least for a little while. But more importantly, it's a way to make them feel involved.
Here are some opinions and ideas shared in a recent poll on our Facebook page. We asked: Yes or No to inviting children to wedding receptions?
"No children at the reception… It's for adults to celebrate."
"Depends on the type of wedding and the age of the kids."
"I feel that children are family too, and they get the party started with their awesome dance work!"
"We kept our wedding to children of just our brothers and sisters, and any infants of course were invited. One or 2 other children showed up and were not a problem."

"You can have an area set up with games or movies to watch…and even go so far as have kid-friendly food at dinner…fries, chicken fingers, etc…works real well!!!"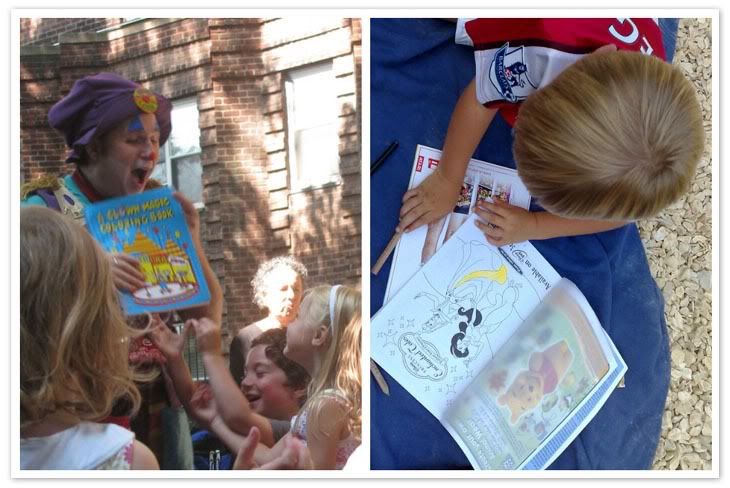 Some couples have opted for a magician, clown or other forms of live entertainment to keep the children busy during their wedding receptions. Others have set up coloring book stations, a movie or other interactive activities.
Consider our Wedding Activity Books. They are designed to keep children entertained for hours with a ton of word puzzles, coloring pages, mazes and more!
If you do plan to invite kids to your wedding, consider giving the DJ a few kid-friendly songs to play or set up a milk and cookie station to satisfy their sweet tooth after dinner.
Make it a morning or afternoon ceremony and reception to avoid many of your guests having to leave by 9 p.m.
Weddings can be a very long day for kids, so if you're planning an extravagant all-day event, perhaps it's best to opt for a no-kids clause on your invites. But more casual, outdoor weddings can make for a fun day for kids.
Hope that helps!

P.S. A big thank-you to all of you who participated in the poll!
Photos included in this post courtesy of: Gordon Tarpley, Simon Shaw, Sarah Elvin, edenpictures and Mark Hillary.