With casual, outdoor, destination and vintage inspired weddings growing in popularity over the last year, more traditional-style wedding trends have sort of come to a standstill.
Our dresses are sexier, our shoes are colorful and our hairstyles have taken on a more tussled, natural look…and typically sans veil. But with the royal wedding taking center stage earlier this year and the consequential emergence of grandiose, Victorian inspired weddings predicted for 2012, it's more than likely the veil will be making a comeback.
So how do you choose?
A Traditional Choice
Veils — which were traditionally worn to stave off evil spirits, by the way — are the epitome of romance and of that fairytale wedding ever woman had dreamt about as a young girl. They're often that one final touch that really makes us feel like a Bride.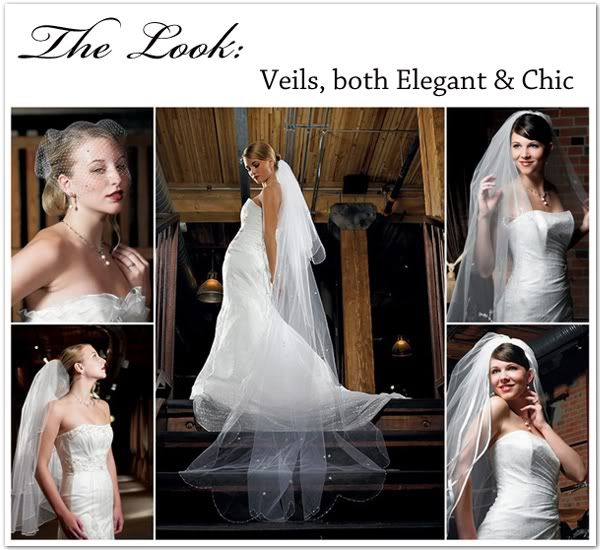 Fortunately for us, there are a ton of different styles and even colors of veils out there to choose from! Chances are, you'll find a veil that suits your personality and style.
The Hollywood glam inspired birdcage style veil (top left) is so chic yet it still has that little hint of elegance that make veils so special. It looks fabulous with a sleek updo and figure flattering dress.
A floor-length two-tiered tulle veil (center) is a much more elegant way to go and will always make any Bride feel like a princess.
The other three mid-length veils are definitely the more popular choices and really suit any type of wedding. Consider a veil with a satin border (bottom right), floral embroidery (top right) or pretty pearl detailing (bottom left). Traditional yet chic!
A Modern Alternative
Carrie Bradshaw really set the chic headpiece trend in motion when she paired her über elegant Vivienne Westwood wedding gown with a trendy turquoise colored bird number (similar to the one in the bottom left corner of the top photo) during the 2008 Hollywood hit Sex and the City.
Since then, Brides have graced the aisle with floral, feathered, painted, hand sewn, frilly and even jeweled hair accessories of all shapes and sizes.
Big, statement-making florals have made a comeback this season and will continue to do so well into 2012. Pair this undeniably romantic floral headpiece with a satin-wrapped headband for a fabulously trendy wedding day look.
I absolutely love this! And admittedly, as my childhood love for a fairytale veil has become slightly blurred as I've gotten older, this is definitely something I'm considering for my wedding next fall.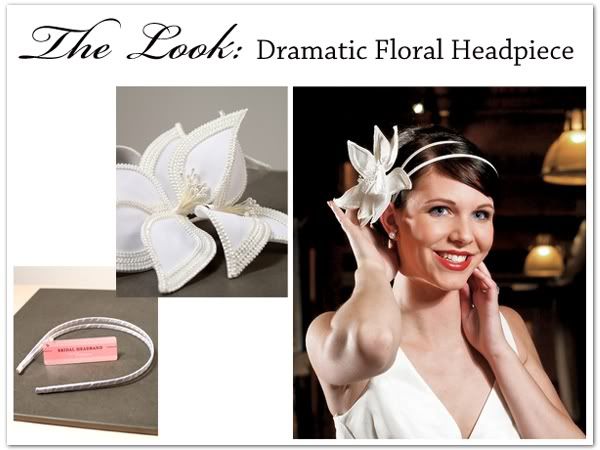 For a more dramatic effect, consider a floral headpiece with a little bling like pearls or crystals. And again, pair it with a pretty headband for an unforgettable look.
Happy weddings!

Photos courtesy of: jekert gwapo, Zhao, cheriejoyful, Lori, Sarah Elvin and Eugenijus Barzdzius.