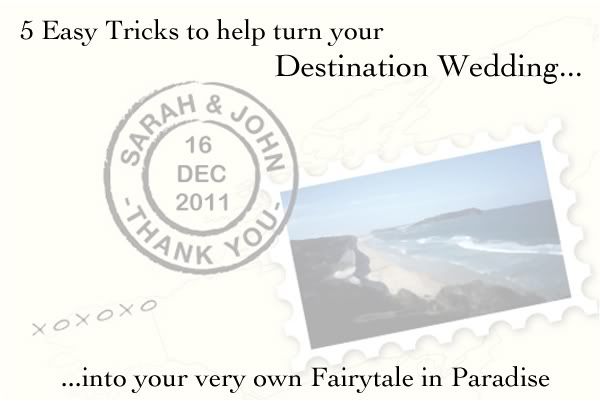 Destination weddings — specifically the ceremonies — can often feel rushed and impersonal. But with a few personal touches and a little pizazz, your wedding away can be even more intimate and special than an event at home.
Following Monday's blog post, 2012 Destination Wedding Trends, all about the latest and greatest in destination weddings, I thought I would share with you five fun and simple ideas I've come across over the last few months to help me put a little personal flair into my own destination wedding next year.
So, in no particular order, here they are…
#1. Put your Personal Stamp on Everything
Personalized tags, personalized stickers, personalized favors…Nowadays you can do a lot more than just write your names in the sand to make your destination wedding all your own, and personalized stationery is really one of the easiest ways to do that. It's compact, easy to transport and with a little ribbon, it can make a big impact!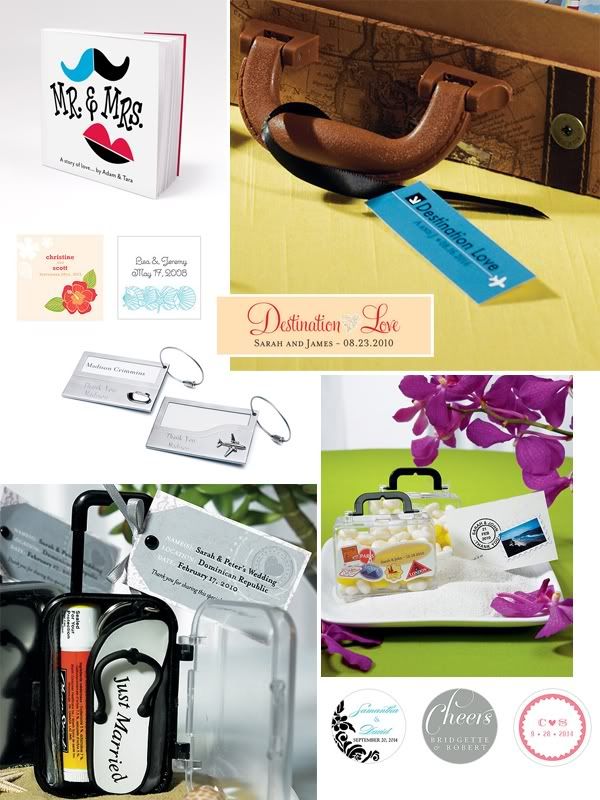 Consider handing out mini blank notebooks to your guests as they arrive at the resort or perhaps a mini suitcase packed with mints, Chapstick or a cute mini sandal key chain.
And personalized luggage tags make a great souvenir!
These items are: "Mr. & Mrs." Personalized Mini Notepad | Tropical Bliss Square Tag | Simply Starfish Square Tag | Destination Love – Sand | Destination Love – Airplane | Stainless Iron Luggage Tag Set | "Just Married" Mini Flip Flop Key Chain | Mini Travel Trolley with Wheels | Luggage Tag Card | Mini Travel Suitcase Container | Postcard with Stamp | Love Bird Damask Small Sticker | Expressions Small Sticker | Homespun Charm Small Sticker.
#2. Add Sand to your Ceremony
One thing I would absolutely love to do for my wedding is incorporate a sand ceremony. It really adds a sense of intimacy and romance, and it's also a great way to include family.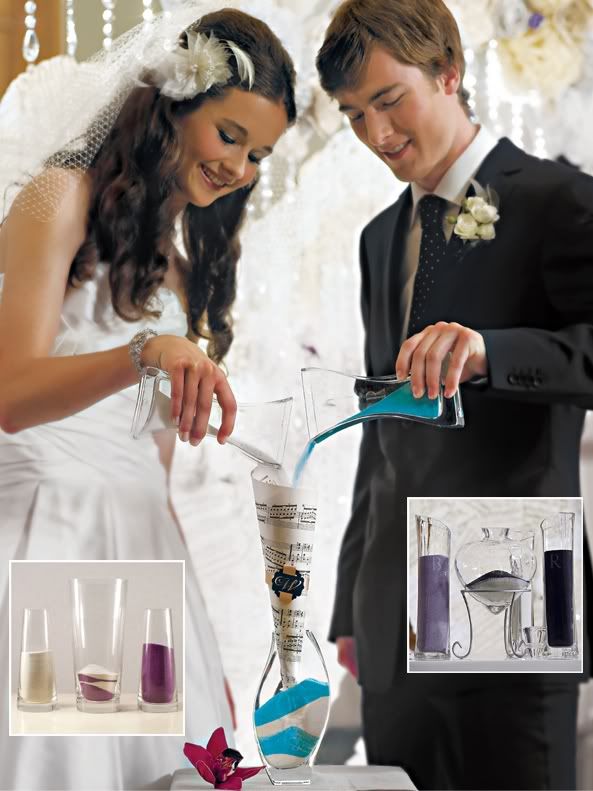 There are three sets to choose from, each one a little different. Check out the Classic Sand Ceremony Vase Set (left), Unity Sand Ceremony Vase Set (center) and my personal favorite, the Heart Shaped Sand Ceremony Vase Set and choose the one that best reflects your personalities and style.
The crystalline quartz sand comes in 24 fabulous colors
Learn more about the Heart Sand Ceremony from one of its designers HERE
#3. Give 'em Welcome Bags
Welcome bags are tokens of appreciation similar to favors but you typically give them to your guests as they arrive at the resort. Simply fill goodie bags or personalized tote bags with items your guests can use while on the trip such as bottles of water, sunglasses, flip-flops, beer cozies and even local treasures.
Remember, bottles of water you can get there, but be sure the other items you want to put in there are easy to pack. Welcome bags are not mandatory but they are a nice, special touch your guests are sure to appreciate.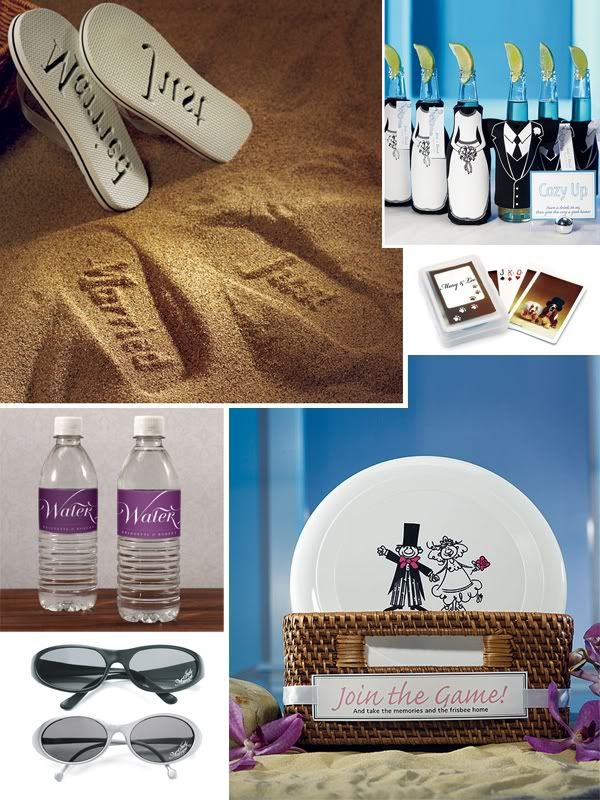 These items are: "Just Married" Sandals | Wedding Party Bottle Holders | Bride and Groom Hounds Playing Cards | Expressions Water Bottle Label | "Just Married" Sunglasses | Bride and Groom Frisbee.
#4. Turn a Small Accessory into a Big Deal
Another popular accessory for destination weddings are Water Pearls. They're easy to transport because they're really teeny and only expand into spheres when added to water.
Add them to your centerpieces for a little dimension and color or scatter them on a table or the bar for a tropical yet romantic effect. Water pearls are available in seven different colors
#5. Pack a Cake Topper
Weather fun loving or sophisticated, beachy or classic, your cake topper can be a reflection of you no matter where you are.

Cake toppers are fragile, but we carefully package them specifically to be shipped. So keep your cake topper in its original packaging and it should survive the plane ride just fine.
These cake toppers are: Romantic Couple Lounging on the Beach | Kissing Couple | True Romance | Beach Bride and Groom.
Happy weddings!