From the drive-through wedding chapels to the Elvis impersonators roaming the streets, getting married in Las Vegas really spews romance, doesn't it?
OK so maybe not. But if it's the hot-shot gambling excitement of Sin City you're after, you can still have it without having to get married next to the gamblers and street vendors actually in Vegas.
With the right decor accessories and guest favors, you and your guests will be whisked away to an unforgettable night on the Las Vegas Strip!
Here's what you'll need: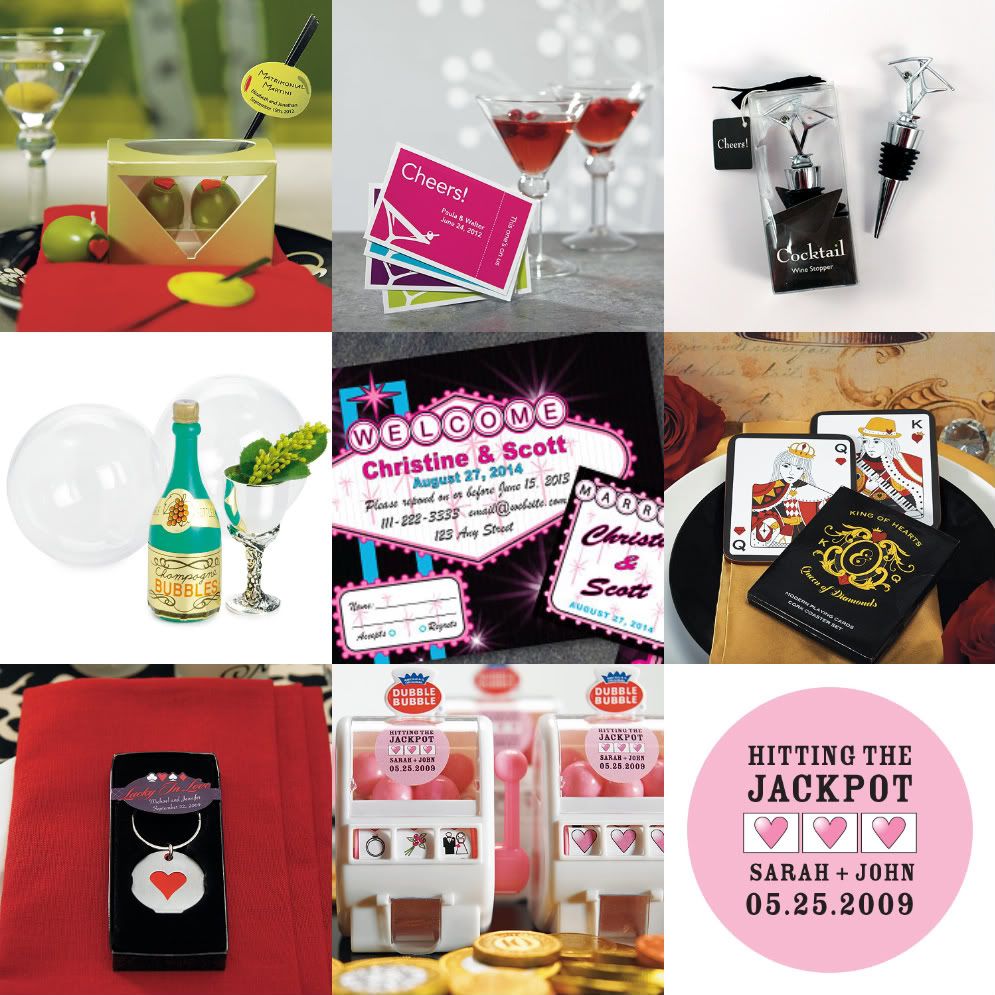 Ahhh martinis, there's just nothing like 'em — and really, what says posh poker party better than a cosmopolitan, right ladies?
Create the Las Vegas ambiance with (top row) the martini candle favor #8952 (and sticker #1090), martini drink tickets #8878, mini martini glasses #8239 and cocktail wine stopper favor #8867.
Consider coming up with your very own signature martini to serve to your guests during cocktail hour. With all the colored liqueurs of the world, there is sure to be a mixologist somewhere who can create a drink to match your color scheme and still taste great!
Tip: You could hire one or two cocktail waitresses wearing skimpy Vegas-style outfits to serve your personalized, one-of-a-kind cocktail to you guests.
Also, consider handing out bubbles in cute little champagne bottles #1605, and set the party mood right off the bat with wedding invitations from our Las Vegas Stationery Collection #1058.
When I think of Vegas, I envision bright lights, cocktails, crowds and of course, gambling!
The playing card coaster set #9096, card suit key chain favors #8570 or mini slot machine favors #8558 (and sticker #8577) all make for great guests favors, but they can also serve as gambling prizes.
Tip: You could rent a craps or blackjack table and hire a dealer. Your guests can gamble with fake money and turn it in at the end of the night for prizes.
Just remember, you don't have to go all out to have a Vegas, poker or gambling themed wedding, and you definitely don't need to have a themed wedding to incorporate any these elements into your wedding.
Even simply choosing a casino as your wedding venue warrants handing out adorable slot machines as guest favors or adding subtle decor touches like playing cards or a red, black and white color scheme to your special day.
Happy weddings!

Weddingstar products featured in the photo at the top of the page are: Mini slot machine favors #8558 | Bottle holders #6047 | Tankard #8073 | Flask #8058 | Two of a Kind playing cards #8443 |Bet on Love playing cards #8444 | Card suit key chain favors #8570.
Photos courtesy of: Laura and Matt Ebert.