A "First Look" is when a Bride and Groom sneak a peek at one another before the ceremony. It's entirely up to you if you want everyone there to witness it or have it be just the two of you sharing a special moment together. Typically, the "First Look" is followed by the formal wedding party pictures.
Really, there is no right or wrong here, it's all just a matter of personal opinion. Some people say it's bad luck to see each other before the ceremony and that it ruins that moment when your Groom sees you for the first time walking down the aisle. Others say it's a great photo op for one of those really special, candid moments you'll want to remember.
So, to gain a little insight into this somewhat controversial topic, I took to our Facebook fan page and asked our fans what they thought about the "First Look".
Here's what some of you had to say about it:
For
We did one and it was awesome! Not only are the pictures really special, but by doing all of our photos before our ceremony, we felt like we really got to spend our whole day together and it was really relaxing and not rushed. And he still cried when I walked down the aisle." —Cassie Salazar

I can't wait to do mine! Our church requires us to both walk in the processional so he would've seen me anyway. The medieval tradition of a bride walking up the aisle to her groom started when brides were literally "given" away, practically kicking and screaming, by their fathers for dowry. Our (Catholic) church requires that we both walk in the processional as a symbol of the fact that we are entering into our marriage as consenting adults. I like it." —Nicole Ross

Against
I wanted to do the first look but my parents were very much against it so I ended up not doing it. I am VERY happy that we didn't do it. It was so special to see him so happy and excited and not ashamed to show it all over his face in front of all of our friends and family. I wouldn't trade that for the world!" —Sarah Cheyney

Honestly, that's taking away from that magical moment when he sees you walking down whatever aisle you choose (church, garden path, etc.), and all photographers want to snap his look, the tear in his eye and his huge smile as he knows this is the woman he's going to spend the rest of his life with…and she knows that his eyes are only on her…always…forever♥ (Sorry, guess I watch too many chick flicks. Those are the pics I take as the bride walks down the aisle! They speak volumes!!)" —Nicole Cartledge

We didn't do a first look and it was perfect. The look on his face when I came down the aisle was priceless. My favorite moment at any wedding." —Kayla Akerstrom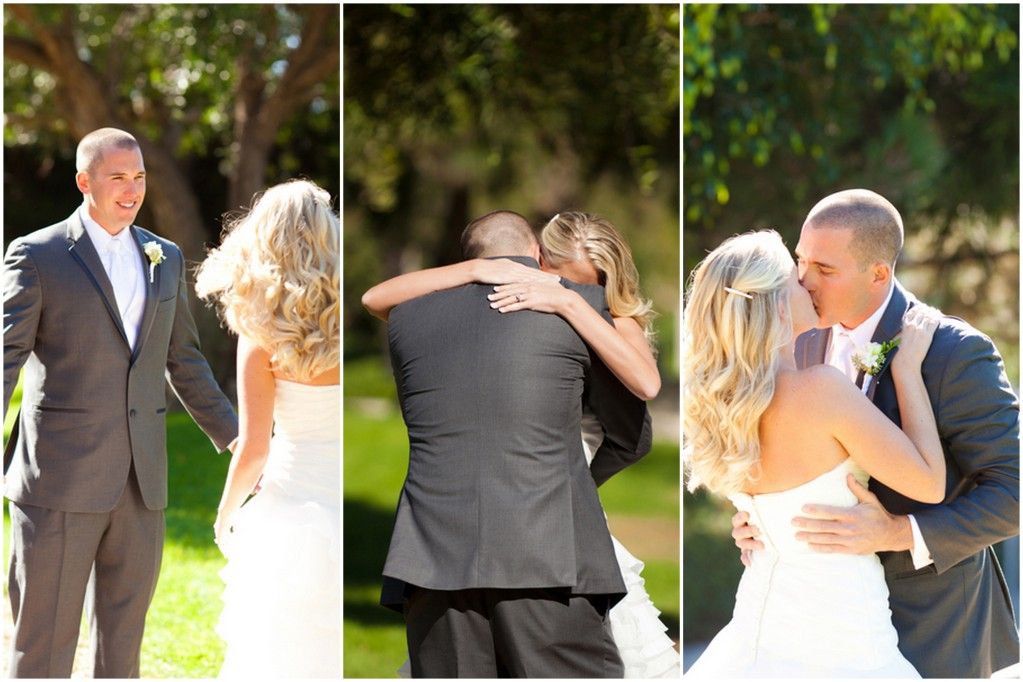 So, here's what we've learned:
Pros
It seems the main pro for doing a "First Look" is that you can get all of the formal pictures over and done with so you can relax and mingle with your family and friends during the cocktail hour. You won't feel rushed while taking pictures, and let's face it, some of those "First Look" pictures are pretty amazing — so intimate, emotional and absolutely memorable.
Cons
It's that moment when the doors open and you look at your Groom waiting for you at the other end of the aisle. He's looking back at you and smiles, a tear forms in the corner of his eye. Everyone else in the room disappears and you both get lost in each other's loving gaze, vulnerable, emotional and overwhelmed with joy.
Some say that doing a "First Look" will take all of the intimacy out of that moment.
Ways around it: If you have your heart set on doing a "First Look" but don't want to lose out on that once-in-a-lifetime moment, well, there's nothing that says it won't be just as special. It can be an intimate moment with just the two of you (and your photographer, of course). Just look at that second set of photos above. So romantic!
Just think, your Groom might feel vulnerable and a little camera shy standing there at the ceremony with 200 pairs of eyes watching him so he may be less likely to really show his true emotions. Whereas a "First Look" is just you, him and absolutely no pressure.
Have an opinion? Share it below!
Happy weddings!

Photos courtesy of Figlewicz Photography and Susanna Tanner Photography.
Like us on Facebook
Follow us on Twitter
See our pins on Pinterest