The memory box is a product that combines the traditional guest book with a new way to store memories.  Its several uses allow its function to change depending on exactly what appeals to you.
The first option is the idea that the whole box was designed around. It comes with a set of 50 envelopes and note cards, each one dedicated to an Anniversary.
The intent being that each of the note cards would be filled in by a loved one and sealed – not to be revealed until the appropriate anniversary.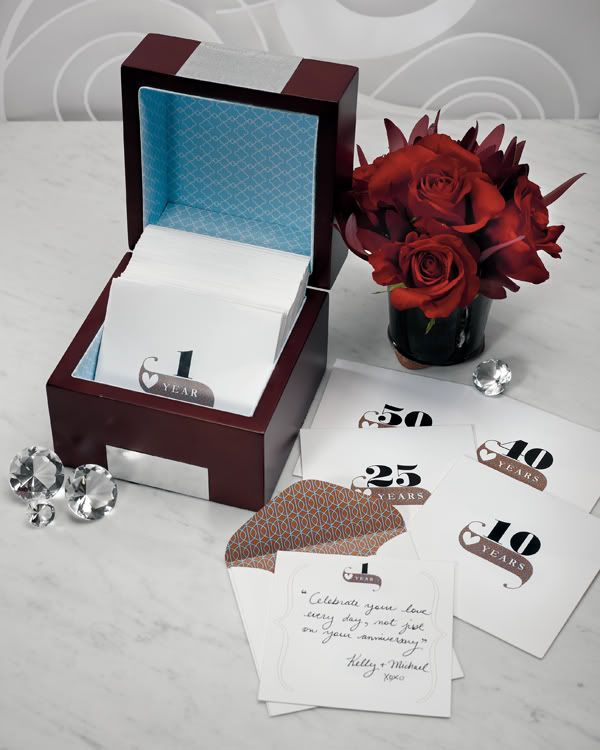 Imagine opening a note of on every one of those special days – notes that are filled with words of encouragement, congratulations and fond memories. You could plan exactly who will write each note, or leave it completely up to chance. You can hand out the cards before the wedding or have your guests fill them out on the big day.
Personally I think it would work best if you give your loved ones time to fill out the cards, the result will be more thought out and heartfelt.
It is a great way to include those that are important to you in your big day and in turn, your life.
If the Memory Box with the Anniversary Stationery isn't an option that interests you, we also designed two additional sets of stationery that can be used with the box. There is the personalized and the blank set of well wishing cards. These are meant to be used just like a guest book or wishing well– guests will write a short message and sign their names on the cards, which can then be stored in the beautiful box.
The box is a quality creation that can be personalized with your names and wedding date or a very brief message.
The Memory Box with the Anniversary Stationery is available as a set, however if the other options interest you, they are all sold separately. The box can also be used as a keepsake box for any special memories from the wedding.
Unless you have an extremely large number of guests, some room should remain in the box once the stationery has been placed inside.
In order to fully demonstrate this product, we filmed the following video:
This keepsake is a fabulous way to preserve the precious memories of your special day and the start of your life together.