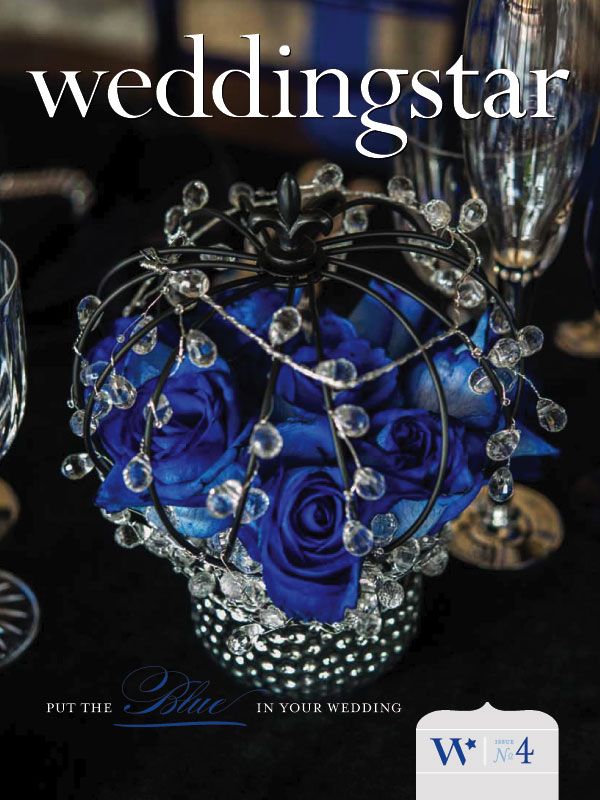 Introducing our fourth Weddingstar Style Lookbook, The Blue Color Story. Within these pages awaits a journey to find your color personality. Go on an adventure from the peaks of nobility to the depths of the sea as you discover each of three unique shoots. Become immersed in the opulence of Royal Blue, take a seafaring adventure in Nautical Shimmer and loose yourself in the cozy feeling of Something Borrowed. With inspirations like these, your "something blue" won't be hard to find!
Regality reigns supreme in this section of the Blue Color Story Lookbook. Gems, crowns and black accents make a day fit for a modern princess. With mirrors that add sparkle, crystal adornments, and a candy bar this look is all about making a statement. See all the tips and tricks to create a new-age fairytale at your wedding, including all the great Weddingstar products we used to pull it off when you go to the lookbook right here!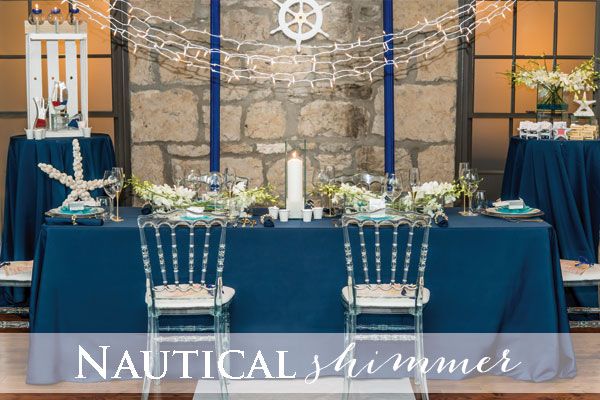 Leave land far behind as we take you on a seafaring adventure in Nautical Shimmer. Learn how to dress your wedding in the colors of nature and make colorful water feature centerpieces that amaze. Become immersed as you gaze upon this stunning shoot full of seashells, starfish and ocean blue hues. Landlubbers beware – this just might make you rethink your decision to not have a nautical wedding when you see it all here!
Rustic charm and homespun comfort await in the last shoot of the Blue Color Story Lookbook. With a fun color scheme that includes colorful pops among the major blue and white motif, this last section shows you how to create an intimate and cozy atmosphere for you wedding. Get ready for guests to feel right at home in your rustic wedding with DIY accents when you get the look of Something Borrowed here!
Make sure you check out the rest of the photos on our Pinterest page to get even more inspiration: http://pinterest.com/weddingstarinc/. Happy Wedding Inspiration!!
Contributors:
Produced and Styled by Kasia Juras-Azcurra, Prelude to a Kiss Wedding Stylist: preludetoakiss.ca
Photography by Mugshots Photography: mugshotsphotography.ca
Blue Color Story Lookbook:
Venue: Cambridge Mill, http://www.cambridgemill.ca/
Tabletop Rentals: Chair-man Mills, www.chairmanmills.com
Chair Rentals: Detailz Chair Couture, www.detailzcouture.com
Specialty Linens & Decor: Grandeur, http://www.decorwithgrandeurinc.com/