There is something about tea that implies contentment and relaxation. It's not like coffee in the way that we drink it to survive the day – I find drinking tea is something that people do because they genuinely enjoy it. It's relaxing or refreshing or just plain tasty.
It can be a social event, a time to sit down with the family or just take a moment for yourself. Of course there is also the fact that the act of steeping and drinking tea is deeply rooted in many cultures across the globe.
Today's idea focuses on tea sets being used as the centerpieces at a wedding. It doesn't have to be just a tea set tossed on the table, like the one above it could all be contained it a way that complements the tea set.
There is also the option of using the tea set to hold flowers – how absolutely darling would that look?
If you like the idea of variety, each set could be different while featuring a certain color or detail. They could be as simple or as plain as you like!
There are so many styles that you could theoretically incorporate them into nearly any theme. Vintage, carnival (think about those spinning teacup rides)…..
… floral, beach, etc…
If you are using it as a theme, tea favors are easy to DIY and they look fantastic!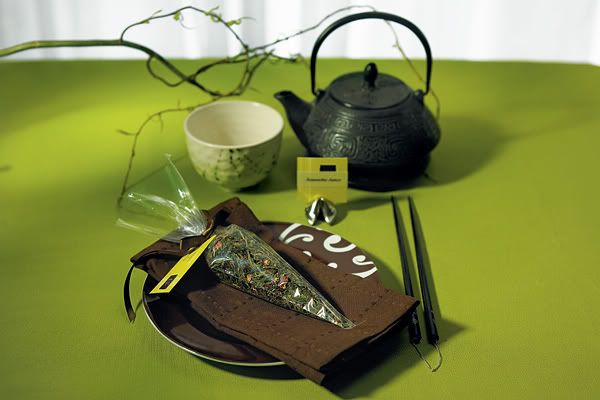 Keep in mind that you can find tea cups in solid colors or simple patterns, they don't all have to be highly decorated or floral.
If you are not interested in complete sets or a uniform style I would definitely recommend looking into second hand stores. The variety of cups and tea pots that you will be able to find will astound you.
If you're not sold on the idea of tea as a theme, then how about incorporating dessert? A tower of small cakes is the perfect accompaniment to tea!
There are also more ways to use tea cups than just for a delicious hot beverage. You could plant small flowers in the cups and tea pots, or even make teacup candles!
If you don't want to keep the tea sets, (because not even a newlywed couple needs 14 tea sets), perhaps guests who are interested could pull names to see who will take them home.
So what do you think? If bouquets aren't your style, would you consider incorporating something unique, like tea sets, into your table settings instead?
Photos courtesy of AngelsWings, bohlsmargaret, Brendan Adkins, goblinbox and ecram1.