This one is for all you outdoorsy, fishing-type brides. Whether or not you plan to say your nuptials sailing away on a yacht, cruise ship or party boat, a nautical-themed wedding is always fun and a great way to showcase your love of the water.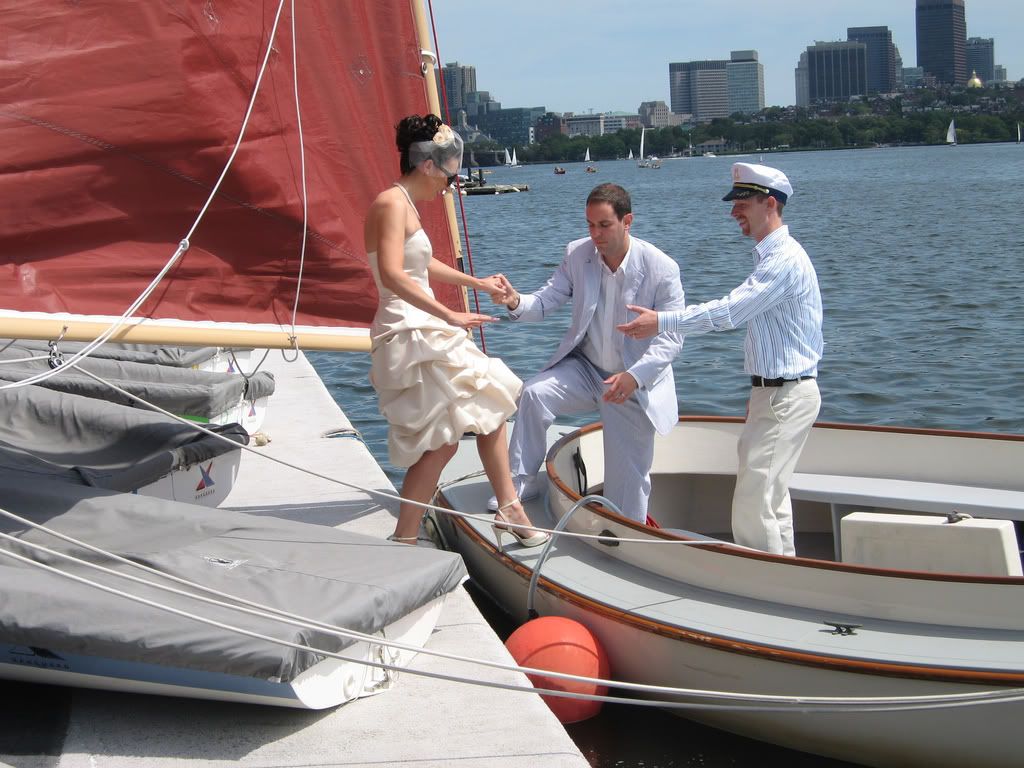 Nothing says Gone fishin' like cake toppers with fishing rods, so why not decide to dress up your cake with a humorous cake topper that really captures your playful personality?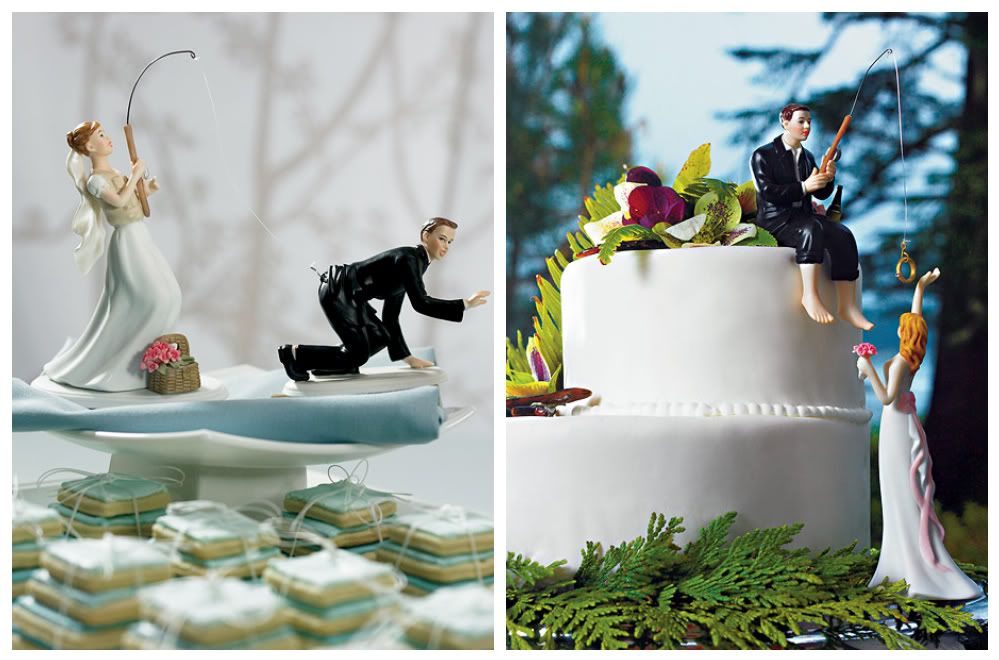 ~ The Gone Fishing (left) or Hooked on Love (right) topper will have all your guests talking about the cake. ~
If you'd rather go with a fun cake alternative, themed cupcakes are always a great way to go. You can make them as elegant or cutesy as you like depending on the overall style of your wedding.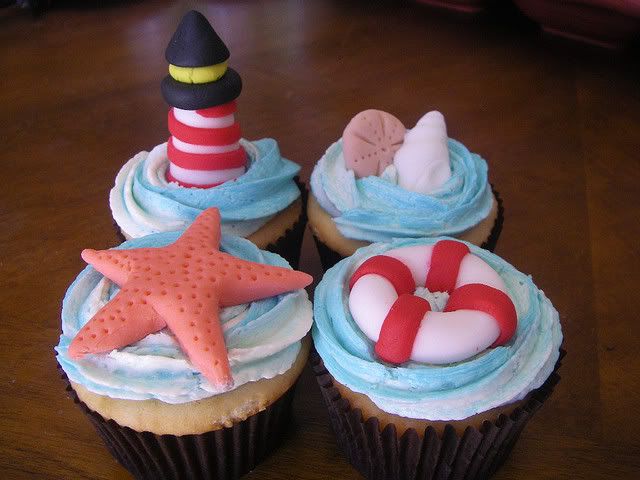 Nothing says Ahoy, Matey! like boats and treasure chest guest favors. I thought these three were just adorable and would work well with any water-type wedding theme.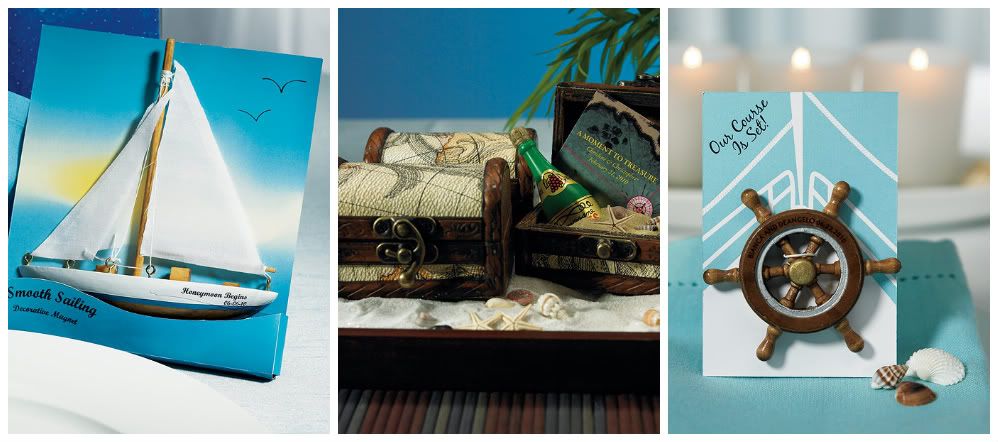 ~ The Smooth Sailing magnet (left), mini treasure chest (center) and Our Course is Set magnet (right) will make great guest favors, savvy? ~
When I think of a nautical wedding, I picture fish, a blue color scheme and a casual but elegant reception venue. Fresh, crisp lines, white linens and plates, silver accents, and candles to set the mood would be my must-haves for this theme.
Fish are not only a key component to any nautical theme, they also make classy and cute decor accessories.
~ Give your guests a little humor to take home with them with these Kissing Fish mini candles (top left). The carved glass fish tea light holder (top right) will make a great decor accessory. Handing out water bottles to your guests would also be a good idea, especially if you're planning your wedding for mid-summer. The water bottle labels (bottom left) and place cards (bottom right) are both part of the Of All the Fish in the Sea stationary collection. And add a touch of class to your tables with these brushed-silver double fish place card holders (bottom right). ~
Or maybe it's seahorses, starfish and other sea animals you're after to complete your theme.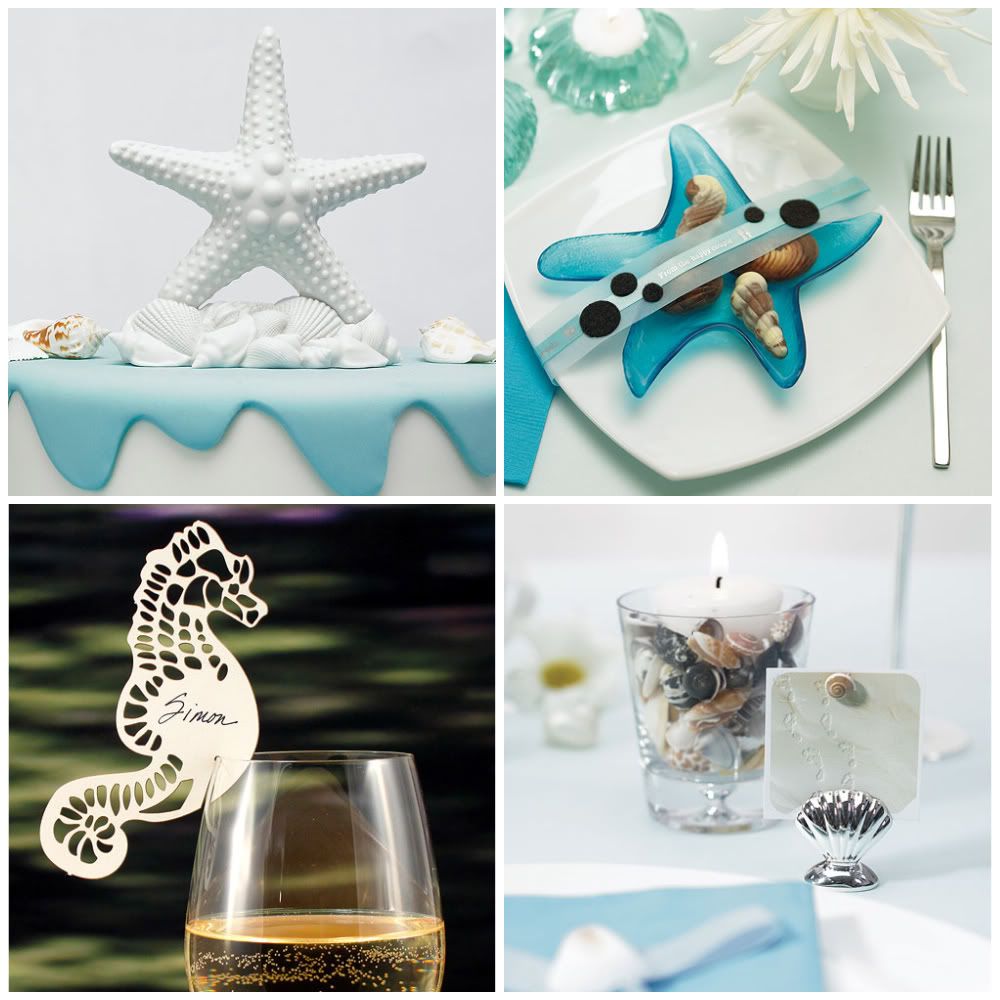 ~ This starfish cake topper (top left) is so unique and a perfect finishing touch. This starfish dish (top right) can also be used as a candle holder. The Laser Expressions seahorse die cut card (bottom left) are a great little something extra perched on the rim of your guests' wine glasses. And the shell silver place card holder (bottom right) can be coupled with decorative natural shells to complete any nautical look. ~
If you're planning to have your wedding outside, particularly beside the water, you should always be prepared for some fairly bedraggled-looking guests, wedding party … and bride! The wind can turn even the tightest up-do into a rat's nest. It's best to go with a loose, slightly messy style.
I'd also suggest skipping the long veil and going with a modest headband or birdcage-style veil instead.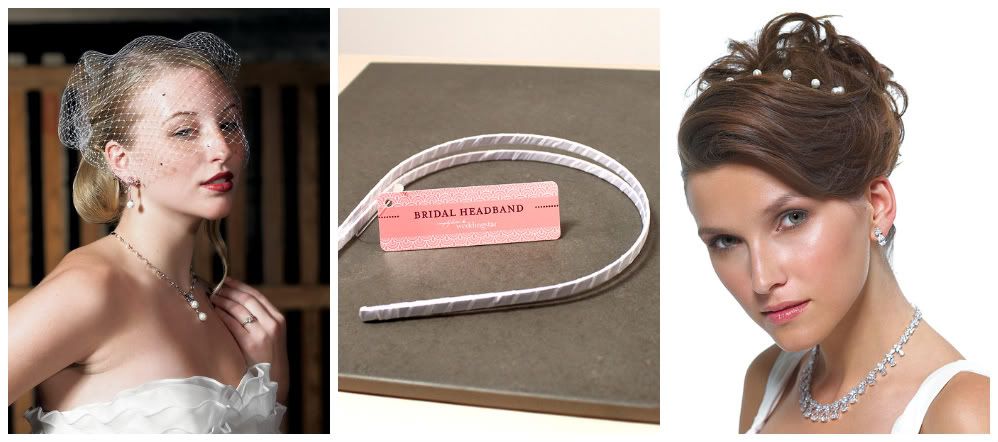 ~ Try Weddingstar's birdcage-style veil (left), white satin headband (center) or jewel hair twists (right) to complete your perfect wind- and water-bound look. ~
Well, that's it for now. Make sure to check back here on Wednesday for an insider look into creating themes with one of Weddingstar's designers!

Photos included in this post courtesy of Tom Rose, Adrianna Battista and rockwilder.