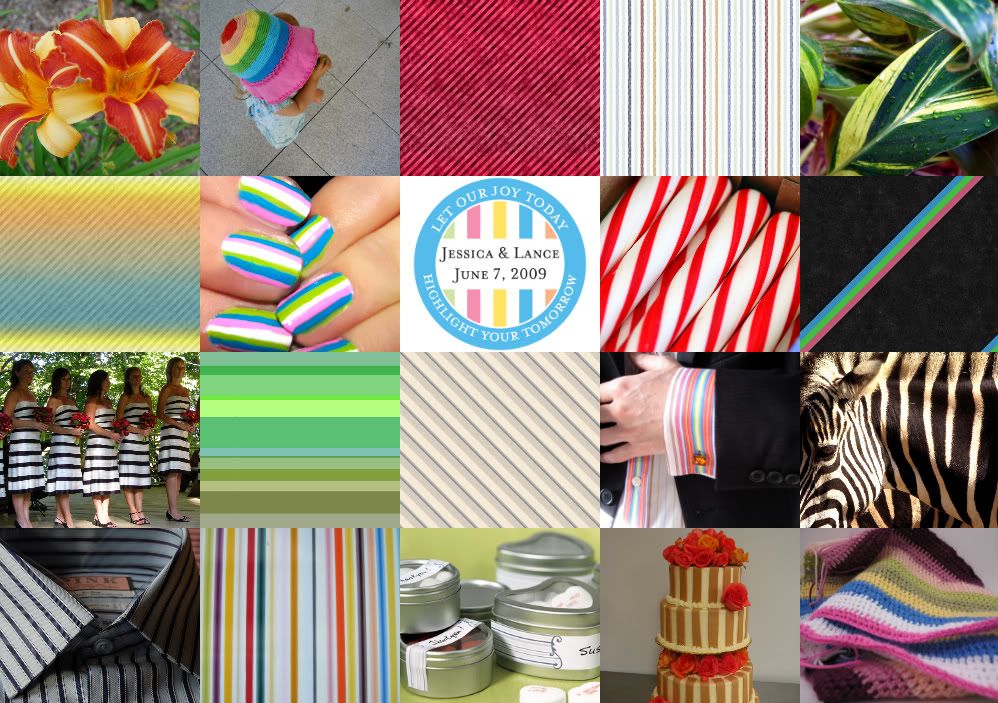 Oh, stripes — you either love 'em or you hate 'em. They can be a tad frightening, especially if you're not 100% sure how to pull them off. But let's face it, when done right stripes can add a ton of interest, dimension and character to your wedding.
So don't be afraid. If you're a lover of all things stripey, then I say, 'stripe away!'
I've put together some stripe-themed looks I think will really help you incorporate your favorite stripes into your wedding, without being too overpowering or cheesy.
The trick is to be smart with stripes, and use them in moderation.
Black & White

~In this photo: novelty tuxedo bottle tag #3030, mini oval wrapped gift box #8637 and ornamental black favor/place card #8692.~
Classic, chic and black-tie worthy — the black and white combo is an absolute gem. It's a bold look that can really dress up any lame hotel ballroom or local hall and change it into a place of sophistication. Granted, I would've never thought to put my bridesmaids in striped dresses…but just look how great they look!
Be aware of strong, solid accent colors — they can look a tad harsh against such an in-your-face pattern like stripes. Instead, coordinate your black and white stripes with pretty floral patterns or more toned-down hues to complete the look.
Red & White

~In this photo: Flower of Love wedding collection #1068 and crystal tea light holders #8716.~
Red and white is one of those combos that can be playful or uber romantic, depending on how you choose to use it. Known best as the colors of everyone's favorite holiday treat (and no, I'm not talking about spiked eggnog!), red and white can add that perfect amount of spice to any wedding.
If you're planning a December wedding, I absolutely love these candy cane and peppermint Kiss inspired cupcakes as a fun wedding cake alternative.
For a more romantic, Valentine's Day affair, white decor with deep red rose accents is always a great way to go!
Pink & White
~In this photo: Old Time candy cellophane bag insert #1053, stylized heart cake topper #7030, Once Upon a Time stationery collection #1027 and mini pink gumball machine #9095.~
Now if this striped color combo doesn't bring back your fondest girlhood memories, I don't know what will! Pink and white are so pretty together, and they can help create your dream fairytale wedding. Absolutely perfect for any season!
Rainbow
~In this photo: Highlight striped sticker #8589, personalized and plain ribbon #228 and Hearts stationery collection #1018.~
Why choose just one or two colors for your wedding theme when you can have them all?! Done in moderation, incorporating colorful stripes can add a lot of fun and flair to your wedding.
Perfect for a spring or summer wedding, a rainbow color palette gives a bright and cheery feel to any decor.
Neapolitan

~In this photo: Chocolate and Strawberry Cream wedding collection #7151 and Reaching Bride and Helpful Groom cake toppers #7095.~
Another great striped color combination is the flavorful, ever-adored strawberry, chocolate and vanilla colors of Neapolitan ice cream. It's quite pretty and not as overbearing as other stripey combos.
I can picture this versatile color trio at a romantic wedding in the springtime, summer or fall.
Happy weddings!

Weddingstar products featured in the top photo: Highlight striped sticker #8589, round favor tins #6113 and heart favor tins #6114.

Other photos courtesy of: Kent Goldman, dreamglowpumpkincat210, Uri Baruchin, DeusXFlorida, Johnny Does, webtreats, annnie, Katspurl, Sam, tarrytown, zoe, Steve Snodgrass, rumpleteaser, bradleypjohnson, InAweofGod'sCreation, Tracy Hunter, Debs, tawest64, Phil Hawksworth and Matthias Rhomberg.