Everything begins in the same place, whether it is a revolutionary movement or a work of art – it begins with an idea. Your wedding style will emerge the same way, as do all of our photoshoots.
This shoot began with a glitter – a glisten. We took the idea of a 'sparkle' and built a table setting around it.
This post will walk you through one of our photoshoots – from conception to completion and everything in-between.
The two individuals that were instrumental in creating this shoot were; Luke, the media guy, and Tara, one of our graphic designers. Over the past few months they were both featured on the blog via Luke's Introduction and Tara's Reception Ideas.
We don't have access to a perfect location so most of our shoots are done right in our headquarters. We have to stage not only the tables, but any backgrounds we feel will suit the style of the shoots.
Because we cannot always count on the sun to shine – alternate lighting is set up. All the cords from the equipment have to be secured and taped down to prevent anyone from tripping and every item we might need for the shoot is collected.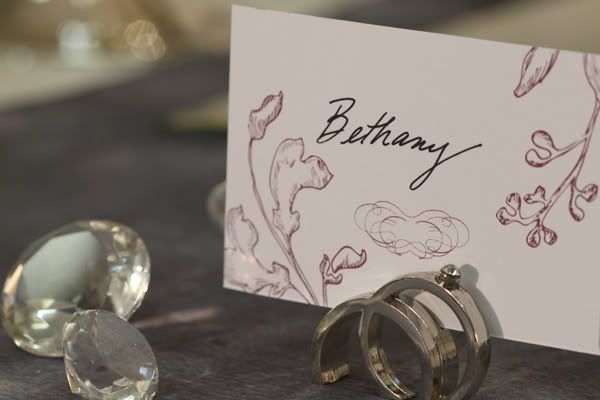 Much like with a wedding; every detail needs to be planned out beforehand. Most shoots have to take place in the course of a single day, this means that no major changes can be made. However, unlike a wedding we have only one setting to create rather than dozens and we can tweak and adjust to our hearts content.
Sometimes the layout doesn't work in application and changes must be made. Last minute substitutions are often required – for example in these photos we are using a completely different style of wine glass from what we originally intended. When we put it all together, we realized that the original glasses were simply not suited to the style we wanted to achieve.
We didn't have a chance to test out all the ideas before the shoot – however you won't have the luxury of switching out the glassware at the wedding, so we definitely suggest putting your table settings together before the big day. If you are doing it yourself it is really the only way to ensure that you will be happy with the result.
Luckily the flowers that were ordered turned out to be precisely what was hoped for. Having a florist that can interpret your wishes is incredibly important – you'll want to make sure that you are both on precisely the same page before the wedding. There are often a lot of little details that a good florist can include or may be willing to add. For example – this centerpiece came complete with the hanging crystals. A great addition to the sparkle theme.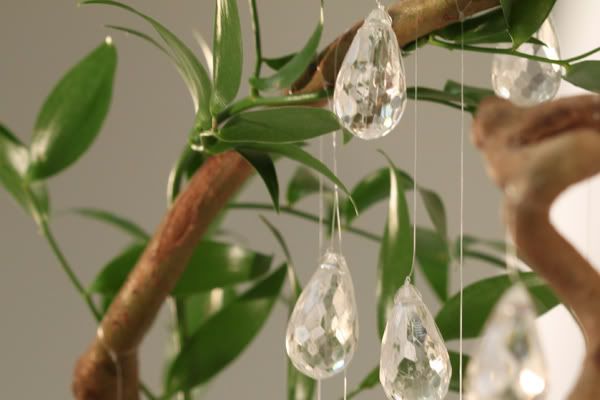 Our linens were rented as they are a product we do not offer at Weddingstar. One thing we discovered from this was that not all rental companies will supply your linens pressed. This is something you will want to find out, wrinkled tablecloths look dreadful and no one will have time to iron each one on the big day!
Because we couldn't find a table runner in the style that we were looking for on such short notice, we actually went with a sheer scarf. It might sound a little odd but it worked perfectly – and it goes to show that you don't always have to use an item precisely how it is intended. A little creativity can enable you to create the look you want regardless of how limited your choices might be.
Once the table has been set up it is much more complicated a process than to simply take the photo and run. Depending on the angle of the shot, the backdrop and the lighting must be moved and adjusted accordingly.
It is not just a matter of taking one little photo, because so much effort goes into creating a photoshoot we must consider any other possible applications in the future. Will we be using these photos for the blog, advertizements… website? Will text be going on top of these images? Did we take enough detail shots?
A busy table is a hard shoot because we need to find an angle that properly displays the whole setting without making it seem cluttered. You even have to be careful about shadows and reflections – no one wants to see the face of the photographer staring back at you from the centerpiece!
Once the full table has been photographed then we begin to break it down and take photos of all the individual pieces.
The hardest part of the photoshoot was without a doubt… ensuring that a least a few candies made it till the very end!

The Weddingstar products that were included in this shoot are the; Double Ring Place Card Holders, Mirror Favor Box, Table "Glam" Crystals, Diamond Shaped Tealight Holders, French Whimsy Stationery Collection, Water Activated Diamond Lights, Wedding Flutes, Classic Table Number Wine Label and the Scrolls and Flowers Tiara.
Can you find them all?
Watch the making of this photoshoot here on WeddingstarTV!