If wedding planning is starting to increase your stress levels too much, perhaps taking a little time to plan a signature drink for the big day might help!
How is adding one more thing to your to-do list going to help, you ask? Well you see, signature drinks must be carefully tested before any decisions can be made! 😉
We have two great drink ideas for you today (recipes included)! Feel free to use them as they are or create one all your own. A drink created specifically for your wedding can add a fun dash of personality and flair!
'Something Blue' Signature Drink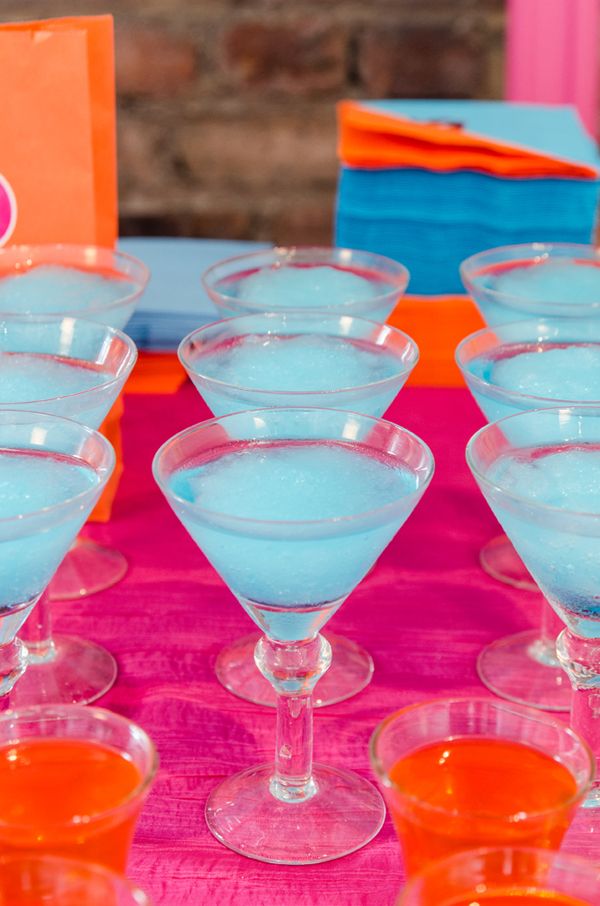 Something Blue Signature Drink – 1 Serving
2 oz Bacardi® white rum
1 1/2 oz Blue Curacao liqueur
1 oz Raspberry liqueur
4 oz pineapple juice
Mix drink with crushed ice or blend with 2 1/2 scoops of ice.
For added enjoyment, serve with a straw. Note: If you are serving your drinks in martini or cocktail glasses, chances are you're not going to want to use a full size straw.
Whether blue is one of your wedding colors, or you're just shooting for that 'something blue', this colorful drink is sure to please!
 Sophisticated Jello Shooter
I love this idea! I've never likely jello shots, they're too awkward and just a little bit too big – but jello shots that are pre-removed from their container and small enough to easily pop in your mouth? Sounds like an incredible idea to me!
Sophisticated Jello Shooter
1 package of Jello
1 cup boiling water
1 cup chilled Champagne
Add the Jello and boiling water and stir until powder is dissolved. Allow the mixture to cool to room temperature. Slowly add the champagne and stir in. Pour into an ice cube tray and refrigerate until set. When the Jello has begun to set you can dust them with sprinkles or colored sugar for a little extra pizazz.
To loosen shots, dip the bottom of the trays in hot water for 5 seconds and then run a knife around the outside of the shot. To remove, tip the ice-cube trays upside down over a plate. Place on a serving tray and serve with tongs or serve individually in the glass of your choice!
Note: Strawberry Kiwi Jello was used in the photoshoot.
Signature Drink Accents
Once you have decided on the perfect drink, consider using one of these accents as a finishing touch. From left to right: Double Sided Butterfly Slide, "Sippers" Candy Striped Paper Straws and Round Paper Slides.
 ***
If you love your signature drink, chances are yours guests might love it too – consider sending your guests home with the recipe; include them with the favors or leave recipe cards on the drinks table for anyone who wants them.
To let your guests know about the signature drink, include a sign if you are planning to have a drinks table or announce it before the drinks are handed out.
Note: Signature drinks don't "have" to be alcoholic. They could simply be a great tasting beverage!
***
The key to to a perfect feature wedding drink is of course to carefully test a variety of possible signature drink ideas well before the wedding. If you're having a bridal party, hen night or just getting together for a fun day with the bridesmaids – a night of concocting and testing might be the perfect way to involve them in your wedding planning and get in some much needed fun and relaxation!
'Something Blue' Signature Drink Photo Credit (From the Pink Lookbook)
Produced and Styled by Kasia Juras-Azcurra, Prelude to a Kiss Wedding Stylists, preludetoakiss.ca
Photography by Mugshots Photography, mugshotsphotography.ca
Pink Lookbook credit:
Venue: 99 Sudbury http://99sudbury.ca
Rentals: Chair-man Mills www.chairmanmills.com
Luxury Linen Rentals: http://www.haveaseat.
Cakes: Patricia's Cake Creations: http://www.patriciacakes.com
Specialty Prop Rentals: Vintage Vignettes http://www.vintagevignettes.ca/

Sophisticated Jello Shooter: Weddingstar
Like us on Facebook
Follow us on Twitter
See our pins on Pinterest