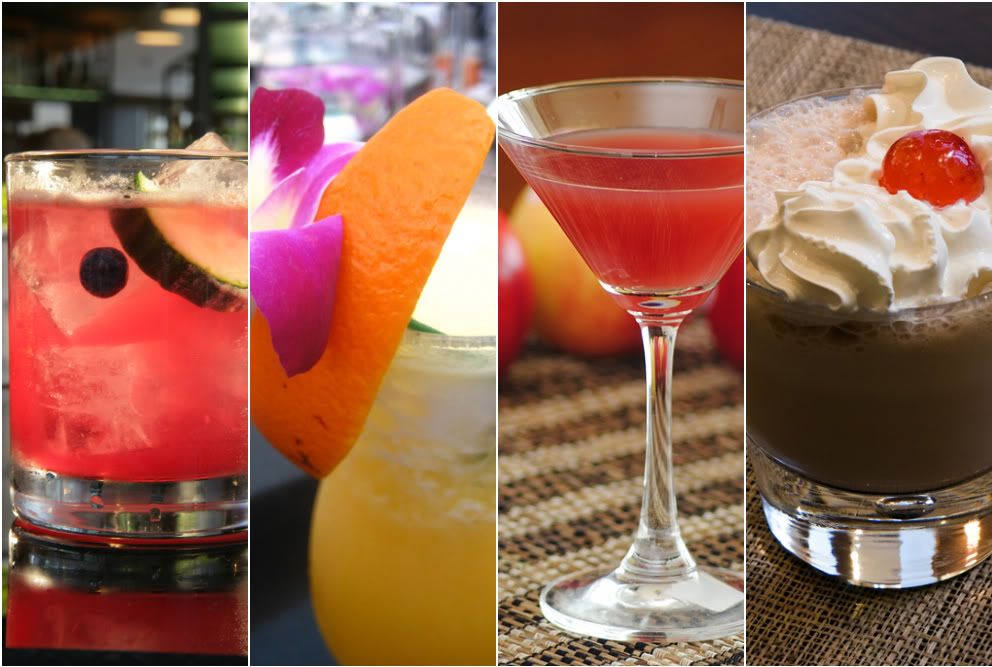 Serving up personalized, signature drinks during cocktail hour is just another way to make your wedding day all your own!
Make it a twist on your favorite thirst quencher, or create your own concoctions out of your alcohol of choice. Be as creative as you like and even match it to your color palette and theme.
Using our colorful printed cocktail napkins, I've split this post up into the four seasons and the colors and flavors associated with each. Find your wedding season, color palette or favorite flavors and start mixing!
Spring
Spring may just be the most refreshing of the four seasons. It's still mildly cool and it rains a lot, but everyone is ready to get out and hit the patios!
When I think of weddings in the springtime, I envision budding trees, bright tulips and…Mojitos!

Classic minty lime Mojitos are my number one choice for springtime sippers! They're so refreshing and the vibrant green color make them perfect for spring! Garnish with a slice of lemon or cucumber and your guests will be wanting seconds and thirds!
One of the great things about Mojitos is that you can use just about any fruit you like and tailor it to match your wedding colors. Consider strawberries, raspberries or kiwis to really add a punch of color to your big day!
Suggested liquor: rum, vodka
Suggested shooters: Porn Star, Banana Jack
Summer
Sunshine, heat and backyard barbecues — who doesn't love summer? And with almost zero chance of rain, you can take your wedding outside to the patio, park or beach.
But with the summer heat comes parched wedding guests, so serve up a thirst-quenching cocktail and really awaken their taste buds…and spirits!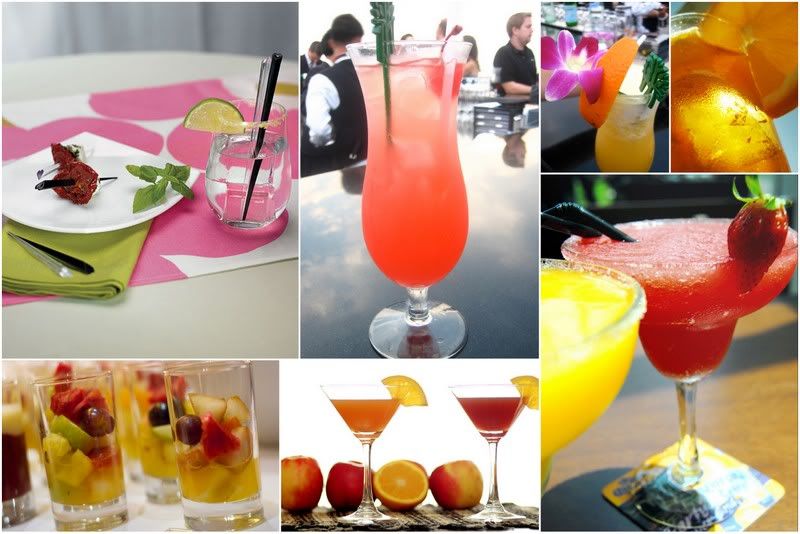 Make it a fruity affair with fun and colorful cocktails inspired by the season of heat! Frozen Daiquiris or Margaritas will make a great refreshing treat your guests are sure to appreciate. Try the classic strawberry or lime, or mix it up with more exotic flavors like mango, peach or pineapple!
Watermelon is another delicious summer staple, and its bright pink color makes it a great addition to a summery outdoor cocktail hour.
Suggested liquor: rum, tequila
Suggested shooter: Broken Down Golf Cart, Bazooka Joe
Fall
Cinnamon is a great flavor for fall, and it really works with the season's warm, rusty color palette. Or get inspired by the season's plethora of pumpkins and freshly picked apples!

With the chilly brisk winds in the air, really add a touch of warmth to the season and give your guests cocktails with a little kick!
Suggested liquor: spiced rum, whiskey/rye
Suggested shooter: Sicilian Kiss, Crispy Crunch
Winter
Winter is so romantic…and cold! So consider warming your guests up with a stiff minty Martini or tasty spiked Hot Cocoa.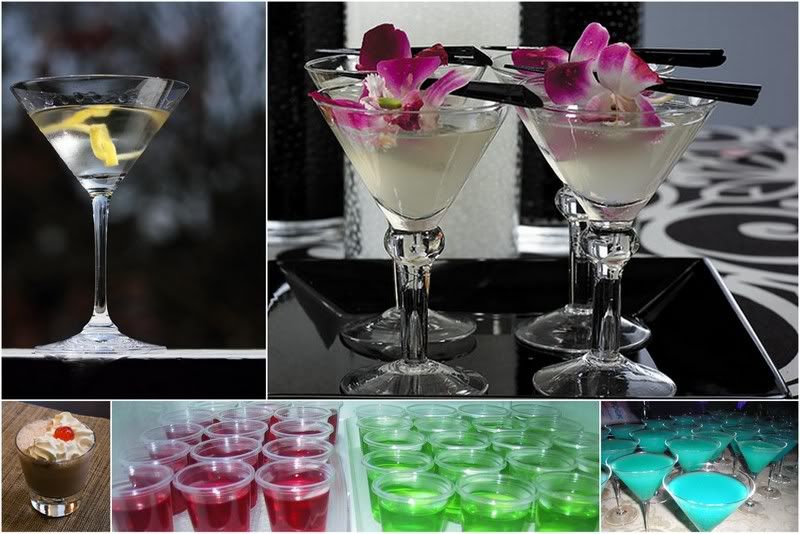 From the hot-shot Cosmopolitans made famous by our Sex in the City gal pals to the shaken-not-stirred stiffies enjoyed by James Bond, Martinis truly are the Rolls-Royce of cocktails.
And Jell-O shooters, OK so they may not be the classiest cocktail, but let's face it, they're yummy and a lot of fun. Consider red and green shooters for your Christmasy December wedding!
Suggested liquor: vodka, Irish cream
Suggested shooter: B-52, Polar Bear
Happy cocktails!

Photos courtesy of: Dana Beveridge, Dana Moos, Rob Ireton, soyculto, Horia Varlan, Farmers and Fishers, Maik Meid, Jeremy Keith, Jeremy Keith, JapanBlack, Gordon Flood, Luca Conti, Kirti Paddar, Suzette Pauwells, Krista, Bonita Suraputra and Nathan Jones.