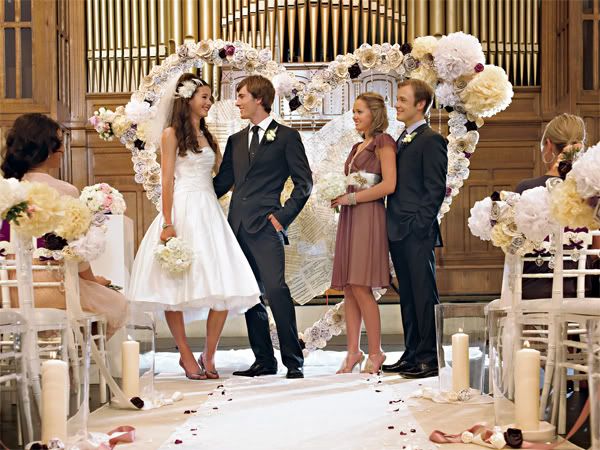 Vintage chic weddings were so hot last year and they still are, so we wanted to go all-out vintage glam for the staged wedding we featured in our 2012 Weddingstar Magazine. With colors of champagne pink, ivory and smoky eggplant, this wedding was undeniably romantic, elegant and très chic.
I thought I'd dissect a few aspects of the ceremony and reception to give you all a little hint into what made it so special and how you can recreate the look for your own fabulous weddings.
The Ceremony
The venue itself had so much character, so for the ceremony is was all about enhancing the building's vintage charm. And the couple made it even more special with a personalized aisle runner and romantic unity sand ceremony.
The massive heart backdrop was created using plywood and was covered with vintage music sheets, newsprint, handmade flowers and our tissue flowers. Blown glass tear drops and acrylic crystal garland were suspended from the frame to add a little sparkle.
Paper flowers were also fastened to the sides of the chairs that lined the aisle.
The Bridal Bouquet
Our beautiful Bride carried an elegant white bouquet, and to add an element of shimmer, we fastened a crystal rose buckle to the ribbon around the stems.
The Reception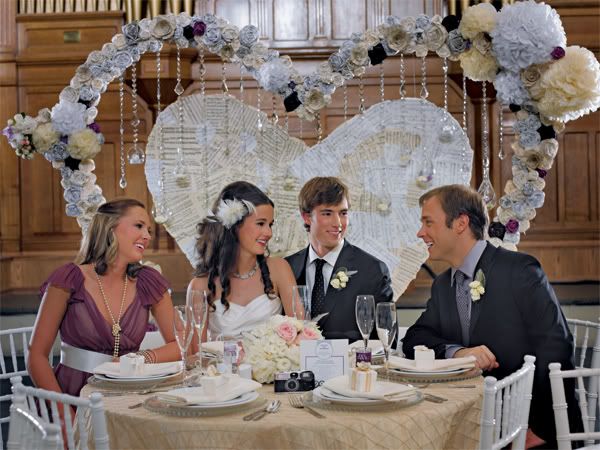 We used the heart backdrop from the ceremony to decorate the head table at the staged reception. The tabletop was adorned with warm candlelight, sparkling diamond confetti and a delicate floral centerpiece that tied all the pretty vintage hues altogether.
The couple had posed for a quick photo during cocktail hour that was then printed off and inserted into a stationery holder and placed on the head table for the reception. Adorable vintage style favor boxes were distributed around the table and a disposable camera with a vintage design was also placed on the table for added fun.
The Cigar Bar
A fun idea to have during your cocktail hour or throughout the reception is a cigar and brandy room where guests can mingle and enjoy a good cigar and a "pop". We hired a retro cigarette girl dressed in costume to play the part and keep the fun vintage theme going.
To see the entire vintage chic wedding, check out pages 63-69 in the magazine or view it HERE.
Happy weddings!