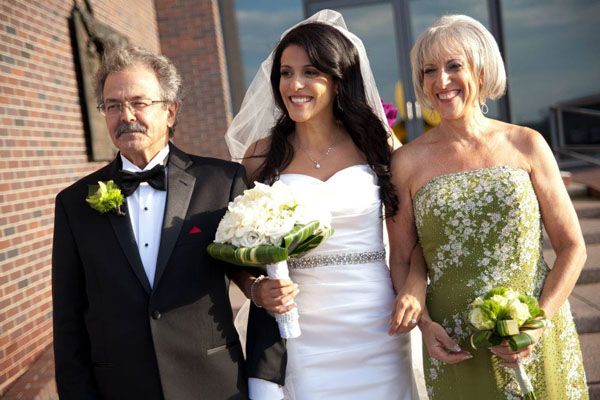 There's no doubt about it: whether they're footing the bill or not, your parents and in laws will have some say in your wedding planning.
And although you value their opinion on most things, there are times when their help just isn't helpful anymore. So, how much of their involvement is too much? And is there a way to make everyone happy?
Well, the answer to the second question is easy. No. The likelihood of pleasing everyone is sadly close to nil, but really, pleasing everybody else should not be your goal anyway. Focus on what you want and what will make you happy first then consider the wishes of your parents.
As for the first question, well that totally depends on you and your parents.
Your Parents
If you've kept a tight-knit relationship with your parents over the years chances are they'll likely play a fairly important role in your wedding day, right? They're likely just as excited about your wedding as you are and are just as eager to dive right in to discussions about the guest list, location, date and caterer.
But with all of this enthusiasm can come disagreements, arguing and even resentment. They're excited and who can blame them? But sometimes they need to be reminded that this is your wedding, not theirs, and although they're opinion counts it's ultimately your call.
What to do:
Set up a family meeting fairly soon after you get engaged or at least when you're ready to really start planning. Explain your vision to them and be sure they understand it, then try to get an idea of the kind of involvement they want in it.
Be upfront and honest with any apprehensions you may have. Getting everything out in the open right from the start will cut down on any confusion and will become a life saver later on.
His Parents
Have a meeting with his parents too, separate from the other one you've planned with yours.
Sometimes the parents of the groom can feel left out of the planning process because in their mind 'this is the bride's day'. So to make sure this doesn't happen, invite them in to the planning dialogue right off the bat.
What to do:
Talk about your vision, include things like the location, date, size and style of the wedding. Take queues from the areas they take interest in and what their desired level of involvement is, and include them accordingly.
Remember to include your mother-in-law in all the girly things such as shopping for your dress and even choosing the flowers, even if you aren't super close. Trust me, she'll appreciate it (especially if she doesn't have a daughter of her own).
Best Piece of Advice:
But truthfully, what's the best piece of advice I can give you? At any point when you're feeling overwhelmed or stressed out, sit both sets of parents down — either together or separately — and discuss how you're feeling. Be honest!
And remember, try to keep your parents up-to-date with any major decisions you've made. They may not always agree with it but they'll appreciate being in the know nonetheless.
What is your best piece of advice?
Happy weddings!

Photo courtesy of Clewell Photography. To view more photos of this wedding, click HERE.
Like us on Facebook
Follow us on Twitter
Join us on Pinterest