Happy Wednesday everyone! Today I have a really great post for all of you about Pinterest. It's a fabulous platform with lovely photos and ideas galore, and as a wedding inspiration tool, it's amazing. But, with so many lovely ideas and images all in one place, how do you narrow it down? As most of us have probably found out first hand, it's easy to get lost in the gorgeous photos that Pinterest is know for. One minute you're looking at wedding dresses and suddenly you find yourself awwwing over adorable baby animals! Even if you do manage to stay on track while you're looking for wedding ideas, inspirations and products there is still a massive amount of information to process – and most brides get a little overwhelmed with all the decisions. So, today I am going to impart my 5 top tips to use Pinterest to design and plan your wedding with ease! I hope you guys all enjoy it, lets get started!!!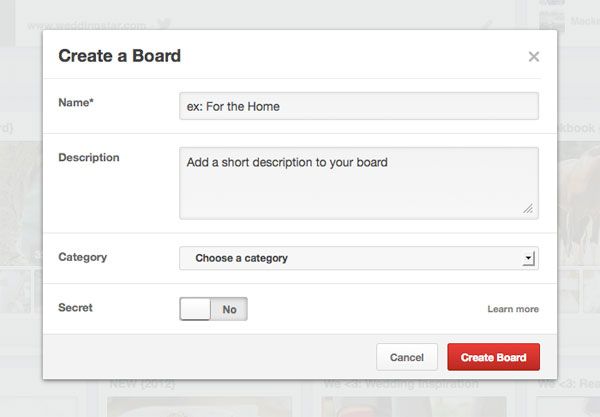 O.K. so the first place to start is a pretty basic one – and it's making the decision of whether you want your wedding inspiration board(s) to be secret or if you want it/them to be public. There are definitely bonuses and drawbacks to both types of boards and this is purely a personal preference but one that many basic Pinterest users don't know about (myself included until I started to utilize Pinterest at work!). For those of you who don't know how to make a board secret, the above screen shot shows just where to click when you are making a new board on Pinterest. See the last little section that says "Secret"? The default is always "No" as most of us keep our boards public to share our inspirations. However, if you want people to be surprised at your wedding, want all your best ideas to stay a secret or just plain don't like the idea of strangers getting a look at your wedding planning ideas, all you have to do is click right on the "No" and it will move the switch over to reveal a "Yes". This means that the board will now be secret and only be viewable by you when you are signed into your account! Neat, huh??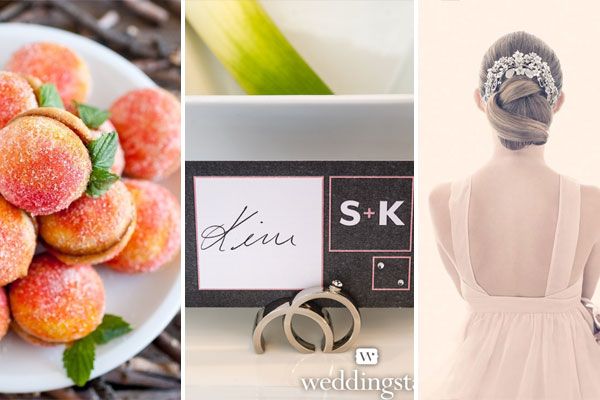 Now that you have your board(s) ready, it's time to start "pinning"! What you want to do at this stage is gather general inspirations that really speak to you. I always suggest using your favorite colors/wedding colors, the season of your wedding or the theme(s) you like as jumping off points – this might by why you want separate boards to begin with if you know what you are looking for! Utilizing the 3 major elements of your big day, it becomes easier to find inspirations, products, ideas and tips that will help you later down the road. No idea what you want for your wedding?? Then I always suggest looking up general wedding terms like "wedding reception" or "wedding colors" to find pins that you love – and sticking with a single board to start! Then you can start checking out the boards that the pins you loved came from for even more great wedding ideas that are tailored just for your tastes! Because you are finding such general inspirations, I usually suggest making multiple wedding boards to sort your ideas once they start taking form if you started with a single wedding board. For example, let's say I love the idea of a vintage wedding, I'm having it in the winter and I love the colors red/gold and ivory/black/gold. I might now make 4 different boards that hold my inspirations for each facet of my dream wedding. This way I can easily decide what elements I really love in each respective board and tailor my wedding design accordingly (instead of staring at a jumbled board of over 800 pins that make me panic and hyperventilate, wondering how in the world I'm going to design a wedding!). Avoid the panic attack (and possible Bridezilla moment!) and organize your thoughts and boards at this stage!
Your boards are organized and now it's the time to make your choices on what you love best! This is why making the separate boards is so helpful because you can get a clear look at each one of your major design elements to see how they could all work together. It's also a perfect way to pick your major wedding decor items and designs by narrowing what bouquet you like best, what kind of cake design and so on. It's also a wonderful way to be able to look realistically at everything you have pinned to make the call on what you see as being the best ideas. Did you pin a great DIY project that would take hours worth of time that you don't have? Or maybe the bouquet you love is a spring floral arrangement that might not last through the cold zap of air it'll get on the way to your winter wedding ceremony. Or, as we've all found out on Pinterest, maybe the favors you loved and pinned aren't linked to their original source and regardless of the countless hours you've spent on Google, you just can't find them (this is perhaps the most frustrating thing that can happen while planning, and is most certainly a tipping point for even the calmest of brides!). Take this time then to research each of your favorite ideas before you get your heart set on them. This also includes making sure that everything you love is within your price range as well. Pinterest is teeming with amazingly opulent cakes, dresses and more but these can often come with the price tag to match! So the best advice: Do your research well, and your planning will fall into place!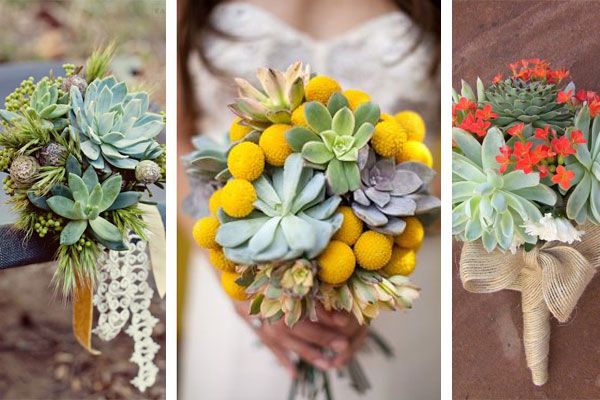 You have your bouquet/cake/dress/ect… ideas all figured out… but now what?!? You're going to be visiting with your vendors is now what! And, whether it's your appointment with your hair stylist, your florist or even your caterer, inspirational photos can be the easiest way to impart your ideas! Time and time again, vendors say that their brides and grooms are often worried about showing their ideas to them, but this is the simplest way to get what you want and make sure that your meeting is the most efficient and effective! The key though is that your photos are inspirations only. Your vendor is amazing in their field – otherwise you wouldn't have chosen them! So let them use their expertise to help guide you in a direction to find your own best style! While you might love the sassy, sleek and skin tight wedding dress you saw on a model on Pinterest, it might not be the most form flattering idea for you. Don't be abashed if this happens! Inspirations are lovely, but even with a good bit of research into your ideas, a vendor might still have to give you the bad news that your idea needs some tweaks. So let them help, guide and be your support – your end result will be amazing and the path leading there will be much less stressful! And, brides and grooms to be, just remember that you are showing your favorite ideas ONLY at this point. 3 or 4 of your  favorite pins are all you need to show a vendor, otherwise your idea can get lost in the multitude of photos!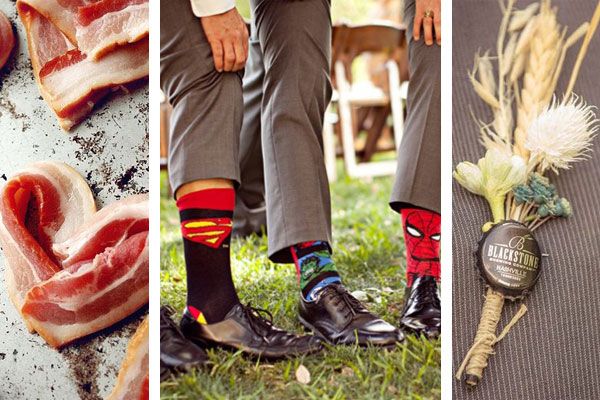 You've spent hours on Pinterest, carefully planning your day and your fiance…. let's just say not so much! It's a common problem that plagues many brides but Pinterest can actually come to your rescue and get your fiance in the mood – to plan that is! With great shots of groomsmen goofing around to amazingly cool boutonnieres to snacks that are definitely Man-Approved, finding those special inspirations that will make your fiances eyes light up can be the best way to get him interested in your wedding. Plus, this can be a great way to let him have a hand in the wedding design without feeling left out or overwhelmed. You'll be amazed at how excited he will get when you show him a superhero groom's cake or a swanky Jack and Coke bar set up – I promise!
And there you have it! 5 simple steps and your wedding planning is underway! I hope this helps all of you – and don't forget to start your journey on our own Pinterest boards (all the gorgeous photos in this post are directly from our boards and pins!).  See you all Friday!!!