You use it to write thank you notes and probably associate it with wedding invitations more than anything, but paper has the potential to be so much more than just wedding stationery.
When it comes to DIY projects, incorporating paper is an absolute must. Not only is it incredibly versatile, but paper creations can be put together months before the wedding and will look just as stunning when the big day rolls around.
Laser Cut Paper
With the advent of laser technology, stunning creations no longer have to be painstakingly cut by hand – with lighting quick flashes they can be cut into paper with incredible accuracy. This allows you to use items, like the following laser cut pieces, in your wedding decor.
These incredible baroque frames can be used for everything from escort cards to instructional signs. All you need is a steady hand and relatively neat handwriting and you can personalize them to your hearts content.
Another item, which I have talked about before, is the napkin ring place card. A brilliant fusion of two common items, this product helps clear the clutter from your table while at the very same time providing an amazingly easy way to style your napkins.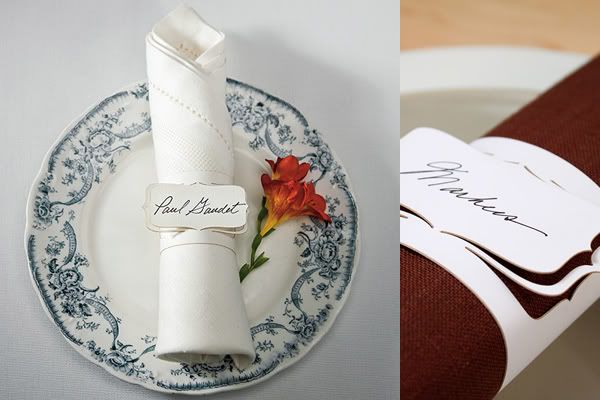 However, if you're only the market for place cards, you're in luck because that is where the selection explodes. There are the traditional 'placed on the table' place cards…
Alright, so perhaps they are not as typical as you might have expected. Some of the cards are self standing and some will need a place card holder, but the one factor that is the same in all of them is their unique style and conversation starting capabilities.
The unusual selection of place cards were actually designed to sit on the rim of a wine glass. Dragonflies, butterflies… flowers – that would perch on the top and look stunning while at the same time directing guests to their seats.
Each one of these cards has an area that has been left blank for you to personalize. Don't let my declaration that they are designed for glass rims deter you from anything more creative though, these little beauties have a lot of potential and I would love it if you were to discover it!
Paper Flowers
Another DIY wedding project is of course paper flowers. There are many styles that you can learn how to create via the internet or readily available origami books.
You could learn how to create stunning origami flowers – a project that can be done with a glass of wine and your bridesmaids, though be prepared for the fact that it might take time! If you were to go this route there is no reason why you can't have a little bit of fun with it! Paper flowers are great for several reasons; first off they are very budget friendly, they are unique to you, your colors and your style – and best of all, they won't wilt.

If origami flowers aren't your style, you don't have to go into quite so much detail. Small hand cut cherry blossoms and buds can be simply glued to a branch for a very interesting centerpiece.
Add a little decoration to the center of flowers, use a sturdy branch, and you are well on your way!
The more that you vary the flowers in size, shape and color the more realistic your branch will look. Consider diamante bling or buttons for the center.
Seed Paper
Paper that is embedded with wildflower seeds has a ton of uses, though my personal favorite is using it as part of your favors. There are so many sweet messages that go with it; "Love Blossoms", "May Our Love Grow", "A Sunny Beginning". But even better than that? Seed paper is environmentally friendly  – it begs to be planted in the earth just so that you can discover what kinds of flowers will grow from it.
A Sunny Beginning, Love Blossoms, Hang With Us, Matchbook garden Buddies and Picket Fence.
Above and beyond their environmental factor, every time your guests see the flowers that have blossomed they will be reminded of your beautiful wedding.
All paper can be decorated with pearl and crystal embellishments for a dash of added character.
Does your paper have personality?
Paper flower photos courtesy of mary_thompson, Photonoumi and virtualcourtney.