I've mentioned this decor piece several times over the last few months and I know without a doubt it has appeared in quite a number of the real wedding features that I have done. It is very popular and it seems to be featured in weddings that, other than the lanterns, have no real elements in common.
So today we're going to talk about paper lanterns in depth, and just why they are as popular as they are.
The lantern itself is a very simple creation – a shell of paper with wire supports. Their variety of styles, colors and uses is what makes them so incredibly popular.
One of the problems that many venues have is that there is too much open space or they feature an extremely plain ceiling that doesn't match the decor and style. We discussed some of this in our post about hanging wedding decorations a while back.
This empty space problem also comes in to play in tents and the outdoors. If you have nothing to complete the decor above, it is like the magic – that ambiance you are trying to create – is simply chopped off at head height.
The paper lanterns allow you to complete that empty space – it fills it with color and light. Essentially they help you realize the full potential of your decor.
How you use them depends completely on the look that you want to achieve. It might be your desire to fill every single inch of space above with these lights, or you might want them in a single location or to a light a path. Perhaps only one size, big or small, will suit your purposes.
Your best option to determine how you want to use them, is to search the internet for inspiration. There are so many photos of paper lanterns in use that you should be able to find something pretty close to what you want. The photos in this blog post are only a mere fraction of the ones that are out there.
Their placement options are endless; hang them from tree branches, the ceiling or from the eaves of a building exactly like you would Christmas lights.
To really fill in empty space you can hang multiple sizes of lanterns from multiple heights. At Weddingstar we sell three different sizes of our round paper lanterns to make this possible.
No matter how great they look during the day – it is at night that lanterns really begin to show their magic.
Important: Be sure that you check any lanterns that you buy and confirm exactly what kind of lights can be used in them. Any paper lanterns are a potential fire hazard if you use lights that are hotter than those they are intended for.
If you choose to use single lights rather than strings of electrical lights, you should find out how long the batteries will last. Taking down the lanterns and putting in new lights isn't something that is going to happen in the middle of a wedding – LED lights tend to have a longer life span.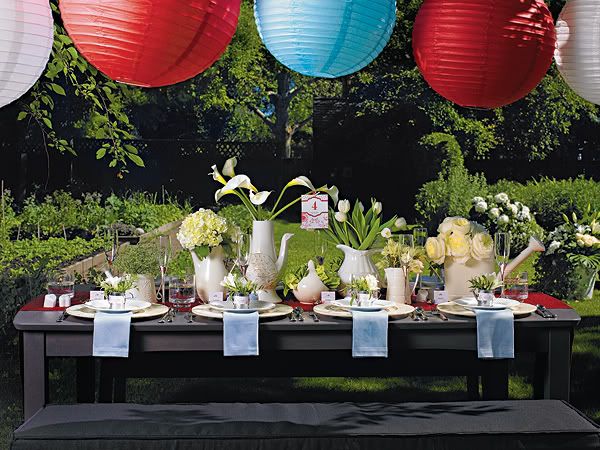 If you want to keep the same kind of feel during the ceremony, but you do not have the option to use lanterns, then matching paper parasols could potentially keep that continuity throughout the event and your photos.
Paper lantern photos courtesy of mtcarlson, mary_thompson, photojenni, lambatofa, DafneCholet, maureen lunn, FearfulStills, kerryvaughan, ItzaFineDay and gritgoods.