A young couple's love just radiates through these stunning photos of their October wedding in a small, rural community on the Canadian Prairies. The event was a family affair, with all helping hands on deck to help make their special day possible.
Pamela Huber and Dustin Bischoff were married on October 8, 2011 in the small town of Leader, Saskatchewan, Canada.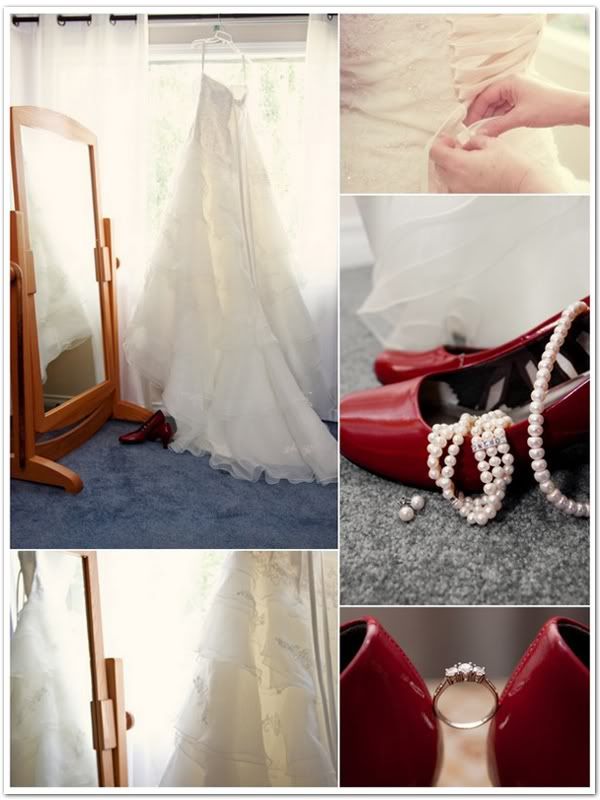 Fabulous red shoes paired with pretty pearls and a fantastic lace gown — always a great choice!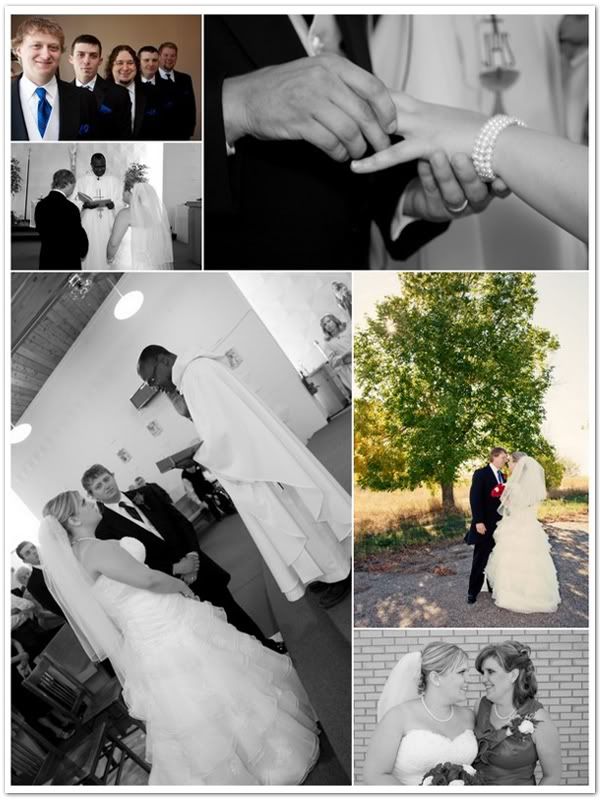 The photographer, Becky Bozak of Becky Bozak Photography, really captured the contrast of the elegance of the nuptials against the stark expansiveness of the wheat fields — it's what makes wedding photos on the Prairies so special and so captivating. An absolute dream wedding!
A few words from the photographer:


Pam and Dustin are the cutest couple! They are so down to earth and humble. You can really feel the love they have for each other and the day was so special to them.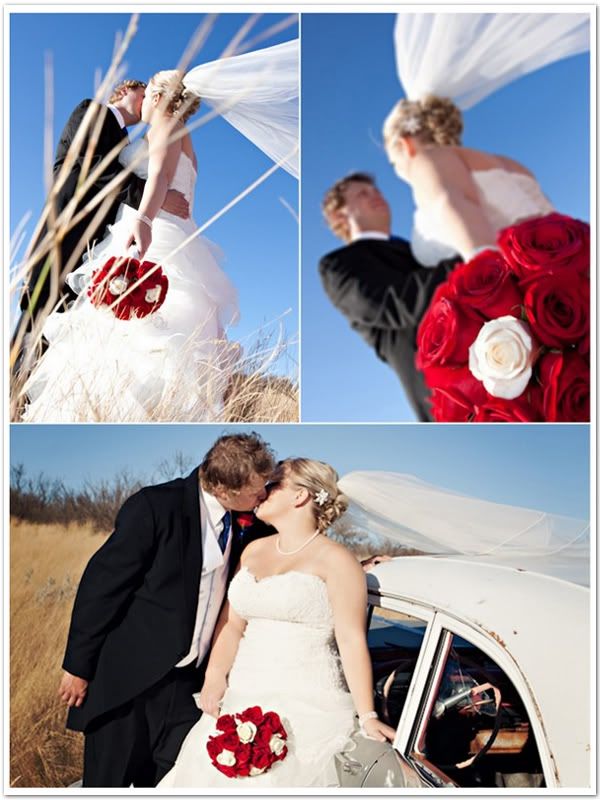 We trenched though stubble fields and abandoned farms to get the perfect shots, and of course, it wouldn't be a Saskatchewan wedding without a box of Pilsner following us.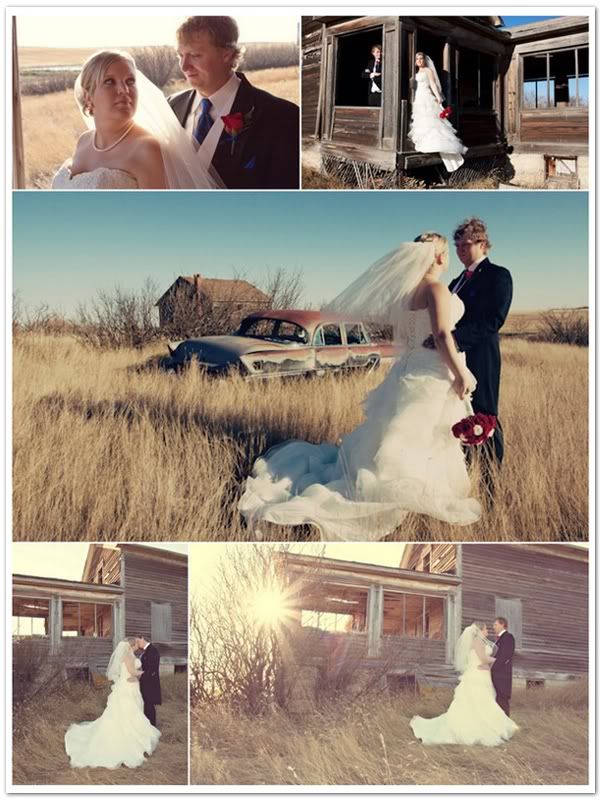 Pam wasn't scared to get her dress a little dirty when I had her sit on the ground.

The Bride has one of the most stunning, most photogenic faces I think I have ever seen, and she just shines in these photos! And her red and white rose bouquet is such a great, colorful accessory.

The dance was a blast! Everyone was out spinning on the dance floor all night! We even snuck in a few extra minutes at the end because the clock was "wrong," right, Chris?

(Pam's Father) *wink*
I absolutely adore the shot of the Bride dancing with her father (bottom left). He's holding up pretty well for a man who is giving away all three of his daughters in two years!
And oh yes, those sure are bobble head cake toppers!
A special note from the Bride's sister, Elizabeth Heatcoat:


In small-town Saskatchewan, a wedding is often a huge local and family affair. The invite lists are long and the choice of venues is short, which means you have to make a lot out of nothing. And everyone has to pitch in and help decorate the day before the wedding.
The Groom worked the hardest, climbing up and down the ladder making sure that all the 'little details' were just right.
Pamela and Dustin were very focused on the 'little details,' for example, the customized decals on the door and dance floor. They wanted it to be simple and welcoming for their family and friends, yet elegant at the same time.
They wanted it to be simple and welcoming for their family and friends, yet elegant at the same time.
Pamela and Dustin have their quirks, they like to laugh and have fun together, and you can really see the smile in their eyes. To show off that side of their personality, they opted to have customized bobble head cake toppers. They got a lot of laughs at the cake cutting!
Following the wedding ceremony, they took a limo drive into the country to have pictures taken on the main street of an old town. They were expecting to see the old store fronts still standing but instead they saw that they had all been torn down. This meant an unexpected detour in the short period of time before the reception began.
The limo driver was awesome! He continued down the gravel roads to the next destination and even drove across a stubble field up to the old abandoned farm yard where the majority of the photographs were taken.
Pamela and Dustin have their quirks, they like to laugh and have fun together, and you can really see the smile in their eyes.
They had a traditional Catholic ceremony, so an hour and a half service. They spent a lot of time working on and perfecting the music as a way to keep all of the guests entertained throughout the service.
Our cousins (who are hair stylists) did all the bridal party's hair. Pam's best friend, Brianna (also a member of the bridal party), did Pam's hair.
The flower girl (another cousin) was just adorable! She took her job so seriously. The Ring Bearers (our nephews) were typical little boys, fighting in the backseat of the limo, but they were so excited to be in their Auntie Pam's wedding party.
Funny story: Pam didn't have a wedding planner but Emily (the flower girl) sat down with her one afternoon to go over what the decorations are going to look like, what type of flowers she was having, the number of guests, the venues, hair styles…the list goes on! Emily is a little princess that has already begun planning her own wedding.

A big thank-you to Becky Bozak Photography for submitting these photos!
Happy weddings!

Ceremony Venue: Little Flower Church
Reception Venue: Leader Community Hall
Photographer: Becky Bozak Photography
Cake Designer: Charlene Cox
Hair Stylist: Brianna Duscherer
Floral Designer: Dreams Boutique
P.S. If you would like to see your wedding photos featured on our blog, feel free to email them to onasweetnote@weddingstar.com or submit them through your Two Bright Lights account.
Please include the name of the happy couple, wedding date and location, and any other information you'd like to include about the venue, decor and overall theme or inspiration of the wedding.
If you are not the photographer then you must get permission to use their photos before you submit them, and please include their name and website for photo credit purposes.
Of course, we would love to see our own stuff in action! If you have photos featuring any of our Weddingstar products, please submit them. Photos will be featured as space permits.