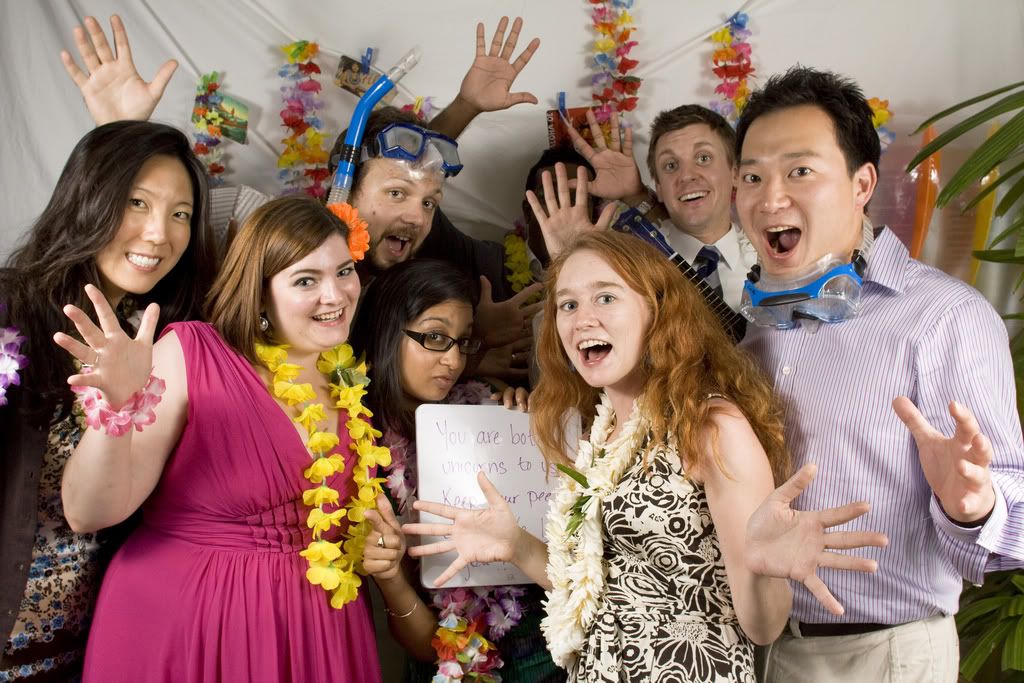 OK, photo booths at weddings may not be an entirely new thing, but they've really become a hot commodity over the last year or so. And boy, are they hot right now!
Photo booths are a great way to get your guests out of their chairs, laughing, mingling and just having a great time at your reception. And the best part? They can be as cheap and charmingly DIY or as expensive and glamorous as you want them to be.
I think I speak for most of us who have been to a wedding with a photo booth when I say this: photo booths are often the highlight of the reception.
Budget-friendly ideas
Your photo booth can easily play double or even triple duty at your wedding, here's how:
DIY photo guest book
Grab a few sheets of scrapbook paper and tie ribbon at one end to create a book. Ask your guests to paste their photos in the book and sign beside them on the page. Such a fun guest book alternative!
Fun & favors in one
Some rental booths charge a few cents to use, so consider giving each of your guests a free round as a token of appreciation (same idea as giving them a free drink at the cash bar). Then, use the money you accumulate to pay for the booth rental.
It may not be traditional, but you may also consider giving the photos as your wedding favor. Provide each guest with an inexpensive frame or book to keep their photos and voila! A simple keepsake favor your guests will love!
Our new personalized photo backdrops
Our personalized photo backdrops are all new this year! They're a ton of fun and super easy to put up. Simply mount the backdrop to a wall surface using removable poster tape or suspend it from a wood dowel or light-weight curtain rod.
Here are some of our new designs:
Expressions | Regal Monogram | Classic Deco Monogram
Kissing Booth | Birds with Love Pennant | Rainbow Heart | Palm Trees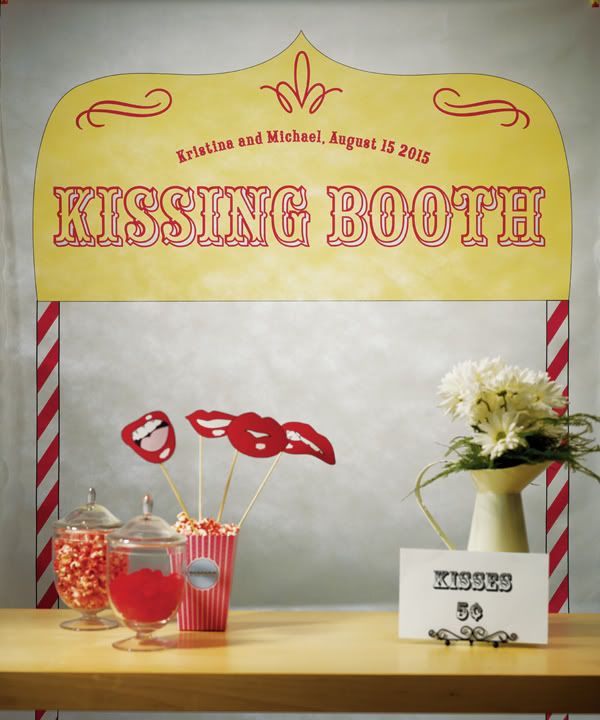 One great thing about photo booths is that they can be professionally done or as DIY as you like. There are a ton of amazing companies out there that rent out entire booths or just the equipment or software. Or you can make your own!
I went to a wedding last year where the photo booth was just a few black curtains and a camera sitting on a tripod. Simple, yes, but with a couple of fun wigs, hats and other silly props (and a few too many bevvies from the bar) that photo booth kept us guests entertained the entire night.
And they're fun for kids, too!
Let's face it, there's nothing worse than bored, misbehaving children at weddings. It's no secret that kids of all ages love to play dress up, so photo booths are also a great way to keep them entertained and occupied.
Happy weddings!

Photos courtesy of chad magiera and Jessie Terwilliger.