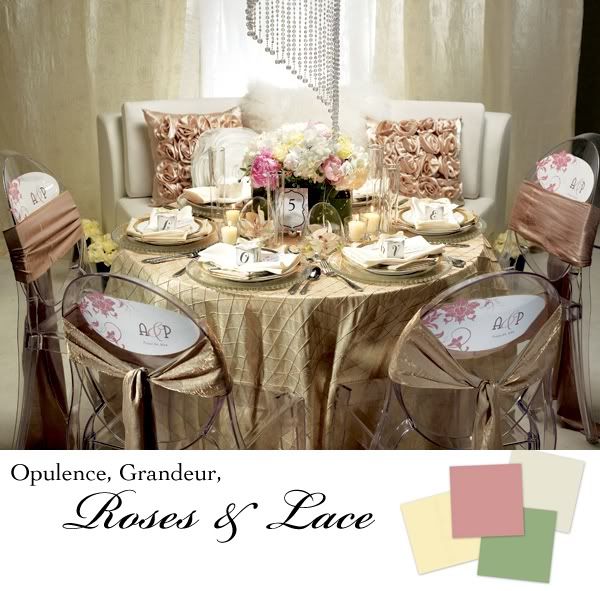 As a more opulent extension of last year's popular vintage wedding theme, Victorian style weddings are going to be oh-so huge this year.
Kate Middleton's marriage to Prince William sparked the new trend last April when her lacy sleeves, classic veil and impressive ballgown all stole the show. Now Bride's everywhere are really starting to take this theme, making it their own and creating weddings fit for royalty.
A Victorian themed wedding is unique, elegant and all about extravagance.
Here's what you'll need to pull it off:
The Decor

Top: Love Bird Damask Table Number | Classic Round Place Card Holder | "Table Glam" Crystals Bottom Left: Floral Orchestra Large Cling Bottom Right: Floral Orchestra Wine Label | Contemporary Double Walled Flutes | Acrylic Crystal Garland

This theme needs a lot of over-the-top decor, such as lace, pearls and crystals…everywhere! Complete the look with large floral centerpieces and chandeliers overhead.
The Color Palette
This delicate color palette really complements this theme. Muted, antique style colors will help make the crystal and pearl accessories really pop without looking too overwhelming or even garish.
The Dress
Think big, extravagant and even colorful, Yes colorful! It wasn't until Queen Victoria married Prince Albert in a white gown back in 1840 that wedding dresses were primarily white. Before that, dresses were typically dark brown or grey.
You absolutely can't go wrong with a tiered skirt and pearl and lace detailing.
As for colors, silver, blue, blush pink, apricot, lavender and antique creams, along with embroidered florals and even polka dots, will all be the stars of the show this year.
And you better believe that sheer, embellished and lacy Kate Middleton-esque illusion necklines will take precedence over completely strapless.
The Cake
"A Cinderella Moment" Figurine
Back in the Victorian Era, which by the way was from 1837 to 1901, a wedding cake was typically a dark, rich fruitcake that was boxed up and given to guests to take home at the end of the night.
Nowadays couples have their choice of flavor and really sky's the limit in terms of decoration. Envision a three, four or even five tiered masterpiece with scrolls, flowers, pearls, lace, a ton of intricate piping work…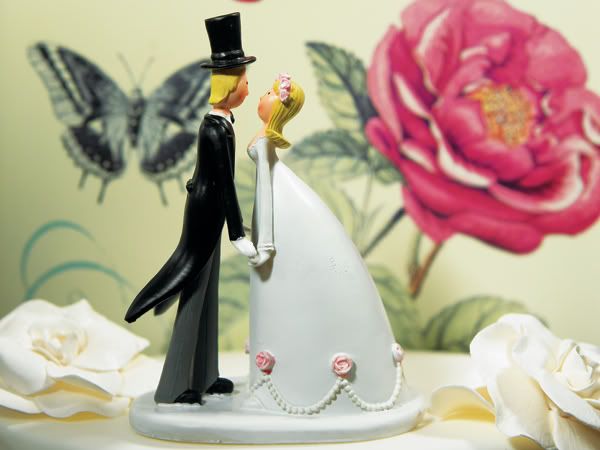 Novelty Wedding Couple Hand in Hand Figurine
…and a traditional cake topper to top it all off!
The Favors

Top Left: Mini Beveled Mirror Box with Lid Top Right: "LOVE" Cube Favor Boxes with Aged Print | Ribbon | Floral Orchestra Square Tag Bottom Left: Mini Linen Drawstring Pouch with English Tea Rose Decorative Trim | French Whimsy Square Tag | Ribbon Bottom Right: "A Perfect Reflection" Wedding Dress Mini Candle
With so much going on on the tables already, finding guest favors that complement it all may be a bit of challenge. So, perhaps taking the minimalist's approach is the way to go here.
I think simple gift boxes with a little antique flair, pretty pouches of tea leaves or cute novelty favors would all do the trick.
Other Elements
One word: tea.
Serving tea is an absolute staple at Victorian themed weddings, and you just have to admit that mix and match vintage teacups and saucers make adorable table decor.
But to add a little modern spice to the mix, I suggest a midnight tea buffet complete with varieties of tea, mini sandwiches, scones, pastries and chocolate covered strawberries.
So, what do you think?
Happy Victorian weddings!