Dessert tables and candy bars became huge, huge, huge in the wedding dessert world last year, and I think it's safe to say they'll only continue to grow in popularity in 2012.
So I just had to know: what kind of dessert table or candy bar would you want for your wedding? I asked all of our Facebook fans what they're favs were, and here's what they said…
The majority of our fans said they want all the classic candy bar favorites, including licorice, jellybeans, chocolates, caramels and peppermints. Having a selection of cookies — with milk, of course — was tied for second with a candy bar full of gummy candies. Assorted coffees and teas with biscotti and coffee cake came in third, and in last place? An ice cream/sundae bar complete with all the fixins.
Below are a few photos of the top 3 dessert table choices to help inspire you to create your own yummy, interactive buffet-style wedding dessert, as well as two more ideas I thought were fun.
Oh, and just a little side note: with zero votes, cupcakes didn't make the cut.
The Candy Bar
In this photo: Sweet Silhouettes Large Cling, Small, Medium and Large Stickers, Small and Large Rectangular Tags, Small, Medium and Extra Large Wrap Stickers, and Cellophane Bag Insert; Cellophane Bags; Ribbon, "Sweet" Goodie Bags; Mini Metal Pails; Arrow Shaped Chalkboard; Mini Rectangular Chalkboards; and Liquid Chalk Marker.

In this photo: "Sweet" Goodie Bags and Homespun Charm Small Sticker.

The Coffee Bar
In this photo: Mr & Mrs Goodie Bags, Sweet "Couple-ccino" Mocha Scented Stickers, Laser Expressions Baroque Frame, Heart Shaped Plates and Mini Classic Candy Jar Shaker.
Milk & Cookies
In this photo: French Provençal Enamel Pitcher, Canisters and Small Floral Cling, and Classic Deco Printed Number.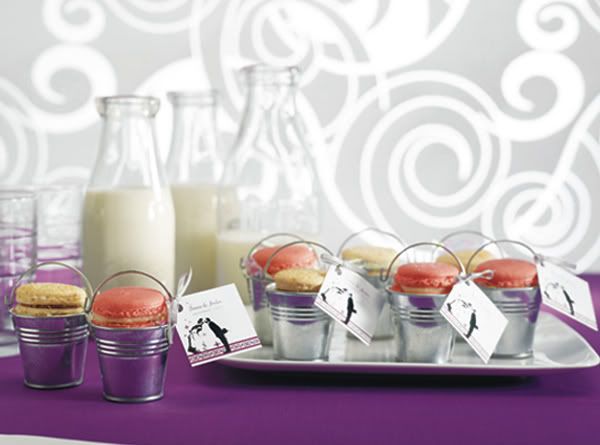 In this photo: Mini Metal Pails and Vintage Hollywood Square Tag.

Take-Home Mini Pies
One idea would be to place homemade mini Lemon pies on a table with fresh lemonade.
In this photo: "Sweetie Pies" Mini Pie Kits and "Sweet Beginnings" Printed Napkins.

A Pop to Go
In this photo: Oval Plastic Tub, Rose Small Cling and Small Sticker, Western Boot Shaped Glass, Mini Glass Bottles, "Just Married" Printed Napkins, and Classic Damask Filigree Cupcake Wraps.
Happy 2012 weddings!

Top photo courtesy of: Shauna Younge Dessert Tables.