I'm engaged!!
…wow, it's five days later and saying that still puts butterflies in my stomach!
My fiancé, Brett, and I (ohh saying the word fiancé still gives me goosebumps!) got engaged last Friday. His proposal was more romantic than I could have ever imagined, and I was totally surprised.
He had me believing that I was going to have to wait another six months before he'd pop the question…six months!
But without further adieu, here's how the happiest night of my life (so far) unfolded…
I had just come home from work and was sitting at the kitchen table clipping coupons (yeah I know, I'm a couponer!). He came rushing through the door and told me that a good friend of his was passing through town and staying at a nearby hotel, and he wanted to meet up for drinks in the lobby bar.
I said "OK" but secretly I was a little annoyed considering tonight he had promised me a romantic date night out…just the two of us. But I got changed anyway and he rushed me out the door.
When we got to the bar his friend wasn't there yet so we grabbed two seats and ordered a beer each. Brett pulled out his cell after getting a (pretend) text message from his friend saying he would be down in 10 minutes (looking back now, his phone didn't even 'ping' when he got the message. Hello — red flag!).
My fiancé excused himself to go to the washroom, so I just waited, hoping his friend — who I had never met — didn't come while he was gone.
So I waited…and waited. It was probably only five minutes but it felt like an eternity.
Finally the waitress came over to me and asked: "Allison? This is for you," and she handed me a small envelope. I stared at it for a second thinking to myself, 'What? No one even knows I'm here!'
I ripped open the envelope revealing a room key and a note. The note read — and I'm paraphrasing here — "As you've probably figured out, we're not meeting anyone here. I promised you a romantic evening so please join me up in Room 379."
"OK," I whispered under my breath, obviously a little taken aback. I took a few more sips of my Bud Light Lime, switching my slightly perplexed gaze from the note to the room key and back to the note again.
I took a deep breath and walked toward the elevator.
When I arrived at the room door I held the key card in front of me, my hand began to shake. I opened the door and there he was, standing amongst rose petals and dozens of lit tea lights.
I walked in, looking around the room in sheer pride. "Wow, you really can be romantic!"
He smiled, took my hands, bent down on one knee and asked me to marry him. And you better believe I said "Yes!"
He did good. Really good.
Advice to the Proposers…From a Recent Proposee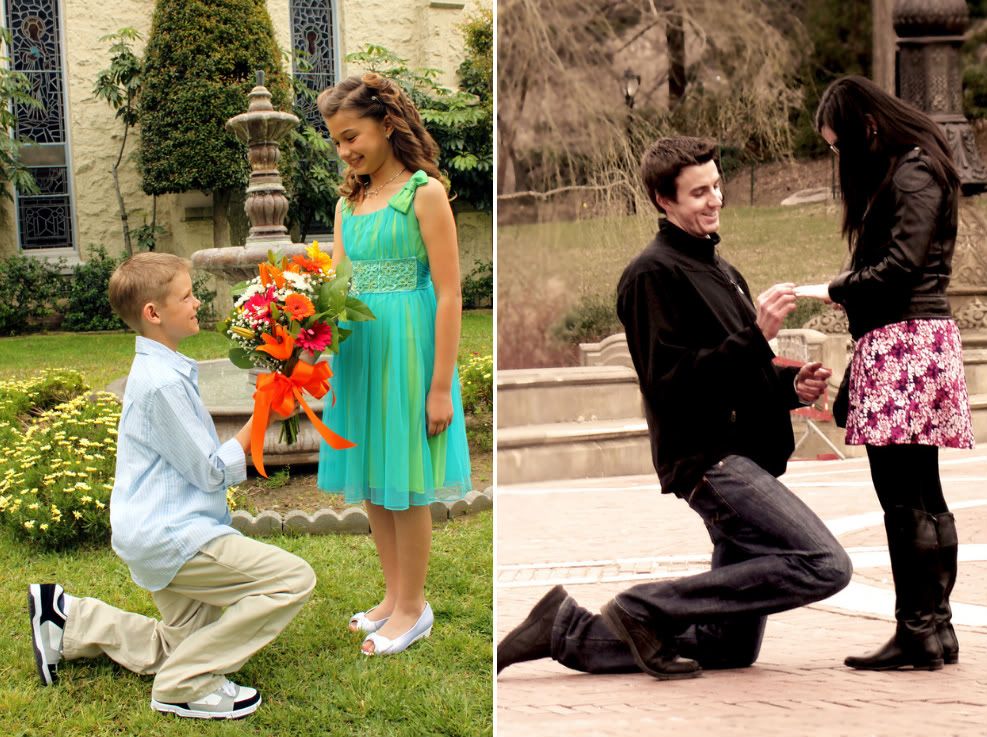 Granted, being proposed to doesn't make me a proposal expert by any means. But I just thought I'd throw a couple pointers out to you gents anyway.
So guys, let me tell you, whether you've practiced your proposal since you were a boy or just plan to wing it, know this:
We ladies have been waiting for this moment for most of our lives, so make it count!
By making it count I don't mean you need balloons, crowds or to broadcast it over the Jumbotron at her favorite sporting event. Just be yourself. Trust me, just being yourself will mean more to her than any glitz or glam proposal.
That's what did it for me. Admittedly, I never thought my fiancé could have ever pulled off something like this. And just knowing that he went through all the trouble of planning something so covert, so romantic really does mean the world to me.
An hour or so after he proposed, Brett finally admitted how nervous he was to do it. It wasn't that he'd ever thought I'd say "No," but just making sure that the timing was perfect, the other people involved did their part and I didn't somehow find out about it beforehand was enough to have him on edge.
His advice: cover all your bases, guys. Hide all receipts and try not to act too weird or anxious.
Oh and drink a beer or two beforehand. It helps loosen the nerves, apparently.
Good luck, guys, and happy engagements!