Today I am excited to share a new guest blog with you guys from Weddington Way. With their abundance of fashion genius, they're giving all the details on how to pull off the new trend of mismatched bridesmaids without ending up with a bridal party that looks like a jumble! With tips and tricks to help you get the look for your wedding, read (and look!) on for lots of inspiration. Enjoy!
When it comes to the perfect bridesmaid dress, more and more brides are turning to their maids for inspiration. Instead of just choosing one dress for all the girls to wear, brides are opting for an assortment of dresses that fit each maid's body type and personality. If you're a bride who wants to take the mixed and matched bridesmaid dress route, Weddington Way has you covered! Here are our tips for putting together the perfect mix of bridesmaid dresses.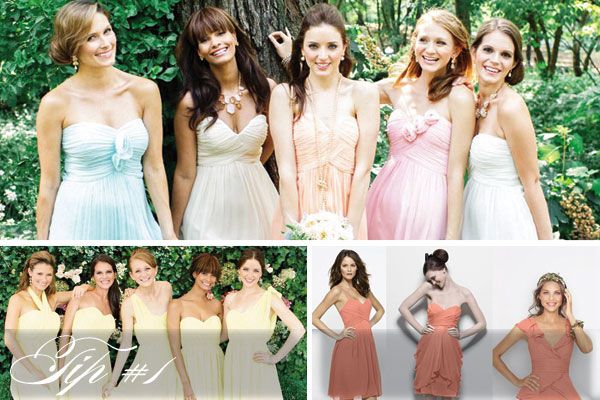 Tip #1: Start with a theme or vision in mind. Look to your wedding theme for inspiration. Will your ceremony and reception be romantic and classic, whimsical and crafty, or festive and urban? Keep your wedding's style in mind when you begin to pull dress options.

Tip #2: Stick with one type of fabric and one dress length. For a mismatched look that appears to be uniform, choose one fabric — we're loving chiffon right now! — and one length: short, knee length, or long. Remember that each length can be dressed up or dressed down with accessories. Pairing high embellished heels with a short flirty dress will make the dress feel more formal, while long flowy dresses look less formal when accessorized with flat sandals and a flower in the hair.
Tip #3: To keep the overall look exciting, incorporate a variety of silhouettes and necklines. Have one girl wear strapless, another one-shoulder, and another spaghetti straps. This will make your maids feel more unique, plus, the photos of your big day will be fun and creative!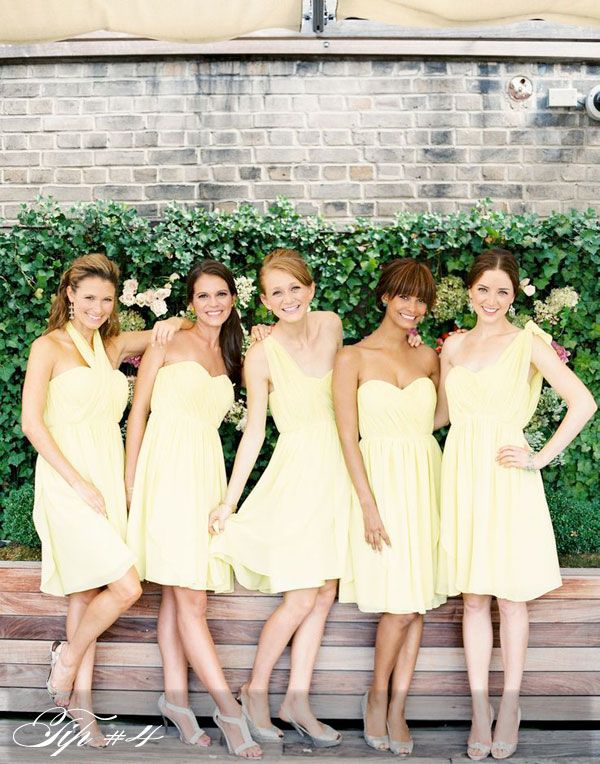 Tip #4: Let your bridesmaids help in the decision making process. You want your maids to feel confident and beautiful when they stand by your side, so allow them to choose a dress that matches their personal style and fits them like a glove! One friend may prefer a dress that is bra friendly while another loves something with an exposed back — let them both have the dresses they love!
Tip #5: Don't limit yourself to just one color. While one color of different dress styles is elegant and sophisticated, different dress styles in a range of hues is also a fun way to stand out. Choose shades of the same color and let each maid select which shade looks best with her skin tone. We love this look for casual and laid back garden and beach weddings. Another option is to select the same dress, in a range of hues.
Tip #6: Think about the accessories. You've spent a lot of time finding the best dresses, so don't stop there! Do you want the maids to wear matching shoes and jewelry? What about hair, makeup, and bouquets? For formal weddings, we prefer a consistent look. Having the maids wear the same shoes and hair, but different dresses is incredibly chic and polished. For a crafty, DIY wedding, we love a completely mismatched look, from the shoes to the dress to the hair. Why not let each bridesmaid's individuality shine?
Weddington Way is is an online boutique that offers the modern bride a highly curated selection of top brands in wedding party style.
Our extensive collection of bridesmaids dresses, accessories, and ties for groomsmen makes it easy to shop for the entire bridal party in your perfect palette. With complimentary personal stylists and an online showroom that allows you to coordinate with bridesmaids all across the globe, shopping for your wedding becomes easy, fun and most importantly, stress-free – the way it should be.
Weddington Way knows that modern brides are busy – you have full-time careers, an active social life, and friends all across the country, if not the world. You care about the aesthetic and feel of your wedding, but may not have the time (or desire) to spend every weeknight and weekend planning it. You keep in touch with friends through email and Facebook, and enjoy shopping online. So much of your life is made simpler by the web – why shouldn't the wedding planning process be just as easy and painless? Weddington Way is your solution to wedding party fashion.
We believe that shopping for your wedding party can and should be a fun, stress-free experience – not just another task to check off your list. This belief is at the heart of everything we do at Weddington Way.
 Like us on Facebook
Follow us on Twitter
See our pins on Pinterest