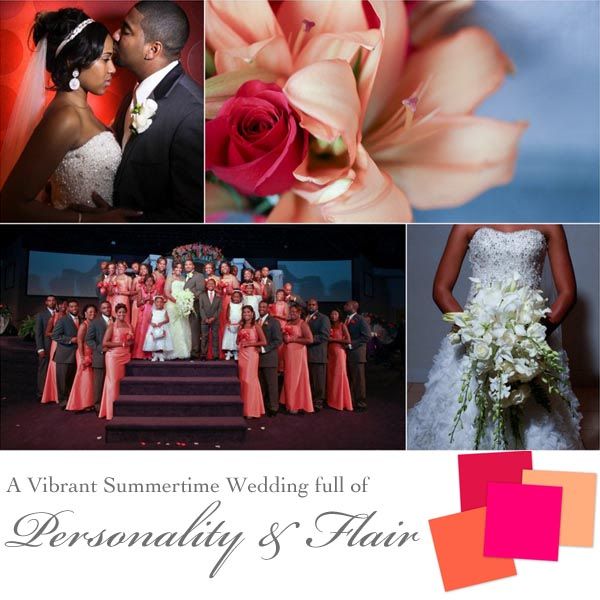 This confident couple brought a lot of personality and pizazz to their special day, including a colorful wedding party of 30, a gorgeous cascading bouquet and a massive church ceremony fit for celebrities.
Keshia Avant and James Brown were married on August 6, 2011 in Chesapeake, Virginia, United States.
The Bride's dress is truly stunning, and that bouquet…I've never seen anything like it!
I just love the pretty coral and hot pink satin gowns paired with the guys' grey tuxes. Such a dramatic color combination!
Check out that wedding party! Now that's a head table!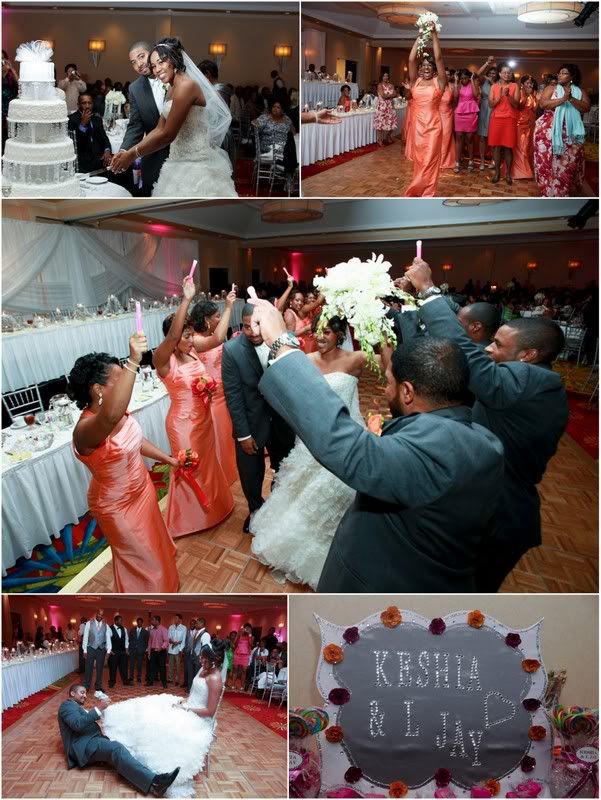 A big congratulations to the happy couple on their fabulous wedding, and thank you to Keith Cephus Photography for the photos!
Happy weddings!

Event Venue: Chesapeake Marriott
Event Designer: Distinctive Event Rentals
Photographer: Keith Cephus Photography
Dress Designer: Maya Couture
Cake Designer: G's Cake Shop
Lighting: Blue Steel Lighting Design
Makeup Artist: Makeup by Candice
Other: Ice Art
If you would like to see your wedding photos featured on our blog, feel free to email them to onasweetnote@weddingstar.com or submit them through your Two Bright Lights account.
Please include the name of the happy couple, wedding date and location, and any other information you'd like to include about the venue, decor and overall theme or inspiration of the wedding.
If you are not the photographer then you must get permission to use their photos before you submit them, and please include their name and website for photo credit purposes.
Of course, we would love to see our own stuff in action! If you have photos featuring any of our Weddingstar products, please submit them. Photos will be featured as space permits.