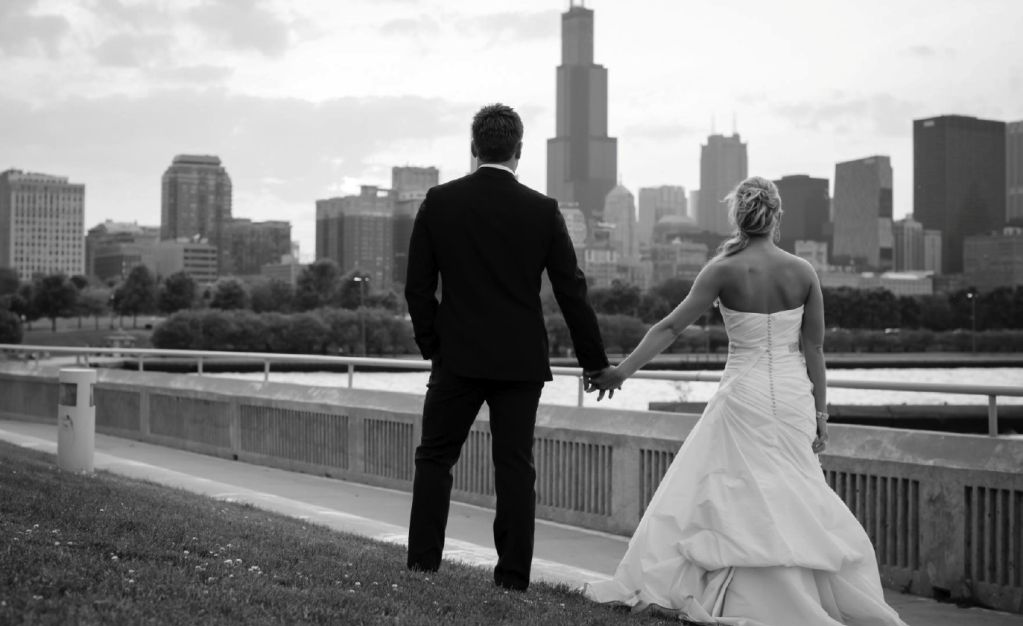 These stunning photos by WASIO Photography were such a treat to see because I absolutely gushed over their engagement pics I featured in a post a few months back. And their wedding was just as fabulous!
With a gorgeous couple and amazing Chicago skyline, this wedding is colorful, chic and full of love. But enough from me, how about I just the let the Bride, Julie, tell you all about her big day.

We are both from Michigan and having the wedding in our new city of Chicago was a big deal to our families. We wanted all of our guests from out of town (100+) to feel like they were having a real Chicago experience and fall in love with the city at our wedding just like we did.

Julie Hilgendorf and Caleb Eplett were married on May 26, 2012 in Chicago, Illinois, United States.

I found my dress at Piera's Bridal near my parents house in Michigan. I tried on dozens of dresses and I knew this was the one. I found a beautiful belt that I added to my dress after the ceremony for the reception.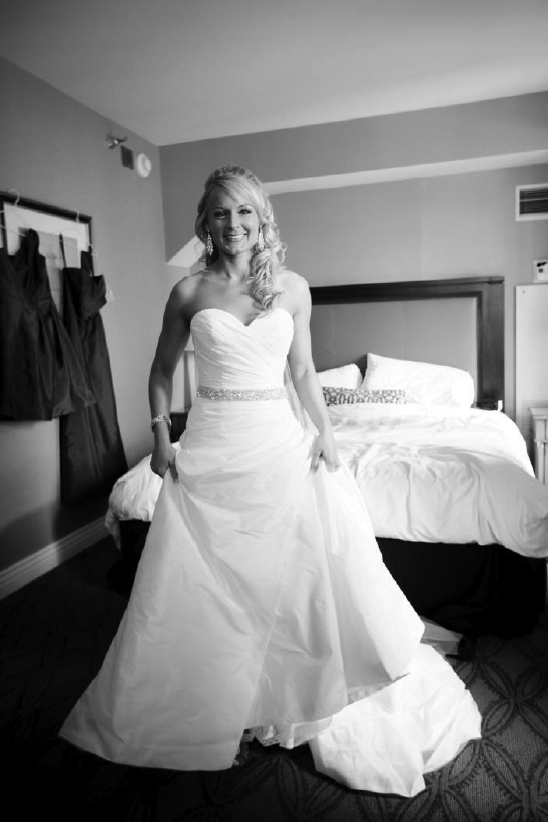 We wanted to see each other before the wedding, and the first look photos are some of my favorites!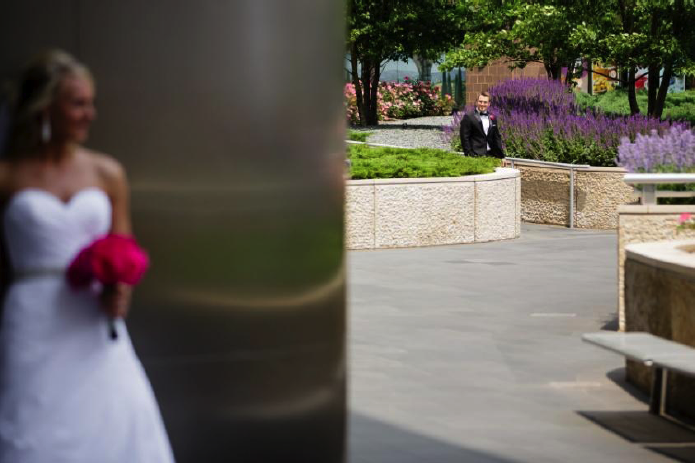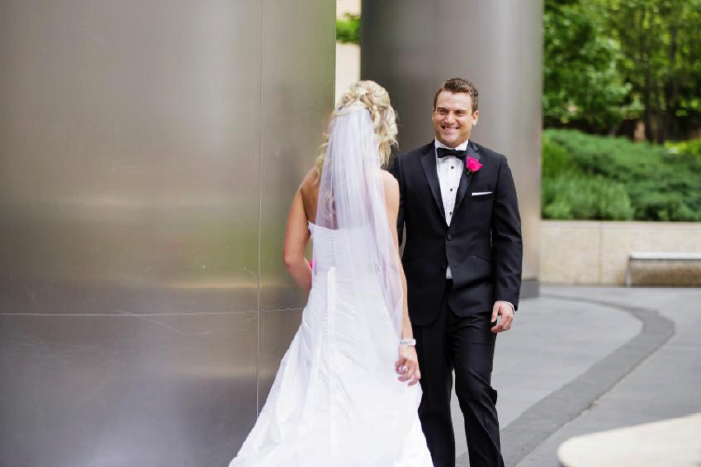 In college, Caleb made me a deal. Once he can get a motorcycle, I would get my engagement ring. Many mini toy motorcycles later, I finally got my ring. Before the ceremony began, I surprised Caleb with a groom's cake in the shape of a motorcycle. I had saved money throughout our engagement to give him to purchase a motorcycle as a wedding gift. He was so surprised!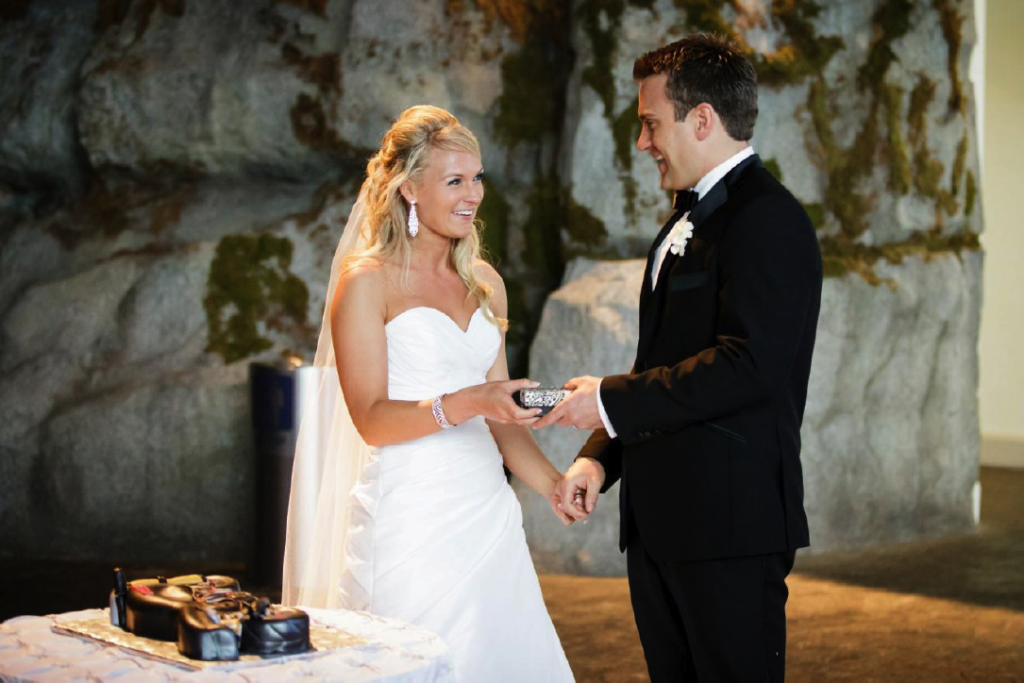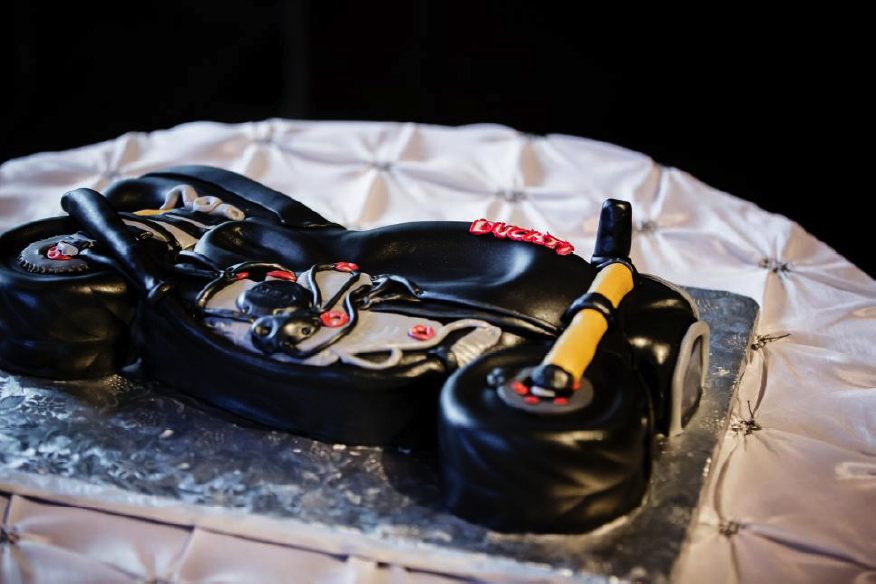 Our ceremony was held at the Tiffany Gardens in Grant Park. It turned out to be a beautiful day and the backdrop couldn't be beat.
One of our best friends was our officiant and he did an amazing job personalizing our story during the ceremony. Caleb and I also wrote our own vows to each other. Our one-of-a-kind ceremony evoked many emotions from our family and friends!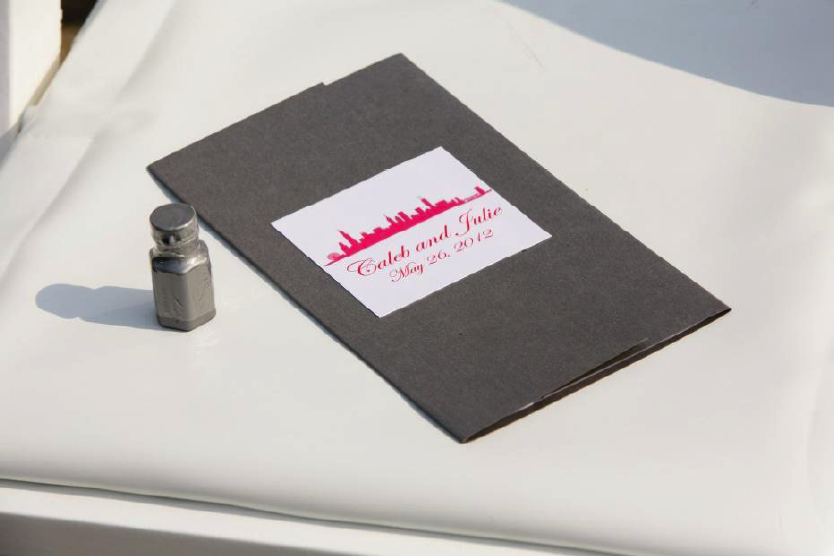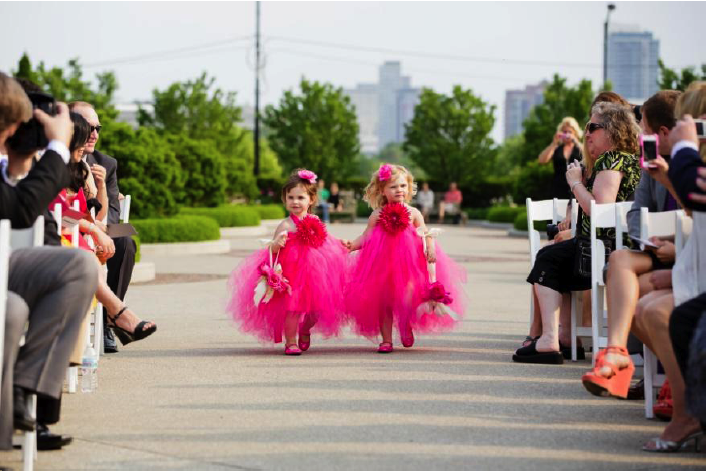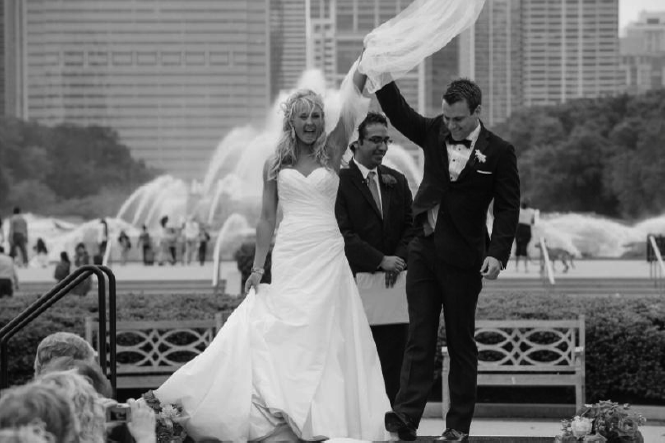 After the ceremony, Caleb and I rode away in a horse-drawn carriage, while the wedding guests took a Chicago-style double decker tour bus to the reception.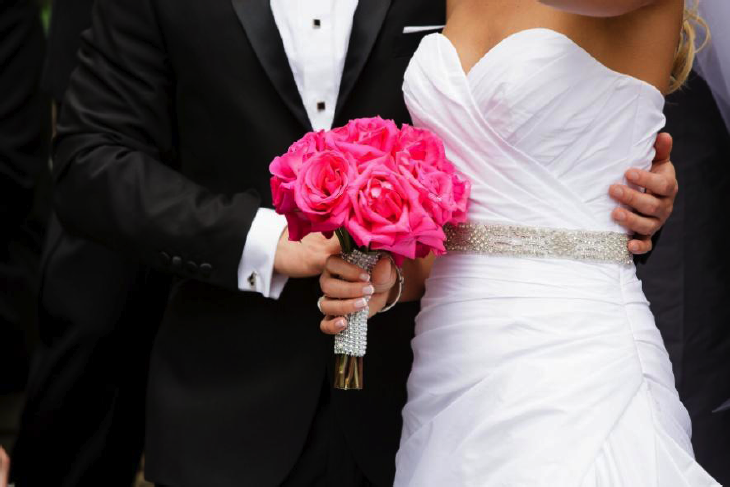 The wedding colors were charcoal grey and hot pink. The bridesmaids all chose their own grey dresses and hot pink shoes as unique as them. The men wore black tuxedos with a mix of specially ordered black ties and bow ties.


Our reception began with cocktails on the terrace and then moved onto the main aquarium floor for the reception. Each dinner table was a name of a popular Chicago landmark and featured a photo of us at that site from our engagement shoot. The place cards had sketches of each Chicago site.
Caleb is not a fan of cake but he loves Sweet Mandy B's cupcakes, so Caleb's dad built a cupcake tree to feature our four favorite flavors.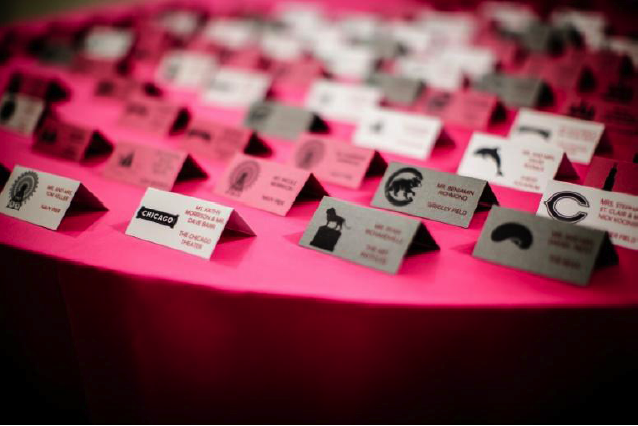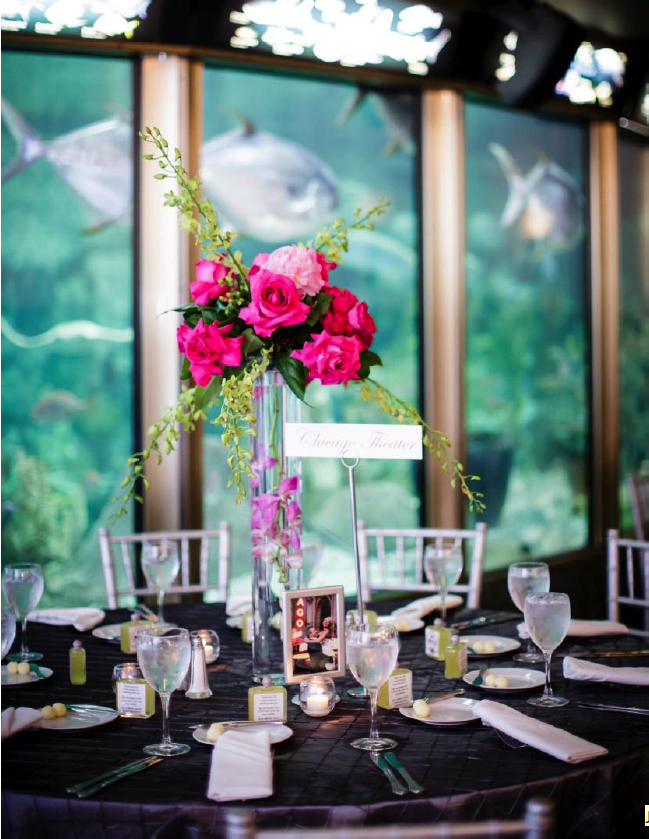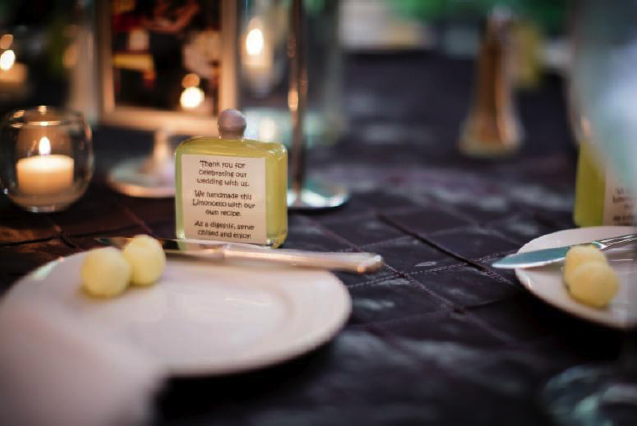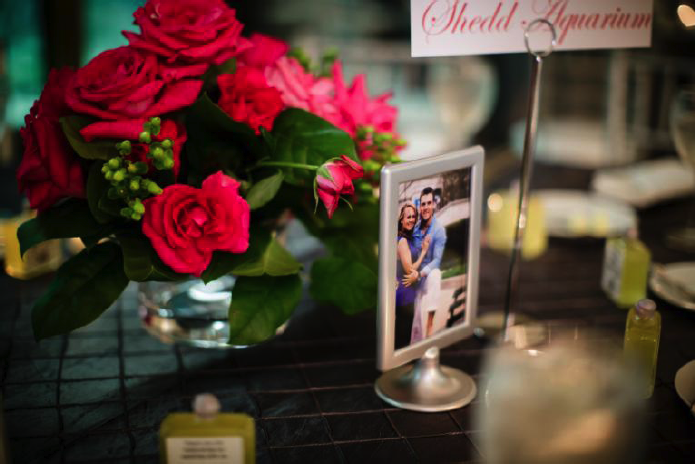 Our first dance was "Better Together" by Jack Johnson because, as cliché as it is, we really are! We should have practiced because my nerves got the best of me and I messed up every spin and dip we tried!
Then everyone danced the night away in the foyer of the Shedd Aquarium. our photographer set up a photo booth with props and everyone had a blast posing. We ended the night with the Navy Pier fireworks on the terrace, mini cheeseburgers, cookies and milk shooters and "Don't Stop Believin'" by Journey.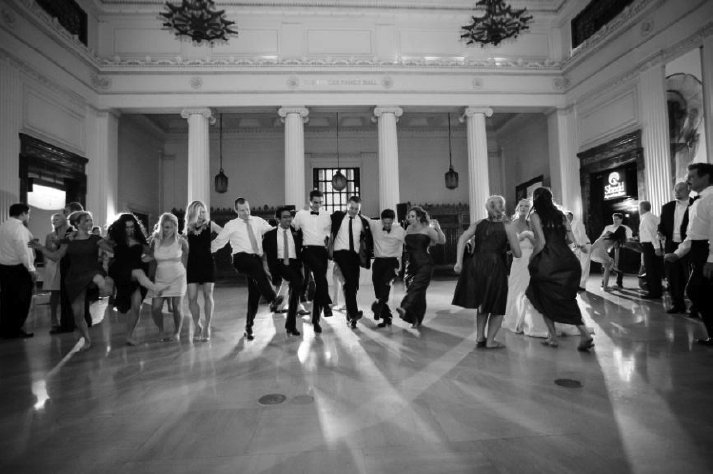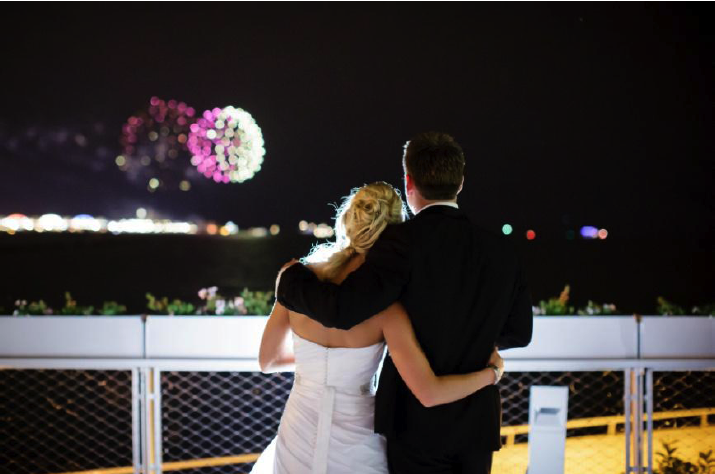 I had dreamed about my wedding day since I was old enough to recognize the love my parents had for each other. I wanted someone who I could love like crazy and who would love me back just as much (forever and ever!).
Caleb and I met at the end of high school when a mutual coach introduced us at a track meet. Fast forward seven years and we were still so madly in love that a wedding was not only the next step but something Caleb was finally ready for.
The week Caleb proposed we attended an event called Jazzin' at the Shedd at the John G. Shedd Aquarium. There was music, food, drinks, fireworks and, of course, lots of fish! We never would have imagined having an event there in the past. When he proposed that weekend the Shedd Aquarium was one of our first choices.
We decided on Memorial Day weekend because not only was it the weekend we originally met, but since most of our family would be coming from Michigan, it would give them time to spend in the city. We wanted to emphasize the city that we love and have a small Chicago theme throughout our décor.

Love this couple? Check out their colorful engagement photos HERE.
Happy weddings!

Ceremony Venue: Tiffany Gardens
Reception Venue: John G. Shedd Aquarium
Photographer: Wasio Photography, Yaneck Wasiek
Bride getting ready: Intercontinental Hotel
Groom getting ready: Hotel Sax
Florist: Kate McCollum, KLA Designs
DJ: Al Okyne, Okyne Medialab, Inc.
Limo: Golden Limo
Double Decker Bus and Trolley: Dayna, Chicago Trolley and Double Decker Co.
Horse and Carriage: Debbie Hay, Antique Coaches and Carriages
Cupcakes: Cindy Levine, Sweet Mandy B's
Groom's Cake: Lyndsay, Luscious Layers
Ceremony Chair Rental: Christine Huerta, Classic Party Rentals
Reception Chair Rental: Karen McElligott, Elite Chair Covers
Linens: Bogdon and Anna, Classic Chair Covers
Hair and Makeup: Diem Angie and team
Please include the name of the happy couple, wedding date and location, vendors, and any other information you'd like to include about the venue, decor and overall theme or inspiration of the wedding.
If you are not the photographer then you must get permission to use their photos before you submit them, and please include their name and website for photo credit purposes. Photos will be featured as space permits.
Of course, we would love to see our own stuff in action! If you have photos featuring any of our Weddingstar products, please submit them.
Like us on Facebook
Follow us on Twitter
See our pins on Pinterest