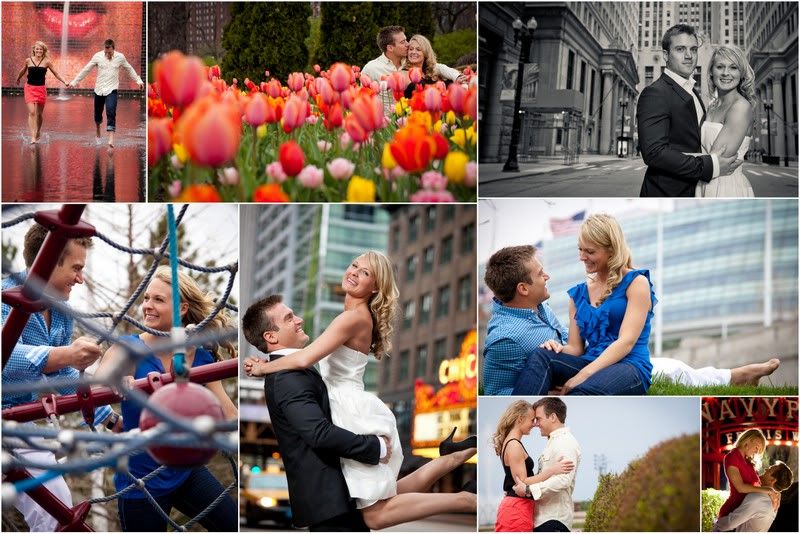 OK, I know, we don't typically feature engagement photo shoots on our blog. But this one is so absolutely stunning…and, admittedly, I've been gushing over engaged couples ever since my own engagement last month!
There's no gimmicks here. No costumes, no staged backdrops — just downtown Chicago, two people in love…and a ton of outfit changes.
Julie Hilgendorf and Caleb Eplett were engaged on May 1, 2011.
Casual in Blue
The reason I chose to feature this engagement photo shoot was because it's really four photo shoots in one! Typically, couples chose one location, theme and outfit for their engagement photos, but these two love birds decided to go for it all!
This first one shows off the couple's fun and playful side, and let's face it, they both look adorable in their matching blue ensembles. A casual photo shoot like this is perfect for couples who just want to be themselves, sweet and simple.
All Dolled Up in Pink
Here, the couple amps up the sex-itude with more figure-hugging outfits, a backdrop that's a little more intriguing and seductive poses that really showcase their love.
A flirtatious photo shoot like this can make for absolutely stunning photos, but it can be a bit intimidating if you're not used to posing in front of a camera. I'd suggest practicing in front of a mirror first if you're feeling even the slightest bit apprehensive.
A Night Out on the Town
Wow, romance and Chicago glitz — what more could you ask from your engagement photos, am I right?! So adorable, fun and sexy all at once! City shots can make for some of the most attractive and creative photos, especially in black and white. Gorgeous!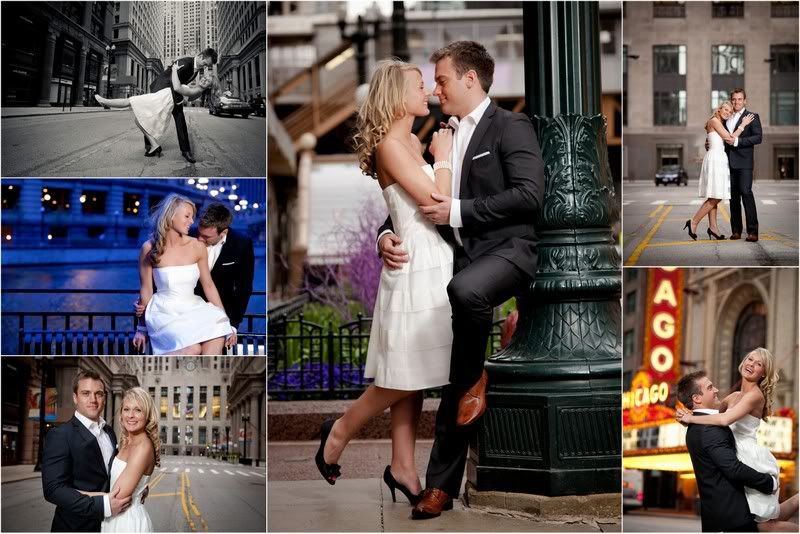 I think wearing a cute, edgy white dress with for your engagement photos is such a perfect idea! Put him in a sexy suit that just makes you melt and you've got yourself photos you'll cherish for a lifetime.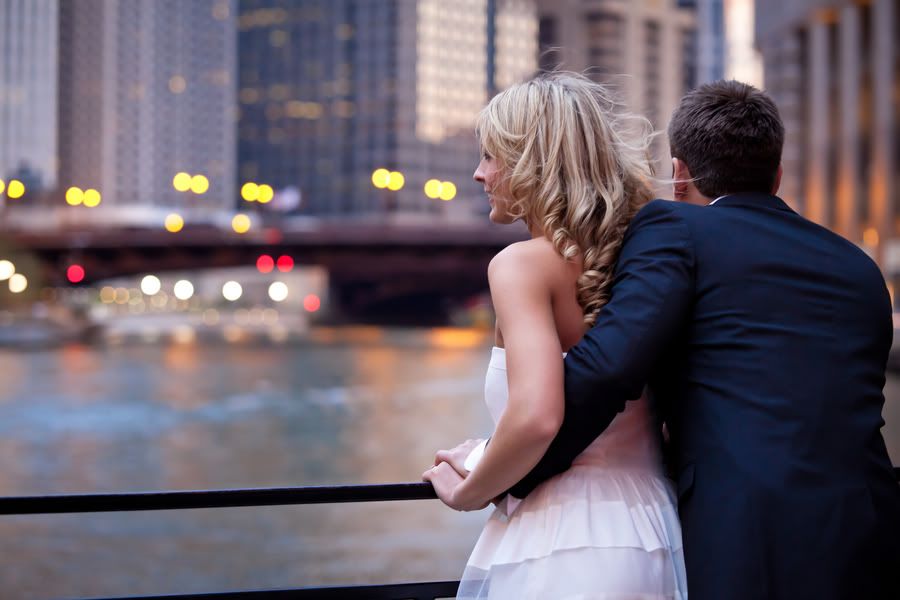 Fun at the Fair in Red
The colors of these last shots are really powerful and make for very playful, eye-catching photos! The lights and just overall energy of the amusement park are ideal for photos with a little oomph. I mean, where else can you get such vibrant reds, golds, blues and greens in one place?
And I love the way her red shirt just ties everything perfectly together.
When you're thinking about when you'd like to have your photo shoot, it's always a good idea to consider timely events like fairs, carnivals or anything else you think would make for a great location. You can plan to have your photo shoot when it's on and even if you don't have all your photos taken there it might be a nice idea for a shot or two.
The outfits you chose are as important as you want them to be. They won't make or break your photos, but they can really help make a statement. If your location is colorful with lights or flowers then go for more neutral colors that won't compete or clash against the backdrop.
If your location is more subdued such as an open field, house or street then think about wearing a color that really pops like electric blue, turquoise or bright pink. And for the boys, the general rule of thumb is to keep it relaxed and something he would normally wear. Otherwise, it can look a bit too showy and awkward.
A big thank-you to WASIO Photography for these creatively colorful engagement photos!
Happy engagements!

P.S. Don't forget to check back here on Wednesday when our design team's boss lady shares a few wise words on successful weddings…and marriages. Trust me, you won't want to miss this!