We already know that you can't resist a man in uniform, but that's only one of the many fabulous details in this wedding! It's all about the little things; the hand painted cake topper, the cartoon versions of the Bride and Groom gracing their wedding stationery, the buttons on the vases and of course the exquisite candy buffet. I never tire of seeing a well done candy buffet, it's such a great alternative or addition to traditional wedding favors.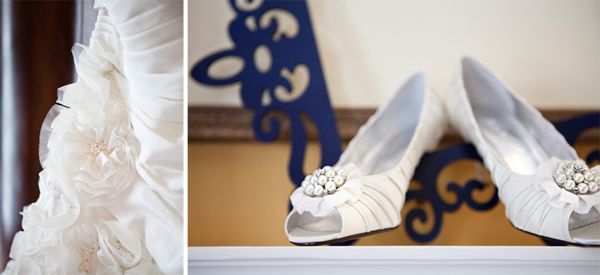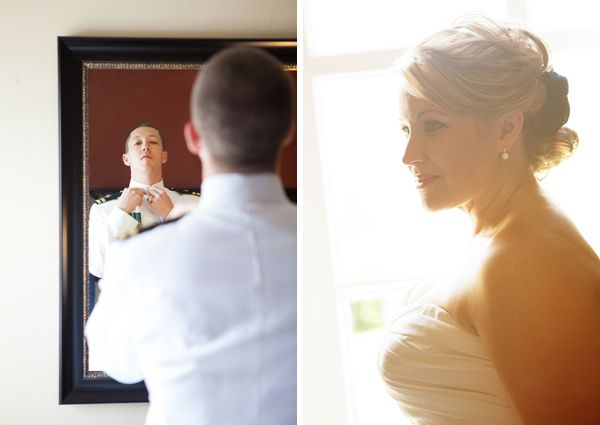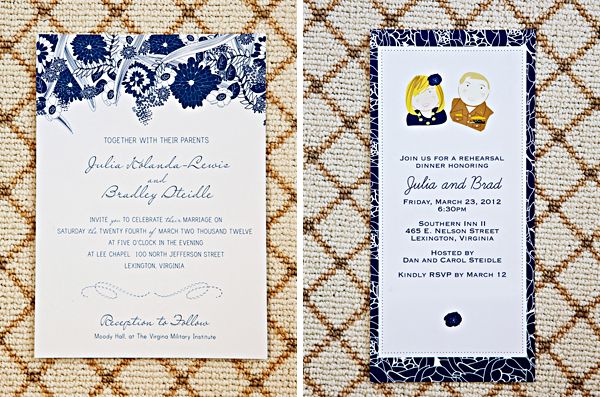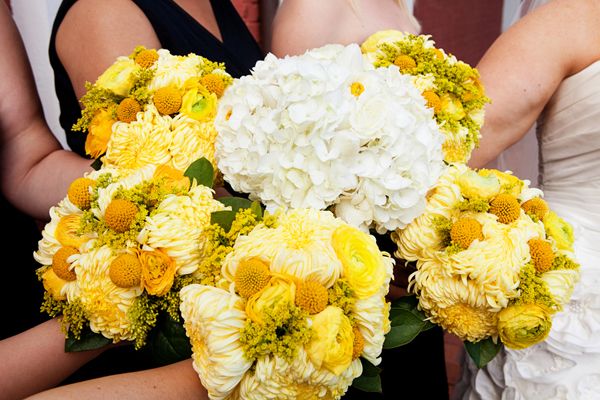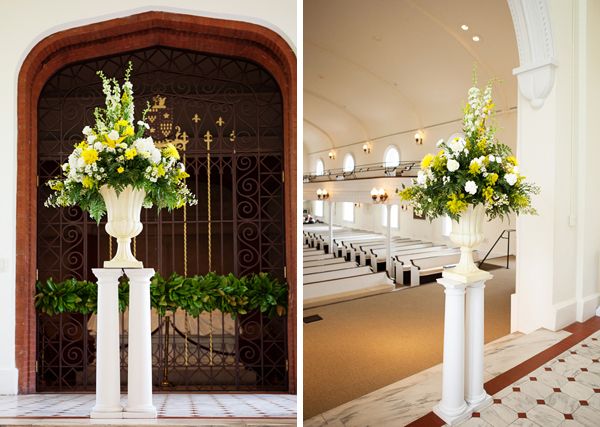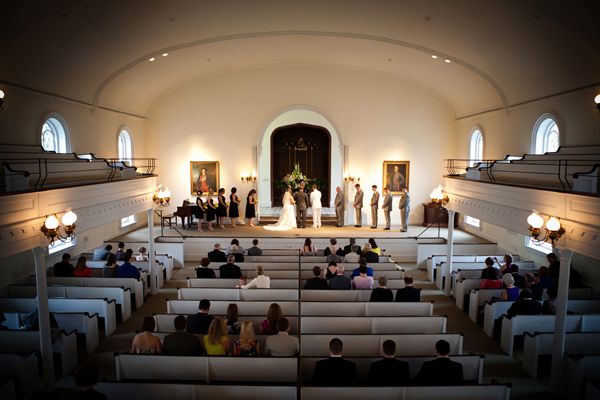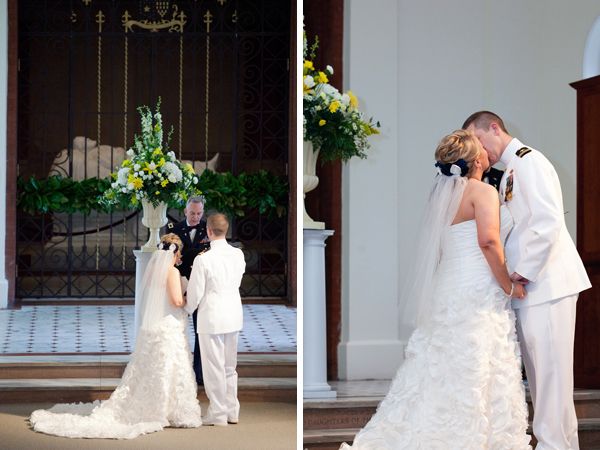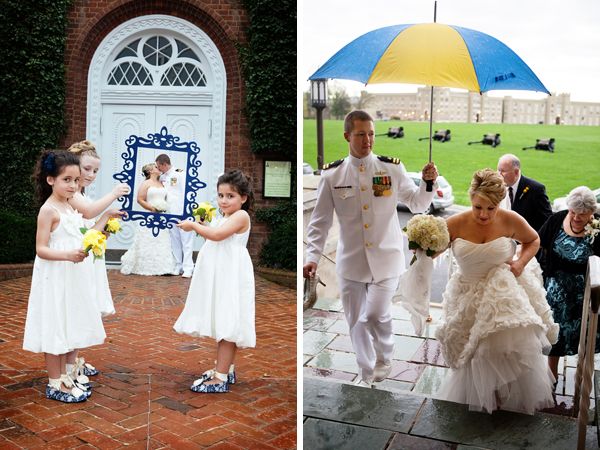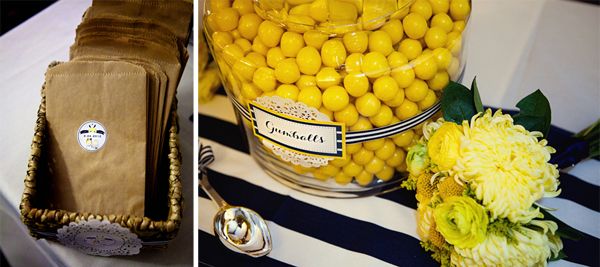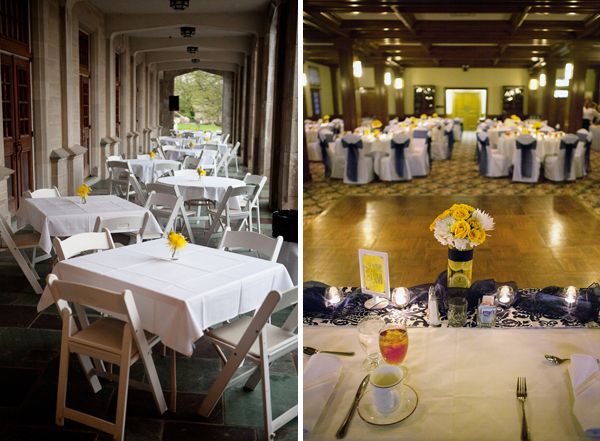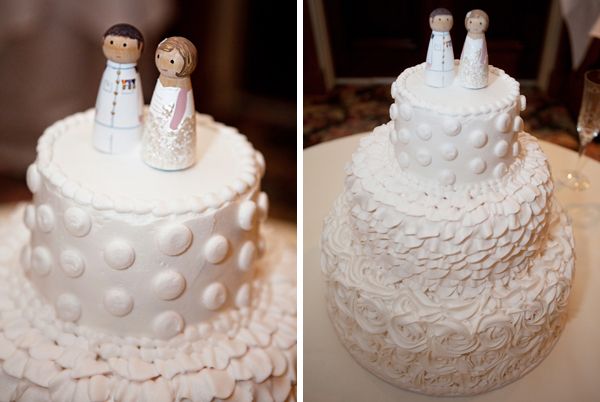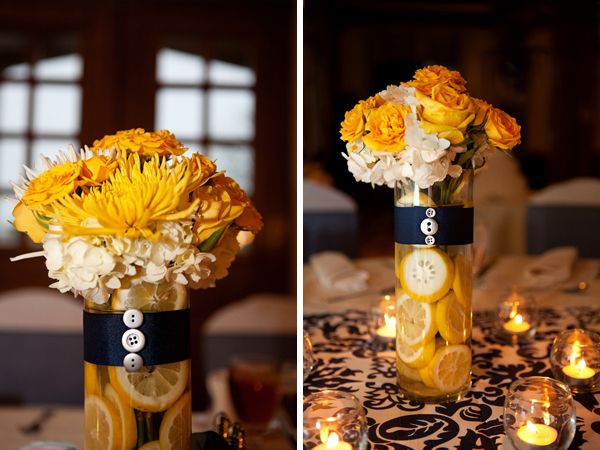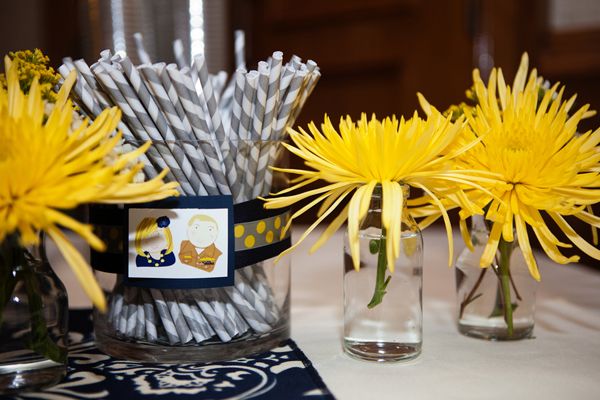 From their photographer:

A rainy day was no big deal for Julia and Bradley; they met in the rain. "Brad's friends were having a Halloween party. I decided to go at the last minute with my friends (who were Brad's friend's neighbors). Brad sat next to me and sparked a conversation. He ended up walking me the short distance back to my house and walked home in the rain. I thought I'd never see him again. He got my number through our friends and here we are! The sun came out just long enough for bridal portraits and group photos, and when it came time to make the way to the reception hall, Brad (a Navy man), pressed a young cadet into service for his rain slicker. The couple were married at the historic Lee Chapel on Washington & Lee campus with a reception at the Virginia Military Institute, Brad's alma mater. Julia planned the wedding site unseen, having never visited Lexington before. " Brad is very simple but thoughtful. He drove himself crazy for a week trying to find the perfect way to ask me (he knew the story would have to be retold). He finally decided on a Sunday afternoon to ask me in a simple way. We were sitting on the couch and he went upstairs to get something. When he got back, he kneeled in front of me and asked me to spend the rest of my life with him. After we got engaged, Brad spent the next year in Iraq. It was hard being away from each other for so long but it has made us a stronger couple. I'll admit it was not easy planning a wedding when you and your fiancé are in different countries, especially when the bride has never been to the area of your wedding venues. I relied a lot on our wedding director and florist, Carolyn Tolley. Brad was a huge help as well. We wanted our wedding to be something inexpensive, simple, yet fun for everyone." Much of the decor was done by the bride, with graphic assistance from bridesmaid Carolunn of Two Brunettes.

Congratulations to the happy couple!
What are your favorite details from this incredible wedding?
Photographer: Lauren D. Rogers Photography
Caterer: VMI Catering
Floral Designer: University Florist
Invitation Designer: red red
Dress Designer: Galina Signature
Cake Designer: Ann Switzer Cakes
DJ: DJ Esso
Event Venue: Lee Chapel
Etsy Designer: The Brown Bobbin
If you would like to see your wedding photos featured on our blog, feel free to email them to onasweetnote@weddingstar.com or submit them through your Two Bright Lights account.
Please include the name of the happy couple, wedding date and location, vendors, and any other information you'd like to include about the venue, decor and overall theme or inspiration of the wedding.
If you are not the photographer then you must get permission to use their photos before you submit them, and please include their name and website for photo credit purposes. Photos will be featured as space permits.
Of course, we would love to see our own stuff in action! If you have photos featuring any of our Weddingstar products, please submit them.
Like us on Facebook
Follow us on Twitter
See our pins on Pinterest