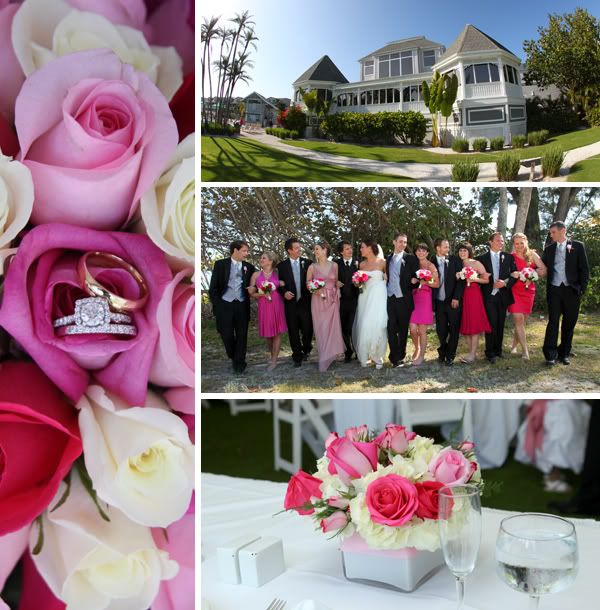 This lovely wedding just took place on March 24th in lovely sunny Florida. It makes me long for sunshine and warmth – the Bride and Groom were truly blessed to have such stunning weather for their big day.
Roses and the color pink dominate this seaside wedding.
Wind is something that can usually be expected at a wedding by the sea, however it doesn't have to be a hassle. An up-do and a lack of veil means that whichever way the wind is blowing, the Bride is going to look beautiful and polished.
The multiple shades of pink make the wedding much less overwhelming. If the bride had chosen only hot pink and white – the look would have been much too harsh. However the variety of shades softens the tone just enough. This tactic is something to consider for any wedding, regardless of the colors you have chosen – multiple shades of a color are not only less harsh on the eyes, but they also photograph better.
Using multiple shades, rather than having your heart set on one, also makes it easier to blend all your wedding accessories together. It can be very difficult to find a precise shade for everything.
I love it when bridesmaids wear multiple styles – it is so much better for them to be comfortable and in a dress that flatters their figure than lined up in identical dresses. If your bridesmaids aren't all the same body type, definitely consider allowing them to choose a dress that they are comfortable in (though you can feel free to specify the style and color range of course). This is especially considerate if they are going to be paying for the dresses themselves.
A lot more wedding cakes are beginning to feature the soft delicate covering that butter-cream icing offers, as opposed to fondant. Fondant can be incredibly elegant and used to create stunning cakes, but when it comes to taste, a fondant can never beat a butter-cream. Depending on the style of the cake, a perfectly smooth surface may not be necessary and in this case it works out beautifully.
Using unrefined sugar as the 'sand' on this cake is a fabulous idea. It looks just like the real thing!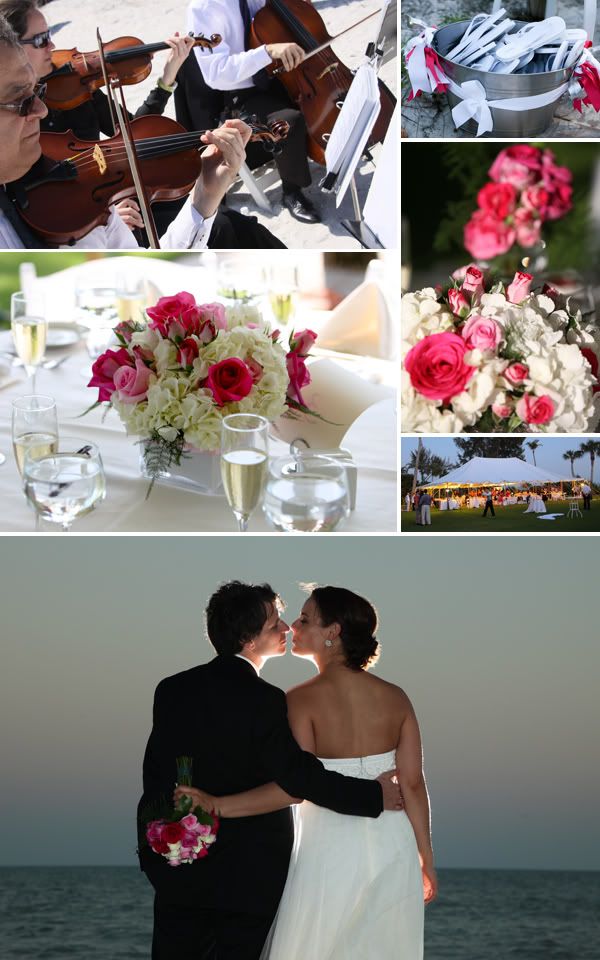 Offering sandals to their guests is a sweet gesture – it equates to saying 'relax and enjoy – you're here to have a good time'!
Thanks so much to Doreen Kline Photography for sending this lovely and expertly photographed wedding our way!
Other vendors involved in this wedding include the following:
Floral Designer: Libby's Flowers
Musicians: Anton's Ensemble Soiree
Reception Venue: Casa Ybel Resort
Invitation Designer: Documents and Designs
Cake Designer: Mason's Bakery
DJ: Ron Rutz Dj
Linens and Coverings: Casa Ybel Tent Rentals
Calligrapher: 1st Class Wedding Invitations
See you Monday!