Hello readers! My name is Allison and I am the new creative copywriter here at Weddingstar Inc. And I am delighted to announce that from now on it's my jabber you'll be reading here on On a Sweet Note!
I'm a journalist-turned-blogger and a lover of all things matrimony. I can't wait to share with you each Monday, Wednesday and Friday the secrets of the wedding world as I uncover them over the coming months.
I am by no means an expert on weddings nor have I had the honor of being a bride myself yet, but I too hope to be walking down that aisle soon just like you. For me, it's just a waiting game until my boyfriend decides to pop the question…finally!
So, lucky you – you're getting hitched! It's one of the few times in your entire life where the world revolves around you so make sure you take time out of all the planning to enjoy it. Because with the big day comes the inevitable burden of wanting to make everything perfect.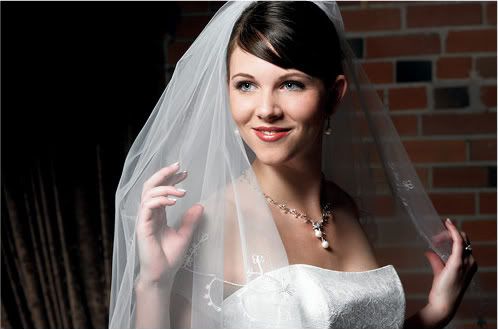 ~ Just imagine yourself wearing this floral-embroidered tulle veil. Stunning! ~
So through my blogs I hope you learn about all the excitement, hardships and fabulous accessories that go along with wedding planning. From wedding favors to cake toppers, I hope to share with you some of Weddingstar's most popular, exclusive and elegant products, and even suggest a few unique ways to use them on your special day.
OK so firsts thing's first – the invitations. They are the first thing your guests will see and will set the mood for what's to come. You can incorporate them into your hand-picked theme or color scheme, or just go with a pretty or classic design. But never be afraid to really let your personality shine through.
Here are two invites that instantly caught my eye…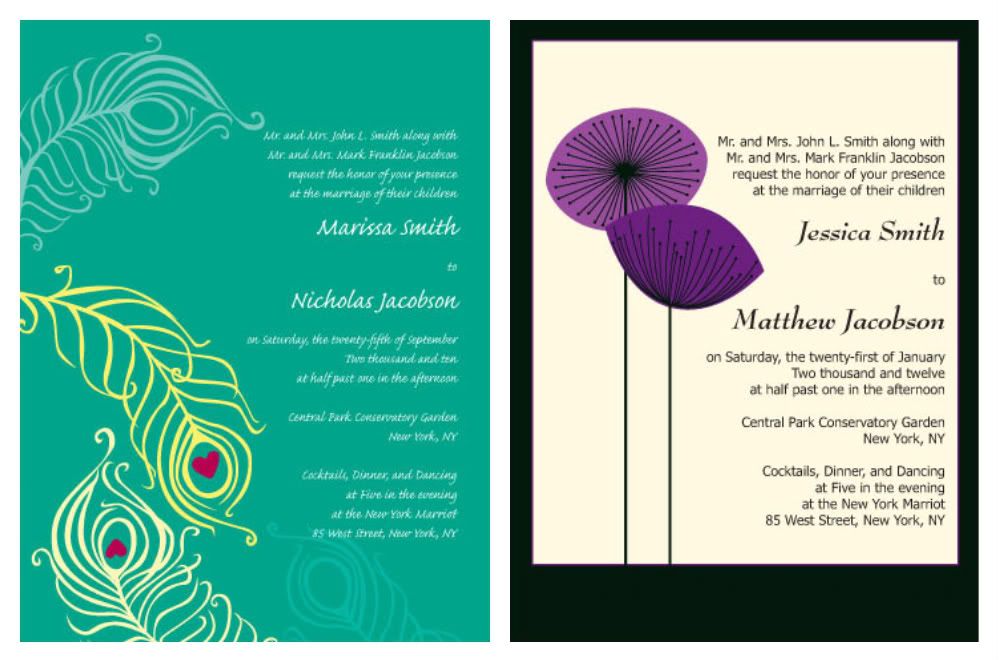 ~ The simplistic yet classic Perfect Peacock Invitation (left) comes in 19 colors ranging from the Luxe Peacock Green shown here to the pretty and elegant Pastel Pink. The Romantic Elegance Invitation (right) has a more contemporary feel and comes in five vibrant colors. ~
Then comes the decor. You've already fallen in love with the man of your dreams now it's time to fall in love with the centerpieces, champagne flutes and personalized napkins of your dreams.
I fell in love with these…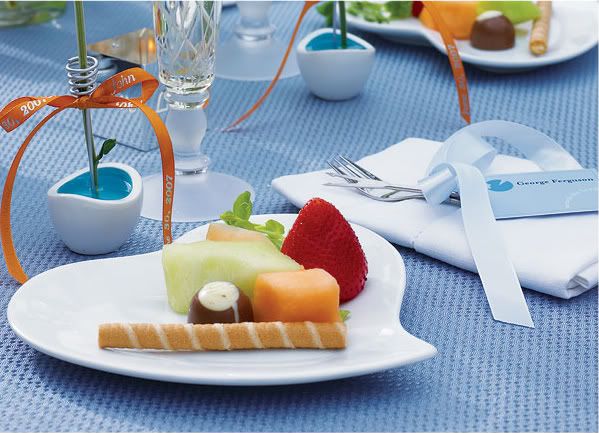 ~ What says romance better than heart-shaped plates? – So sweet! ~
Now the favors. Aside from the food – and seeing you strut down the aisle in your best duds, of course – guests look forward to the little rewards they get to take home at the end of the night. They can be fun, theme-inspired or practical, so be creative.
These are just two of the many unique mementos available at Weddingstar…
~ The oh-so-cuteness of these mini gumball machines just screams 'Take me!' And feel free to play dress-up with these mini woven bags. Express your style through ribbons, shells or flowers to match your theme. ~
No matter your theme or colors, or whether you want to remain traditional or take a walk on the wild side, there's a world of possibilities out there. Remember, it's all about showcasing your own style, personality and, most importantly, the love you and your groom have for one another.
See you all again on Wednesday! Happy weddings!

Products also included in this post are:Personalized and Plain Ribbon, Personalized Square Wedding Tags, Coral Stationary, Shell Silver Place Card Holders and Carved Glass Fish Tea Light Holder