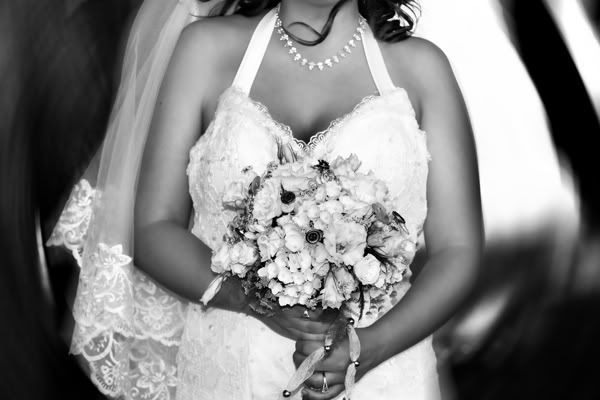 As a follow up to Wednesday's Blog post, Val + Kurt: A Wedding of Community Proportions, I thought it might be fun to take a closer look at all the little details that made this vintage inspired wedding so special.
The Bride, local radio celeb Valene Olson of CHAT 94.5 FM, and her Groom, Kurt Jordheim, celebrated their August 6, 2011 wedding nearly completely inspired by their beloved community of Medicine Hat, Alberta, Canada as well as her radio listeners.
Here is their story, the details of their big day and some advice from the Bride on how to pull off an amazing vintage wedding and keep your cool through the entire planning process.
The Love Story
This happy couple's story of love letters and chance encounters all began on a little Internet dating website called eHarmony. They were matched up on 165 levels of compatibility which, for those of you unfamiliar with eHarmony's matchmaking theory, is very compatible!
After a lot of corresponding over emails and phone calls, they finally met up in Montana for their first date. The two spent countless hours emailing back and forth thereafter, and they wrote love letters to each other every day.
Words from the Bride:

I felt it was a really interesting way to meet somebody, through writing, because it's much different and I think a different side of you comes out when you take the time to write. So even before we started talking (verbally) I pretty much knew his life story.

Val and Kurt were engaged on September 6, 2010, the Monday of the Labour Day long weekend. Kurt took her back to Montana where they had their first date, and despite a slight hiccup of bad weather that day, they hiked to a secluded spot and he asked her to marry him.

I was pouting, it was a 2 1/2-hour hike and it was snowing and raining…He said, 'I want you to look around and remember this moment because it's ours, it's only ours'. We don't have a picture or anything but I have that picture in my head forever. It was pretty romantic.

Kurt's creative and unbelievably romantic proposal was what inspired their wedding song. They chose "Then" by Brad Paisley.

It's a really good reflection of us and a good reflection of our journey, and it talks about him taking her back to where they first met and asking her to marry him. It was a really good fit.

The Décor

Heirloom buttons and pearls, vintage lace, homemade strawberry jam, and Baby's Breath were what gave this wedding an undeniably romantic vibe.
The homemade jam favors were an idea Val had come up with as a way to involve some her listeners in the wedding. Val and a group of 10 local women — playfully referred to as the Chat 94.5 FM Strawberry Dream Team — used more than 100 pounds of local strawberries to make them, and they even entered the jam in a few local county fairs.

I think they turned out amazing — they're so classy!

Heirloom Buttons & Pearls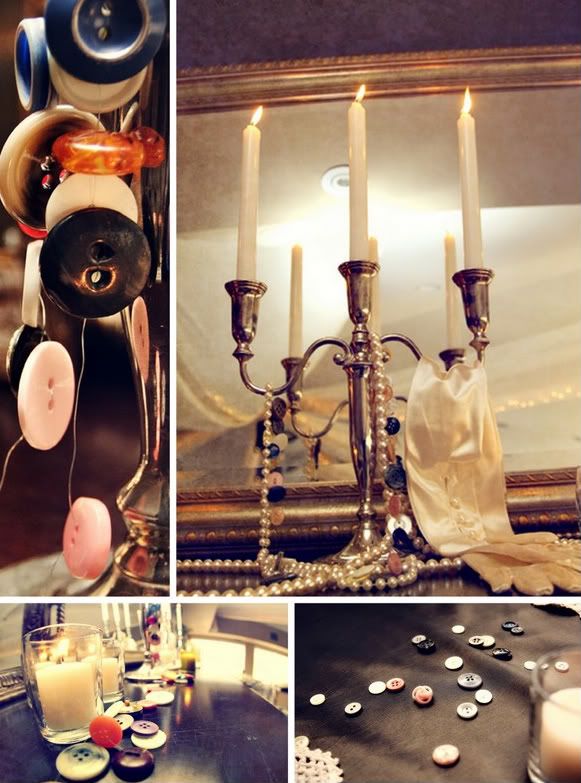 As another way to incorporate her community in to her special day, Val asked her listeners for buttons, any kind of buttons. Before she knew it, she had thousands of buttons at her disposal — tiny iridescent ones, ones that still had thread in them, ones from military uniforms — and most of them came with some wonderful stories and history behind them.
The buttons were sprinkled over tables, strung form the lights and centerpieces, and incorporated into the table settings, Val's bridal bouquet and even the wedding cake.
The pearls were from Val's aunt. She had passed away the year before but still holds a very special place in Val's heart.
Now, excitedly, Val and Kurt are expecting a baby! Val plans to one day sew the buttons and lace from her wedding dress onto a handmade quilt and baby blankets.

It'll be something to pass down through the generations; I'd like to keep the buttons going.

Memorial Candles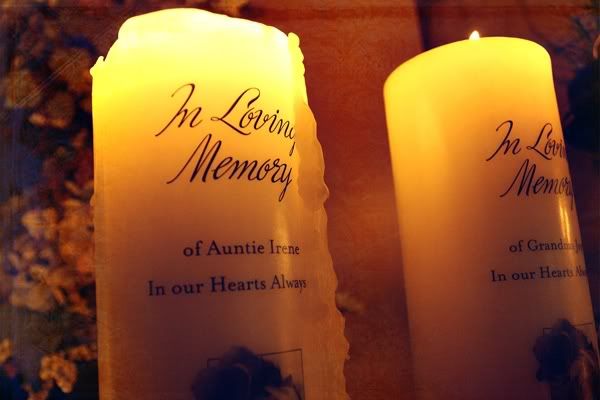 Two of our Weddingstar personalized memorial candles sat on the mantle behind the head table. One paid tribute to Val's aunt, the other was for Kurt's grandmother.

I liked the look of them, and I really love how they were placed on the mantle. I thought it was absolutely stunning!
It's so hard when you're doing something like that, you don't want to go overboard but yet you want to do something special. So we just incorporated it as part of our decoration.

Stationery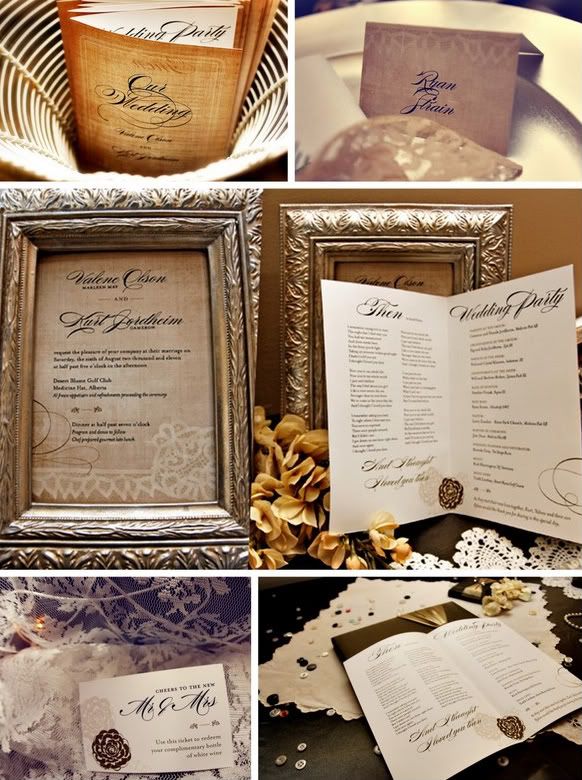 All of the stationery — including the invitations (middle right) and RSVPs, programs (top left and middle and bottom left), place cards (top right), and drink tickets (bottom left) — is from one of our new 2012 Weddingstar stationery collections called Vintage Lace. Check it out HERE.
The look is pure romance — vintage elegance with a touch of modern class. We're so very excited about the Vintage Lace collection and we hope you are too!
The Food
Again, Val's vision was to keep the wedding food local. Todd Lindsay, head chef at Desert Bloom, custom designed their spectacular meal and used all locally grown beef and vegetables.

You can't have an Alberta wedding without having the best of Alberta beef, so that was a staple…It was really important to me to promote the city we live in, so I really wanted to highlight my vision of utilizing local food. I just thought it was such a gift that each carrot was planted to go specifically on someone's plate that day.

The wedding cake was a five tier Neapolitan masterpiece with layers of yummy strawberry, chocolate and French vanilla. It was served with freshly made vanilla bean ice cream.
Lamb burgers and mini hot dogs were served as a midnight lunch.
The Best Advice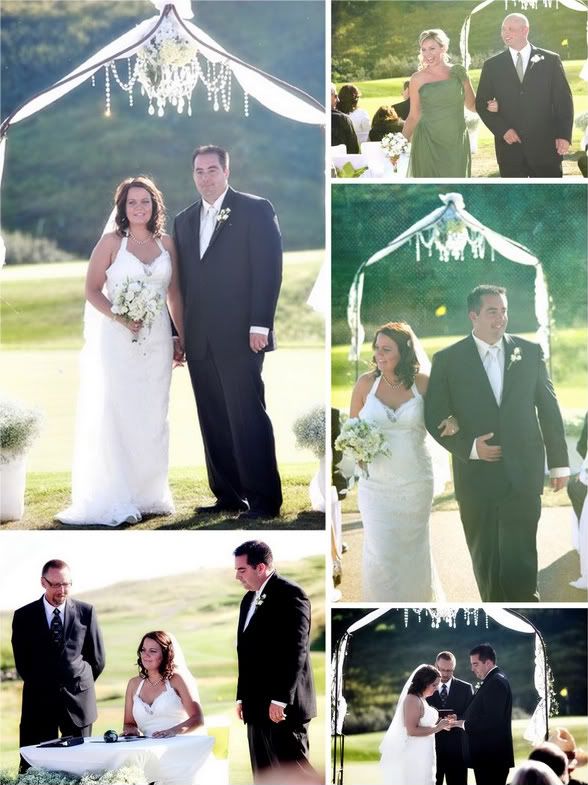 Hire a Wedding Planner

I called her my fairy godmother, because she really was! She had thought of things that hadn't even crossed my mind. When it's 35 degrees (Celsius) out, you need to make sure you have ice cold water for people…She also had umbrellas available, and those were really nice touches.
I trusted my instincts with the people I chose as coordinators for the wedding. For me, it was to share my story and let them piece it together. When you're planning a wedding and your overwhelmed with what to do and how to make your dreams come true, find people that want to hear your story. And through their expertise you're able to tell the story.

Don't Stress Over the Little Things & Take Time to Enjoy it

The day flew by but I really chose to enjoy it…Everyone just kept saying, 'You are the calmest bride we've ever seen'. I was basically just relishing in the blessings that we had and the family and friends that came out to support us. Instead of being high strung and worried and being like a Bridezilla, I was being the exact opposite, and I was that way from day one.
This was a really special and momentous day but I'm really in love with my husband and I knew that our life together was going to be amazing. So that one day wasn't about showing to thousands of people it's something that it isn't, it was really just a reflection of us and our life.

Have a Plan B

Be prepared for anything!

A big thank-you to Val and Kurt for sharing their story.
For more inspiration or to see more photos of this stunning vintage wedding, check out the prequel to this blog post HERE.
Happy weddings!

Wedding Venue: Desert Blume Golf Club
Wedding Planner: Brenda Gray, The Design Room
Venue Wedding Coordinator: Dana Hanni, Desert Blume Golf Club
Wedding Photographer: Pixeldust Photography
Caterer: Todd Lindsey, Head Chef, Desert Blume Golf Club
Floral Designer: Marina Wallis, Our Flower Shop
Wedding Cake: Tara Lam, Tara Lam Cake Creations
Dress: The White Room Wedding Boutique
Hair: Cuts N Stuff
Makeup: Merle Norman
Wedding Photographer: Pixeldust Photography + Design
Wedding Videographer: Randy Feere, RJF Productions