Chic, stylish and sophisticated — that's the undeniable allure of Vintage Hollywood themed weddings. The colors are classic, the dress is slinky and the venue ambiance is cool and glamorous.
It was a time when women put on their furs and best pearls for a night at the cinema. The men wore suspenders, overcoats and pistols, and the mood was serious romance. Here are color, decor, cake, accessory and stationery ideas and inspiration to help you pull off this amazing wedding theme!
The Color Palette:


– White/Silver | Black | Red/Burgundy/Maroon | Gold –
Black and white is a stellar base color combination for Hollywood themed weddings. Dress it up with red, gold and silver accents and you've got yourself a classy wedding fit for fame.
The Decor:

– Love Bird Damask Favor Box #9140 Note Card (in Ruby & Black) #1044-04 | Novelty Popcorn Cartons #8670 with Sticker #8834 | Round Table Number #6161, Contemporary Hearts Hand Fan (in Black) #8574 | Perfect Peacock Chocolate Bar (in Black) #1049-11 –
Feathers, black place settings, white flowers, elaborate table decor and sleek lines will create an atmosphere reminiscent of Hollywood glitz and glam in the 1920s, '30s, '40s and '50s.
Serve up some popcorn as a late-night snack and transport your guests back to a time of "talkies," gangsters and the glamorous Ginger Rogers.

– "It's Showtime!" Printed Cocktail Napkins (in Berry) #7211 | Hollywood Themed Drink Tickets (in Black) #8875 Hollywood Single-Use Camera #8672 | Hollywood Camera Table Sign #8859 –
Really set the mood with napkins and drink tickets inspired by the cinema, and Hollywood themed disposable cameras can serve as a fun way to entertain your guests.
The Cake: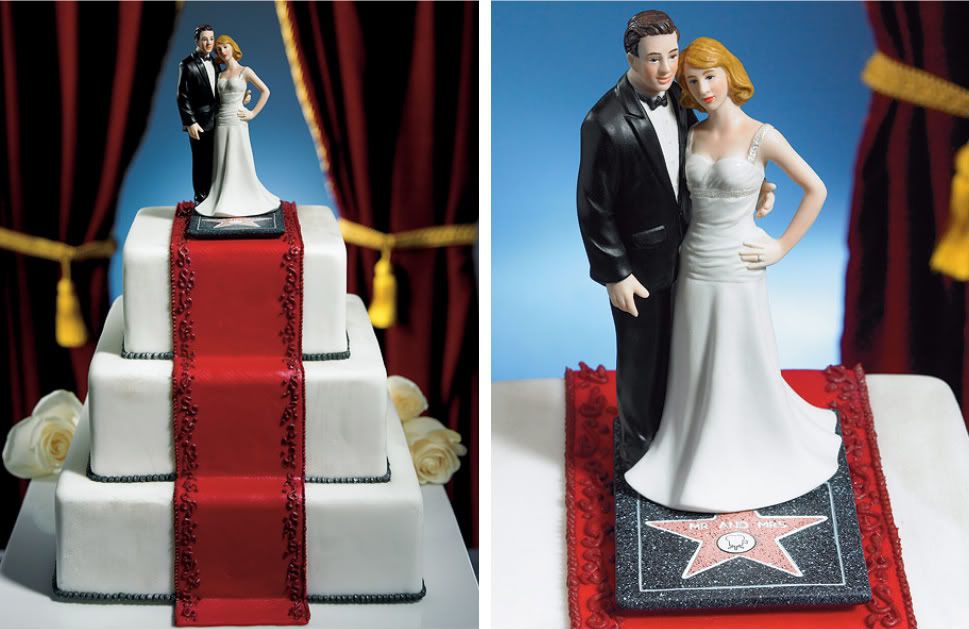 – "Stars for a Day" Hollywood Glamor Cake Topper #8659 –
This classic style cake is equipped with its very own red carpet and vintage Hollywood stars. It's a true statement maker!
The Accessories:


– White Pearl & Crystal Flowers Silver Hair Comb #8758 | Bird Cage Style Veil (in Ivory) #8972, Feather & Chiffon Floral Hair Accessory #8969 –
Birdcage veils, chic head pieces and finger-wave hairstyles are so much fun and really scream Old Hollywood. Keep the dress sleek, fun and figure flattering.

– Framed Soft Clutch (in Black) #8738 | Vintage Style Clutch (in Gold) #6158 | Clutch with Beaded Burst (in Olive) #8736 | Beaded Flowers with Frame Clasp Clutch (in Ivory) #8741 –
A vintage style clutch is the perfect bridal accessory for a Hollywood glam wedding. Just the right size to hold your lipstick, mascara, Kleenex and other essentials yet it still holds true to the theme.


– Jet Black Earrings #8767 | Illusion Set Pearls & Crystals Earrings #8763 Necklace #8760 –
Black accessories, pearls and elaborate jewelry will no doubt turn heads at your wedding.
– Silhouettes in Bloom Garter Set (in Cabernet Red) #8680 (in Jet Black) #8685 | Platinum by Design Garter Set #7141 | Pure Elegance Garter Set #7146 | Chocolate & Strawberry Cream Garter Set #7153 –
Sneak a little sass under your dress with a garter that's pretty yet a tad unconventional. Your garter and shoes are a great way to add a little punch of color without overdoing it.
The Stationery: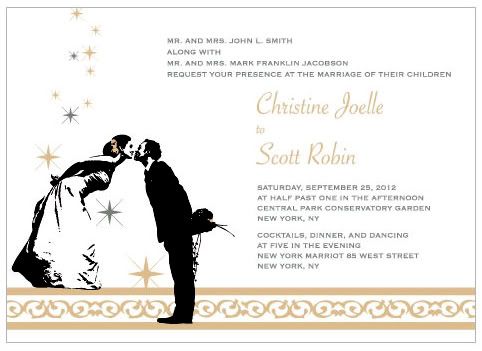 – Vintage Hollywood Invitation (in Mocha Mousse) #1060-19 –

– Perfect Peacock Invitation (in Black) #1049-19 | Heart Filigree Invitation (in Black) #1037-19 | Orchid Invitation (in Red and Vintage Gold) #1152-19 –
The stationery is bold, beautiful and full of sparkle. Choose a variety of styles or colors, or stick to one, it's up to you!
Happy weddings!

P.S. Check back here on Monday for even more Old Hollywood inspiration!
Photos courtesy of: Tela Chhe and Mercury Jane.