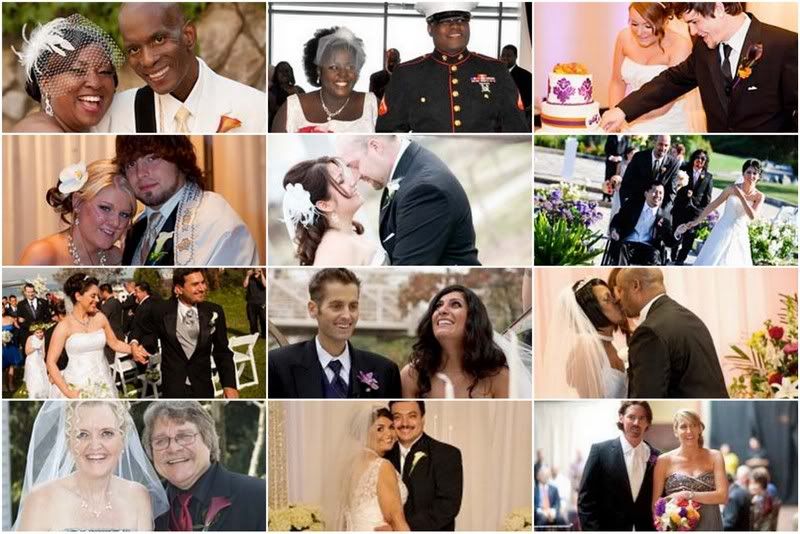 Wish Upon a Wedding is a non-profit organization that grants the wish of a wedding to deserving couples throughout the United States. Wishes are granted to couples who have overcome — or are still facing — a terminal illness or life-altering health challenges.
Wishes typically include a wedding planner, venue, caterer, rental company, photographer, videographer, cake, stationery, officiant, floral designer, DJ or band, hair and makeup, and transportation for the bride and groom.
And now we are so excited to announce that Weddingstar is the newest national sponsor of Wish Upon a Wedding!
Couples who are granted wedding wishes now have the opportunity to choose any Weddingstar guest favors they wish to make their dream wedding a reality.
Here is a peek at just a few of the many couples who have already benefited from the generosity of Wish Upon a Wedding. Each has such a compelling and inspirational story to tell.
Janice & Cory
This adorable couple was married on April 7, 2011 at the Eiteljorg Museum in Indianapolis, Indiana.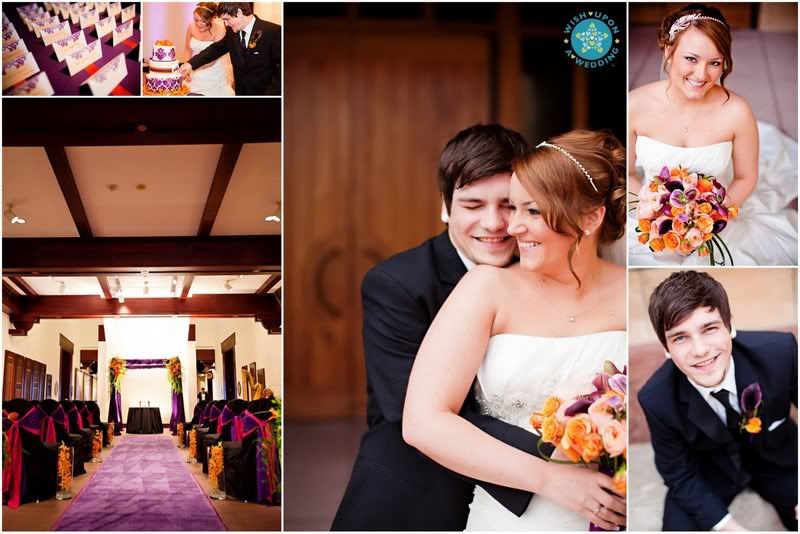 Photos by Jessica Strickland Photography
Cory suffers from diabetic retinopathy, macular edema and chronic pain syndrome, all complications from his diabetes. They say Cory will be completely blind by the end of the year…and his only wish was to see his stunning bride, Janice, walk down that fabulous purple aisle!
Wedding planner/event designer: April Foster Events
Floral designer: Beautiful Weddings & Design Studio
Photographer: Jessica Strickland, Fine Art Photography
Videographer: Northernlight Filmworks
Bridal gown and tuxedo: Bliss Boutique Bridal & Tux
Caterer: Piquant Chef Services
Cake: Indy Cakes
Hair and makeup: "I Do" Hair by Danie
Stationery: Executive Creations
Valet: Elite Management Services
Ceremony music: Elizabeth Ahlgrim, harpist
Reception music: Maddox Entertainment
Photo booth: Freeseframez Photo Booths
Rental(s): A Classic Party Rental, BBJ Linen and Evans Audio Visual
Hotel guest rooms: Indianapolis Marriott Downtown
Rehanna & Christian
Christan and his beautiful bride, Rehanna, were married in April, 2010 at 1 Fort Mason in San Fransisco, California.
Photos by Damion Hamilton Photography
This immaculate wedding was planned in just three weeks, just before Christian was to undergo a kidney transplant. The theme was blue and white with a ton of sparkles — gorgeous!
Ceremony: Greenworks
Florist: Flaxx Floral Design
Cake: Just Cake
Chairs and linens: Hartmann Studios
Reception tables: Marizette Paperie
Embroidered Wish Upon a Wedding handkerchief: L'il Inspirations
Jackie & Rochon
Jackie and Rochon were married in May, 2011 at the Stone Tree Golf Club in Novato, California.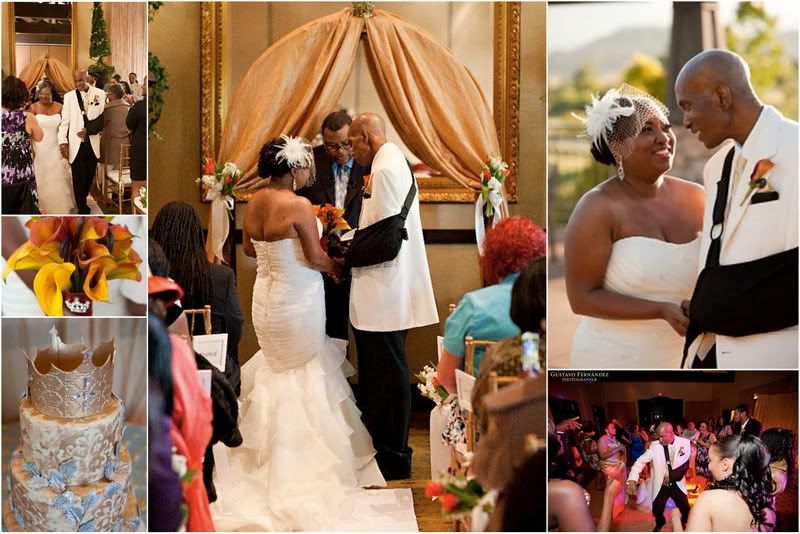 Photos by Gustavo Fernandez Photography
The dapper Rochon suffers nerve damage from a tumor on neck. The tumor is said to be inoperable and causes immense pain in his left arm and on his vocal chord.
Jackie envisioned a love-filled wedding with crowns a lots of jewelry — beautiful!
Wedding Planner: Nicole Lisanne
Floral and decor designer: Julie Stevens Designs
DJ: SJ's Disc Jockey
Videographer: Studio MSV
Invitations: Bella Vita Invitations.com
Jewelry: One World Designs
Dominique & Myles
Princess bride, Dominique, married Myles, the life of her life, on March 12, 2011 at the fabulous Ritz-Carlton in Denver, Colorado.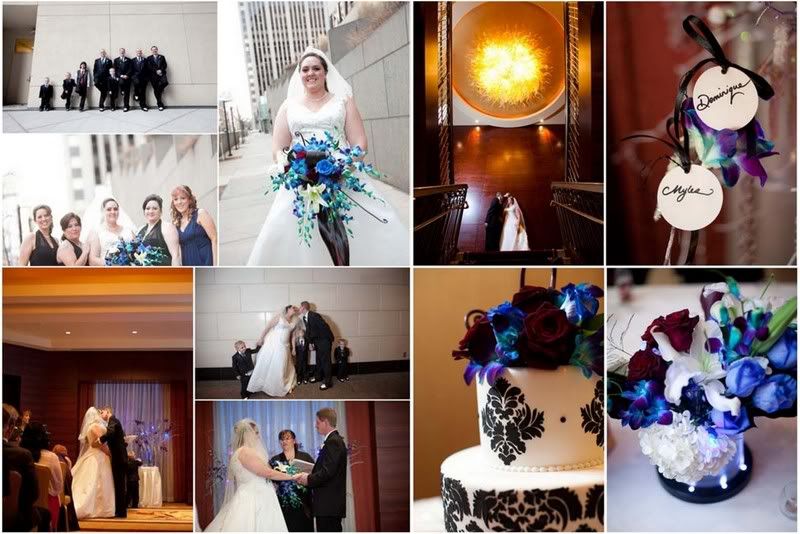 Photos by Revert Photo
The lovely mother-of-three, Dominique, was diagnosed with stage 4 breast cancer in October last year.
Dominique's dream day had a princess vibe with a blue and purple color scheme and damask details. So pretty!
Wedding planner: Save the Date Events
Floral designer: Babylon Floral Design
Videographer: Rising Moon Video Productions
Cake: Intricate Cake Design
Entertainment: Double Down Productions and Masterful Musicians
Bridal gown: Varanese Haute Couture
Bridal accessories: Lady Charm Artistry
Jewelry: Ashley Schenkein Design
Suit: Al's Formalwear
Hair and make-up: Carissa Beauty
Officiant: Rev. Kim Tavendale
Stationery: The Papery Willow
Photo booth: Shutterbooth
Camera rental: Pro Photo Rental
Debbi & Wally
The happily married Debbi and Wally renewed their vows to one another in September, 2010 at Loft on Lake in Chicago, Illinois.
Photos by Kevin Weinstein Photography
In 2008, Wally was diagnosed with parotid gland cancer. The couple was first married at a destination wedding in Maui, Hawaii, but had always wished all their family and friends could have been there. Thanks to Wish Upon a Wedding, Debbi and Wallywere able to renew their vows in front of 50 of their closest friends and family.
Wedding Planner: Lola Event Productions
Officiant: Rose Lifecycle Ceremonies
Ceremony music: MFO Entertainment Group
Videographer: Absa Weddings
Rentals: Halls Rental
Caterer: Jordans, Food of Distinction
Floral designer: Fleur Couture
DJ: Fun Times DJ
Linens: Windy City Linen
Stationery: Pulp and Ink
Cake: Bittersweet
Cupcakes: Sweet Mandy B's Cupcakes
Hair and makeup: Sonia Roselli
Favors: Ricci & Co.
Flower girl dress: Jenny Yoo
Audio/visual: Precision Sound and Lighting
Wish Upon a Wedding is currently hosting an online auction of products and services from wedding professionals throughout the country. All proceeds go directly to Wish Upon a Wedding. The auction will run until Oct. 31.
We were glad to donate Weddingstar Mr. & Mrs. bathrobes valued at $200 to the cause! Click HERE to bid.
To view all of the auction items, click HERE.
To find out more about Wish Upon a Wedding or to inquire about a wish, visit their website.
Happy weddings!